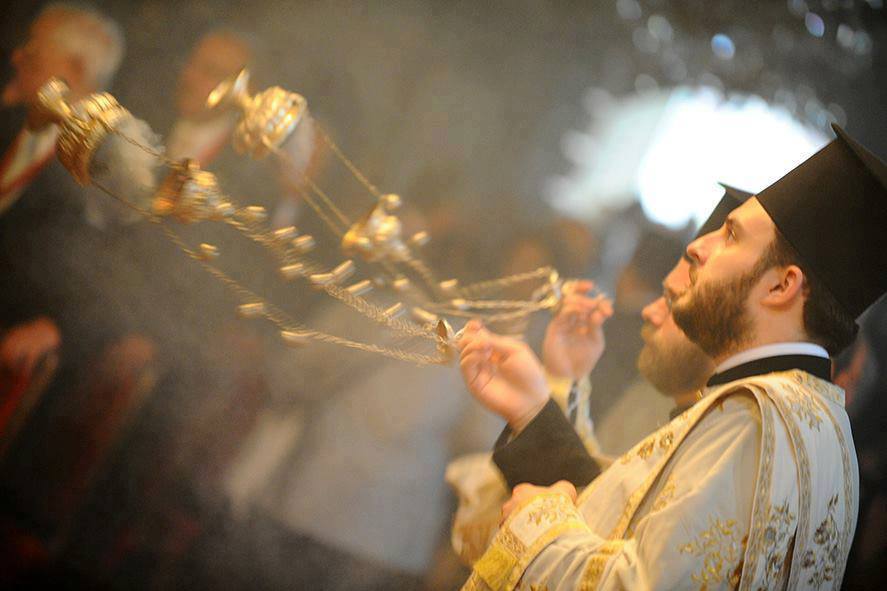 This is the twelfth part of an ongoing serial (part 1, part 2, part 3, part 4, part 5, part 6, part 7, part 8, part 9, part 10, part 11)
Of all the honors a king could bestow, the Magi chose frankincense to signify the divinity of Christ. From the very beginnings of religion, man has felt that incense is close to God. Like the other liturgical arts, incense is an icon of something real and true in the Kingdom of God. It is not a mere olfactory decoration for the services, nor some archaic solution for poor hygiene, as is often alleged.
Among Christian saints who were granted a vision of Heaven, an intense fragrance is a frequent detail of their accounts. For instance, as recounted in the life of Saint Euphrosynus the Cook, he and another monk meet in a dream in an Eden-like paradise. The air is rich with the scent of flowers. When the monk wakes, he finds in his pocket apples that the Saint had given him during the vision. He examined the apples and found they had a strange glow and "filled the little cell with a fragrance sweeter than the most costly incense." Accounts like this are common; the lives of the saints are full of observations that Heaven is a sweet-smelling garden and that holy things often have a mysterious and wonderful odor. This miracle is especially noted in the case of incorrupt relics of saints and miraculous icons, where the fragrance is often witnessed by thousands and can persist for centuries. Therefore it is clear that incense is a 'window to heaven' in the most direct and literal sense – it is the 'image' of the natural fragrance of God's Kingdom.
Like the faces of saints, the fragrance of Heaven is both comforting and sobering, expressing both joy and sorrow. The church in her wisdom, as the Magi of old, has chosen frankincense as the icon of this fragrance. Frankincense is both bitter and sweet. It is attractive like a perfume, yet neither seductive nor sensual. It is a wakeful and intense smell. If too strong it causes physical pain in our eyes, like the light of Mt. Tabor. Yet, remarkably, one does not tire of it even after hours of exposure. Rather, after long hours in church, it becomes quite normal, and its absence is greatly missed. This quality is unique among smells. Even the magnificent odor of lilacs and jasmine becomes overwhelming after just a few minutes, and one needs to be removed from it for a time in order to appreciate it again. But frankincense can be experienced for hours, for a lifetime, and only grows more appealing. All true liturgical art has this quality, for anything that reveals God to us will become more pleasing to our senses every day, as we grow in our love for His Kingdom.
The making of good incense is a subtle art. There are many variations of frankincense, and some can benefit from careful adjustment. Frankincense can be blended with floral essences without losing its characteristics. A little rose scent can add a richness to frankincense that magnifies its qualities. But the craftsman must be careful not to overwork these blends, lest the sweetness become out of balance with the bitter. When incense smells like flowers rather than spices, it becomes too seductive. It suggests an emotional response, and we soon tire of its constant presence.
Of all the senses, that of smell has the most power to evoke memories. Sometimes we experience a smell that we have not encountered in years, and instantly our mind explodes with intense memories of a former time. Our noses can distinguish thousands of distinct fragrances, and our minds tie the memories of those smells very closely with the memories of emotional responses. A smell we associate with a happy childhood, or a first love, evokes a sudden and intense emotional reaction. Even scientific studies have proven this connection, and the makers of perfume have wielded its powers to influence human relationships. There is no more poignant memory than the scent of the perfume of a lost love.
Consider how this intense connection between smell and memory works also as a liturgical art. Any churchgoer has developed an immensely strong mental association between incense and liturgy. Every time we enter a church, the smell evokes for us all the time we have ever spent in church. It instantly puts our minds in a state ready for prayer and cleanses our thoughts of anything else. If ever we fall away from the church, and then find it again later in life, all those memories will come back in an instant with the scent of incense. I personally have witnessed many a 'lapsed' Catholic or Orthodox visit a church and announce with joy, "That smell! It takes me right back to my childhood!"
Incense truly sanctifies the seductive power of perfume! With it, the church forges in us a permanent emotional bond to the liturgy. Its positive influence is probably much greater than anyone suspects, as it works upon us so subconsciously – so different from liturgical texts and painted icons, whose meaning must be cognitively understood to be of much benefit. Rather incense is akin to the sound of bells – we never know what it means, but it pierces instantly to our hearts, and awakens in us an unexpected joy.
Quite aside from the scent of incense, it is also worth considering the visual implications of the smoke from the censer. This may seem a minor consideration, but, from a purely architectural standpoint, it is not minor at all. During a service, the incense completely changes the quality of light in a church. We enter a church in the early morning and see it clear and transparent, peaceful and without commotion. It seems small and finite, and we walk from one end to the other in a few paces. But as the liturgy begins, the church fills with sounds and movement, and the air fills with smoke. Gradually, the temple seems larger. As the air grows hazy, the ceiling and iconostasis look more distant and more grand – like mountains miles away. Candles and lamps appear to have haloes – light is no longer invisible as it passes through the air – it has become like a material substance, and the air in the church is saturated with its glow. Sunbeams cascade down from the dome so bright and beautiful that one hesitates to walk through them. They fall upon individual people and icons and we see them transfigured like Christ Himself.
As the liturgy wears on, the dance of smoke and sunbeams often becomes the dominant visual experience of the space – outshining the architecture and icons. This unfolding of optical effects is itself profoundly iconic. It is the space of the temple coming alive – the architectural space co-worshiping with us – singing its own song of light and shadow. I have written before that one of the most important qualities of liturgical architecture is mystery. Churches need layered space – rows of columns, side aisles, a multitude of hanging lamps. There should be shadows as well as light. But only with the haze of incense does architectural mystery achieve its full flowering. Only then does distance become hard to judge; the temple seems large enough to contain all of Heaven. Materials lose their distracting physicality, and thus icons become much easier to see 'through' – we can more easily perceive that the saint is really present in our space. And light, that most intrinsically iconic of all created things, changes completely. It is no longer mere radiation visible only by that which it falls upon. It is itself visible, at times like a warm golden blanket enveloping the church, at other times like silver spears crashing down from Heaven. Indeed as blinding sunbeams radiate out from the Pantocrator above, and the air itself glows opaque and gold, the entire temple is painted in light as icon of Christ transfigured on Mt. Tabor.