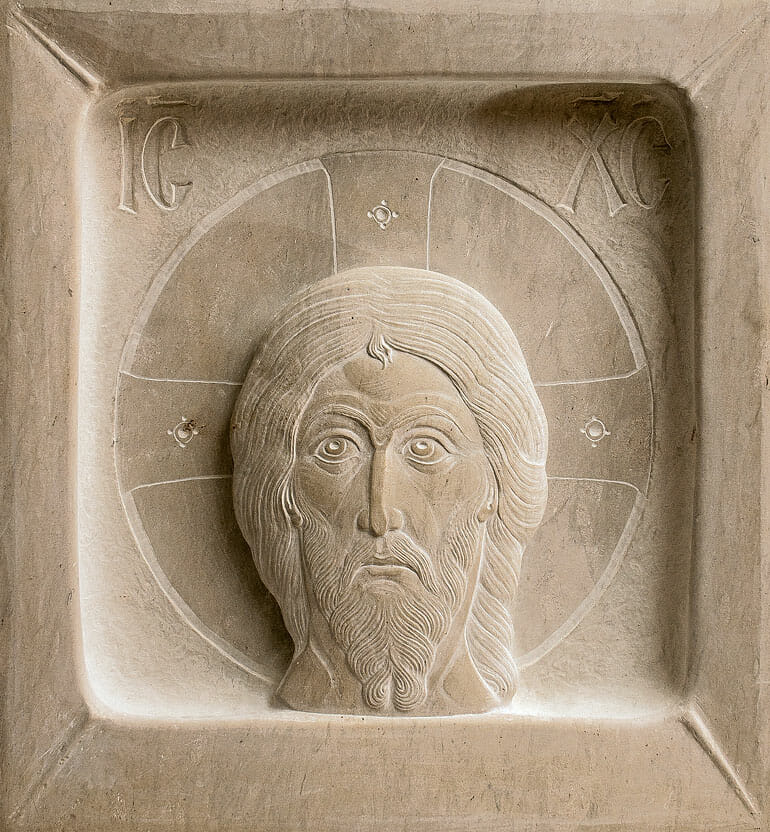 Andre Raileanu is a young Romanian icon carver I have been keeping my eye on for a while now.  We have already written a few articles on the amazing things happening in Romania ( here, here and here) but Raileanu's exploration of stone carving stands very much on its own as both an exception and a worthy representative among the more famous painters Romania has to offer.
His work is quite potent and shares some of the explorations of modern aesthetics found in his contemporaries such as Gabriel Toma Chituc and Ioan Popa. He preserves the simple rawness of stone, reinforcing it with a sparse approach to composition, and contrasting this minimalism to a refined and subtle capacity to capture facial expressions.  And really it is those faces that grab us as they float in the bare stone.  So many icon carvers are technically proficient, but few of them can capture the depth of iconic faces, the sober sadness and profound gaze which characterizes our favorite painted icons.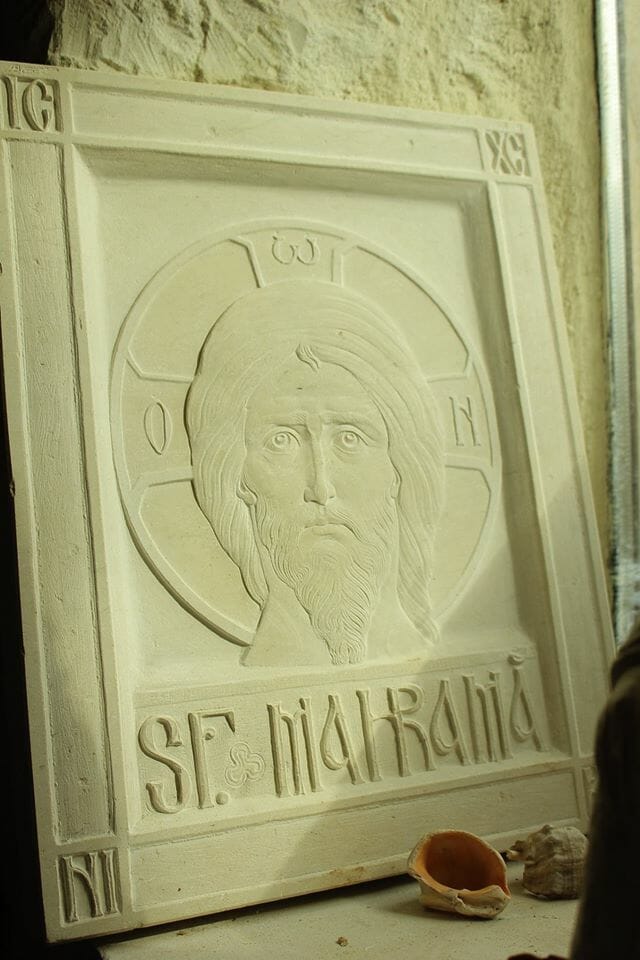 Raileanu graduated from the University of Art and Design in Cluj-Napoca, Romania, specializing in carving. During his studies he became aware of the significance of the icon and its theology as a "contra-position" to contemporary art. And though he mostly heard and discusses painted icons, he managed to find artistic and theological value in carved icons as well, though in his words, he says that painted icons are "more transcendental."
 As I pressed him on the question of the possible theological differences that could exist between painting and carving, he gave me several answers. One of the things he mentioned was that carved icons needed to maintain a secondary position in regards to painting, and that the main reason to have a carved icon was related to context, such as having an image outside or in humid places.
"big endevor because the two domains, painting and carving, work using different principles.  in painting, the emphasis is on color and the illusion of the reality while on carving the emphasis is on volume and material"
He continued by affirming that:
"(I) believe that the answer to this dilemma was given by the Church following its tradition where the painted icon has the main role. A religious carving is better the more unobtrusive it is. In that way the carving potentiates and sustains the painted icon.  Regarding the carved icon I have to admit that it does not give me the same state-feeling as the painted icons. Most probably, this is the reason for my tendency to refine as much as possible the relief of the icon.  It is an attempt to cancel the materiality through the material, which is more easy to do using painting.
A major role is the light which in carving is exterior, is not coming the interior as in painting. Carving is not radiating the light, but rather reflects it. Therefore I'm looking for materials with a light chromatic such as white stone, which become one with the light. It starts a dialog with the light."
Some of Andrei's comments might seem extreme, such as the idea of "canceling materiality through the material", but as an icon carver myself I can understand the struggle he is facing.  I myself have discussed the question of "materiality", shadow, a "dark glory" which acts as a counterpoint in the more usual theology of light.  And so I think statements regarding materiality need to be understood in light of "dead flesh", the "garments of skin" which are fallen materiality, and in this context his comment echoes our belief that Christ "trampled down death by death."
What we definitely find in Andrei's statements is a humble vision to his own craft and its place in the church, and such humility is possibly the reason why, in his secret struggle, the face of Christ appears so clearly, so boldly and with such depth.
More of his work can be seen on his facebook page.