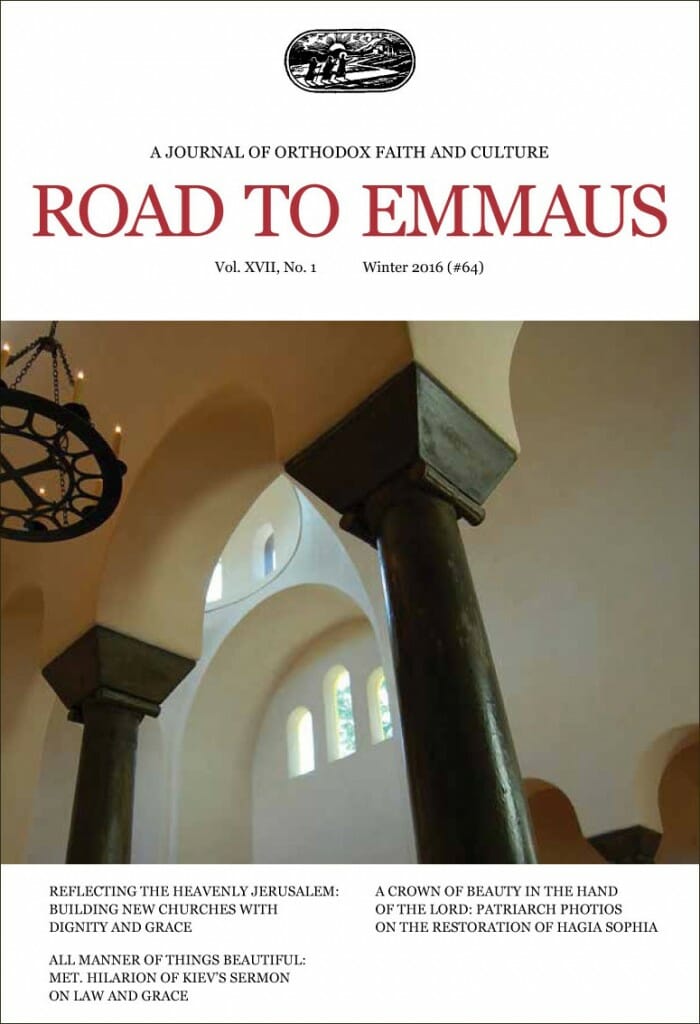 In a previous post, I spoke of the great honor of being interviewed for the Road to Emmaus Journal. In June of 2015, I spent a week with editor Mother Nectaria (McLees), discussing the art and architecture of the Orthodox Church.
This second issue continues our interview, and is titled Reflecting the Heavenly Jerusalem: Building New Churches with Dignity and Grace. Here I speak in more detail about the artistry and practicalities of building good churches in the present day. Our discussion covers specific aspects of design and construction, like scale, acoustics, windows and electric lights, with particular advice for small mission churches. We also explore historical precedents for inexpensive church construction. We consider contemporary projects, such as St. Nicholas Church at Ground Zero, and the new Katholicon at Sretinsky Monastery in Moscow. Finally, we discuss current initiatives and educational opportunities for those wishing to learn traditional liturgical arts.
The following are some brief excerpts from the second issue: On the design for Saint Nicholas Church at Ground Zero, NYC:
I am never one to be narrow-minded on the matter of beauty, and I try to be as liberal as possible in judging beautiful things according to the terms with which their maker intended for them to be judged. And knowing that Mr. Calatrava's architecture always strives towards this sublime crystalline aesthetic of pure whiteness and elegant sinuosity, we can easily see that he has achieved his aesthetic goals with this interior. However, judging it according to the standards of an Orthodox liturgical ethos it is wholly problematic in that it completely fails to achieve any focus on the altar or the iconography and it fails to achieve any sense of depth and mystery in its quality of space. Rather, we see a rationalistic modern vision – a vision in which everything can be fully understood in a single scientific glimpse, and where the purity of the architecture is at its best when the building is empty of people and empty of furnishings. And I struggle to imagine how it will feel for a pure and fragile building such as this to have imposed within it the chaos of a congregation and the bright gaudy colors of Orthodox vestments. The irony is this: if you try to look sophisticated by building a perfect house, you only make yourself look vulgar when you step inside, for your presence undermines the perfection.
On electric lights:
Unfortunately, the limitless possibilities of modern electric lighting have seduced so many churches into using electric light inappropriately. The simplest example being excessively bright bulbs in the chandeliers; as soon as chandeliers hold bulbs brighter than about 15 watts the bulbs become simply painful to look at. And these chandeliers, instead of giving a sense of warm and comforting divine radiance to the space, place at the center of our liturgical vision a blinding brightness that forces us to look away. Secondly, churches frequently install spotlights pointing down at the iconostasis and pointing up into the dome, which only furthers the idea of the church as theatre and suggests that there is no room for mystery in our liturgical perception. Worst of all, churches are often built with canister lights recessed into the ceilings, a form of modern lighting whose purpose is to flood every corner of a space with an indistinct and perfectly uniform light. In a church this form of lighting completely destroys the mysteriological quality of the architecture, in that it leaves no shadows, no room for the unexpected beauty of a candle flame or a sunbeam to shine forth out of the darkness and startle us with the beauty of divine grace. …In many modern churches I've felt that there was no more important thing that could be done to fix the architectural problems in that church than to simply turn off the canister lights and allow the corners of the church to recede into natural shadow.
On building a church with a modest budget:
…In building a church with limited means, one should always prefer simplicity over half-hearted elaboration. America has a wonderful heritage when it comes to architecture and furniture. The craftsmanship of historic American buildings and furnishings is second to none in the world and simple colonial American buildings and colonial American furniture is admired the world over for its dignity and its refinement. Never has American architecture depended upon ornamentation for its beauty, but has often achieved a profound dignity with almost no ornamentation or elaboration at all. We see this celebrated especially in the craftsmanship of the Shaker communities and the Amish, who continued to practice this colonial American tradition of simplicity and fine craftsmanship all the way into modern times. Given this heritage, we should feel especially emboldened as American Orthodox to build our churches with practical dignity and simplicity, and should have no fear of doing wrong if we build churches that have an iconostasis that is made of plain hardwood boards with no carving at all, furniture that is just simple benches like one might see in a Shaker meeting house, or a church which is a simple wood-paneled affair with no more elaboration than one might see on an Amish schoolhouse. A church such as this does not require Byzantine or Baroque ornament to make it Orthodox – it requires only a few good icons and a tuneful choir to establish a liturgical ethos that is nothing short of perfect.
Copies of both issues can be ordered here. If you do not already receive the Road to Emmaus Journal, I highly recommend a subscription. I have personally found RTE to be among the most inspiring expressions of Orthodoxy I have ever encountered.