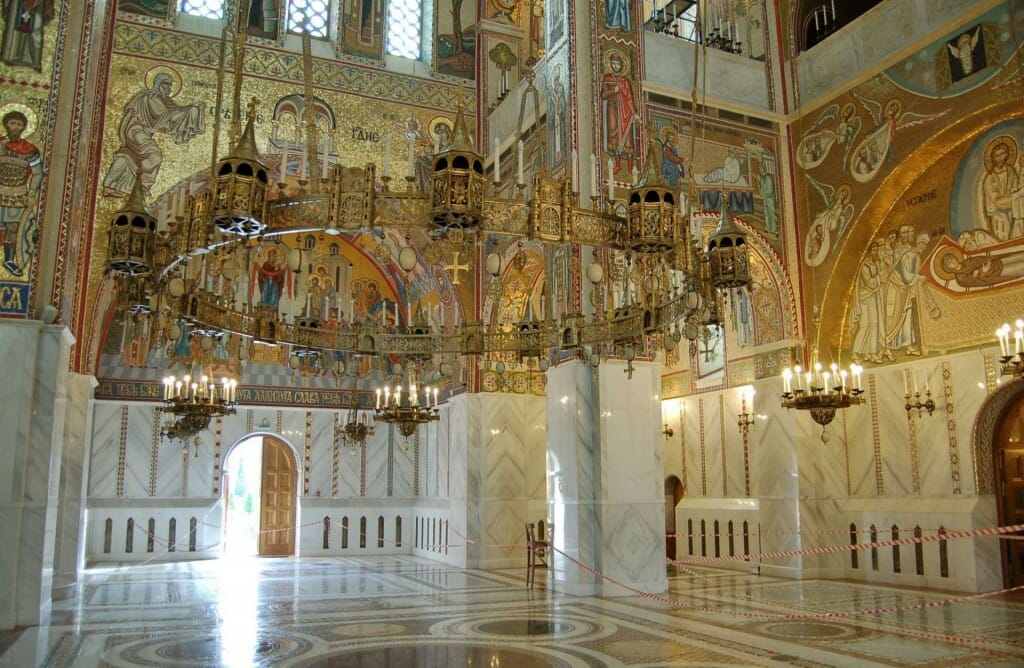 Editor's note: I had the great privilege of traveling to Russia in 2006 with Fr. Ilya Gotlinsky of Orthodox Tours. It was a superb experience, in every respect. Fr. Ilya leads tours regularly, but I would like to call attention to a special upcoming tour – a pilgrimage tour that will visit Russia's most holy sites. I would also note that this tour will visit the newly-built pilgrimage church of the Protection of the Mother of God at Yasenevo (pictured above), which we recently featured on the Orthodox Arts Journal.
PASCHAL PILGRIMAGE TO RUSSIA: FROM DIVEEVO TO VALAAM, May 29 – June 11, 2016:
This will be a wonderful pilgrim experience of Russia starting during the last week of the Paschal celebration. Visits to the two Russian capitals of Moscow and St. Petersburg will be complemented by a visit and two-night stay at the convent established by St. Seraphim of Sarov at Diveevo. The relics of St. Serahim are housed in the main church of the monastery in Diveevo. This is a new and special, and in many ways unique, feature of our pilgrim trip. Another special feature of our pilgrimage is a cruise to the Valaam Monastery. The program of the visit is greatly enriched by visits to several old and new sketes on the islands of the Valaam Archipelago. More information on this and other upcoming tours is available here.
Reviews of Fr. Ilya's 2015 pilgrimage tour:
Thank you Fr. Ilya for your masterful trip planning gifts that came to fruition throughout our time in Russia:  the accommodations, meals, and itinerary were so hospitable and well-coordinated.  I appreciated the well-timed rest stops on the long evening bus transfers!  And I am most grateful to God, Fr. Ilya, for how you patiently answered our questions, shared your knowledge of Russia and Orthodoxy and shepherded us so that we became a community of faith in Jesus Christ on our pilgrimage. Patricia L., Oregon
Dear Fr. Ilya,
What can be said?  You are the best trip organizer of all.  Your choices, your scheduling, your attention to detail: it was all superior to all. I never would recommend anyone to go to Russia without a tour group, and I would not think of recommending any group but yours.  You outperformed all my expectations.  God bless your work always. Fr. Terry B., New Mexico