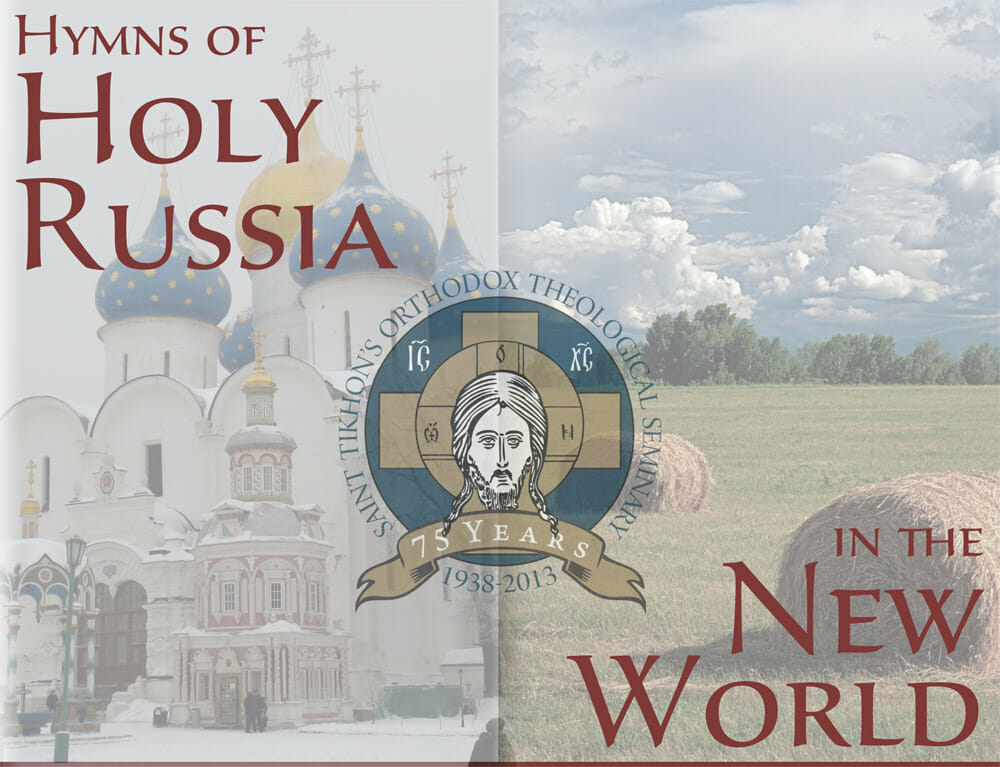 A Master Class and Concert with Vladimir Gorbik — Feb. 28 to Mar. 3, 2013
As part of its 75th anniversary celebration, Saint Tikhon's Seminary will host a rigorous three-day master class for the select student choirs of three of America's premier Orthodox Christian seminaries — Saint Tikhon's Seminary, Saint Vladimir's Seminary, and Holy Trinity Seminary — February 28-March 3, 2013, with world renowned Moscow choirmaster Vladimir Gorbik.
As the culmination the master class, the combined seminary choirs will perform a concert of Russian Orthodox liturgical music, sung primarily in English. This combined choir will be singing together as a single ensemble for the first time in the histories of these venerable institutions, who are this year celebrating their 75th, 75th, and 65th anniversaries respectively. This historic collaboration is made even more exciting by the presence of Vladimir Gorbik, one of Russia's most dynamic and talented rising stars in the field of Russian church singing, who will be making his American concert debut at this landmark performance.
The concert will take place at Saint Stephen's Episcopal Cathedral, 35 South Franklin Street, Wilkes-Barre, PA, on Sunday, March 3, at 6:30 p.m.  The cathedral is a favorite performance space for many professional ensembles in the Pennsylvania and New York regions, and is home to the well-loved Pennsylvania public radio program, "Music from St. Stephen's." The concert will be recorded and broadcast on that program.
General admission is $12.00.  Advance tickets may be obtained from Saint Tikhon's Bookstore at 888-454-6678 or stspress.com. Please inquire about student and group discounts. Seating is limited and tickets are on sale now, so book your tickets early!
___
Born in 1970, Vladimir Gorbik began his musical studies in Yekaterinburg, Russia, and continued them at the Moscow State Conservatory, completing a specialization in choral conducting in 1998 and in orchestral conducting in 2000. Since 1996, he has served as the choir director at the Moscow Representation Church (Metochion) of the Holy Trinity-Saint Sergius Monastery, and since 1998 has been the Artistic Director and Conductor of the professional men's chorus formed at the Metochion. With this choir he has made more than a dozen outstanding recordings of both liturgical services and concert programs. The choir has on numerous occasions sung at Patriarchal services in the Dormition Cathedral in the Kremlin, and they accompanied Patriarch Alexy II on his trip to the Holy Land in 2000. The repertoire of the Metochion's Men's Chorus cultivates the finest repertoire and interpretive traditions of the Moscow School and the Holy Trinity-Saint Sergius Lavra. For his outstanding achievements and service, he has received an award of recognition from the Patriarch and the medal of the Order of Saint Sergius of Radonezh, Second Degree.
___
Watch this video of Maestro Gorbik and his outstanding choir performing "Open unto me the gates of repentance" by A. Vedel (1770-1808), one of Russia's finest Baroque-era composers, in the Tchaikovsky Hall of the Moscow State Conservatory.