Editor's Note: The following is a guest submission from Deacon Ephraim Willmarth of Holy Trinity Seminary.
____________________________________________
From Monday, February 24 to Thursday, February 28, a group of church singers and directors gathered in Holy Trinity Monastery and Seminary to rehearse and study with Maestro Vladimir Gorbik, choirmaster of the Holy Trinity-St. Sergius Lavra Dependency in Moscow.  This was an official event of the newly-formed Patriarch Tikhon Russian-American Music Institute (PaTRAM), which is dedicated to training the next generation of Russian Orthodox Church musicians as well as enhancing the ability of the current generation to "positively improve the prayerful sound and quality of Orthodox Church singing."  This particular event brought together a male-voice choir to pray in Holy Trinity Cathedral.
 Participants came from ROCOR, the OCA, and the Patriarchal jurisdictions. Some PaTRAM members of note who were present included composer and St. Tikhon's Seminary Choir conductor, Benedict Sheehan; Musica Russica Publishers president, Dr. Vladimir Morosan; co-founder of PaTRAM, Alex Lukianov; Director of the HTOS Summer School of Liturgical Music, Archpriest Andrei Papkov; Nicholas Schidlovsky, a musicologist from Princeton, New Jersey;  Professor of Systematic Theology at St. Vladimir's Seminary, Dr. Peter Bouteneff; and Assistant Professor of Liturgical Music at St. Vladimir's Seminary Dr. Nicholas Reeves. In the course of the week, PaTRAM leaders held a series of business meetings, planning the future course of the new organization.
Members of the Holy Trinity Seminary Choir took part in three days of rehearsal, culminating in a hierarchical Divine Liturgy, appropriately commemorating St. Cyril the Philosopher, the co-struggler of St. Methodius, and with him the author of both the Cyrillic alphabet and Church Slavonic written language.  Selections for the services were in both English and Church Slavonic.  The combined choir rehearsed up to seven hours per day, working on finer aspects of diction, blending, interpretation, etc. of Church singing in both English and Church Slavonic. The Holy Trinity Seminary Choir prepared to sing some parts of the service alone, and had separate rehearsals as well.
During the hierarchical evening services and Divine Liturgy, which were presided over by His Eminence, Metropolitan Hilarion of Eastern America and New York, Maestro Gorbik directed the combined choir, and HTOS Choirmaster Nicholas Kotar directed the seminary choir by itself.  The singing was received positively.  "I forgot where I was," praised HTOS rector Archimandrite Luke. "Maestro Gorbik pushed us to give one hundred percent.  He demanded a level of attention and performance that I didn't know we could give," commented another HTOS singer.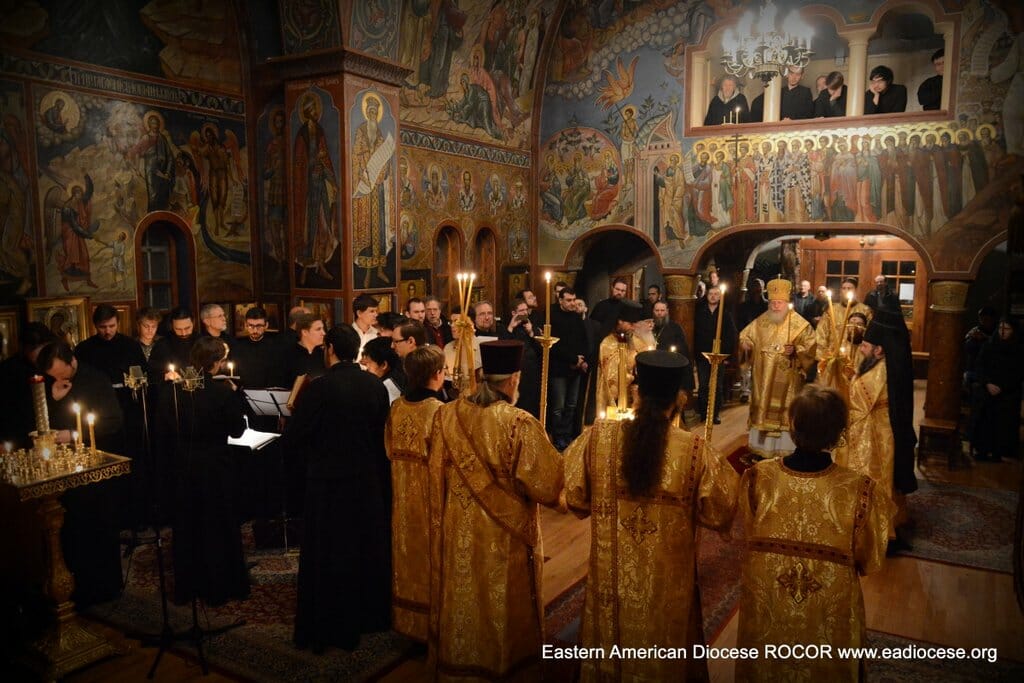 Two PaTRAM conducting students enrolled in the Master Class had an opportunity to conduct choir and receive critiques of their conducting from Maestro Gorbik. Since the founding of PaTRAM last year, there have already been positive results:  One singer, whose wife conducts their parish choir, commented "In the five months since she's been taking lessons from Maestro Gorbik, the choir has noticeably improved."  PaTRAM offers lessons by video-conferencing over the internet.  This allows for greater reach, flexibility and regular lessons, even though all the parties are geographically dispersed.
Holy Trinity Seminary has its own Summer School of Liturgical Music, which has been holding high-level musical training sessions for two weeks of each summer for over twenty years, with numerous graduates.  SSLM director, Archpriest Andrei Papkov, came to this PaTRAM masterclass and observed it.  Upon departing, Fr. Andrei gave a very moving speech, in which he praised the efforts of PaTRAM and looked to opportunities for cooperation between SSLM and PaTRAM, since they share one and the same aim.
On behalf of Archimandrite Luke and all Holy Trinity Orthodox Seminary, we would like to thank Maestro Vladimir Gorbik and all the members of the PaTRAM Institute for their hard work and dedication to make this event happen, and we wish them continued success to adorn the Lord's House with beautiful singing.
Below is a link to a video recorded during divine services by Reader Peter S. Lukianov, Media Office of the Eastern American Diocese of ROCOR:
http://www.youtube.com/watch?v=odcvv1qXerM&list=UUW7r84gPnEMR7BZKz9iEkkw