Music is unique among the liturgical arts in that it's something we have to do every time we come to church. Iconography, architecture, church furnishings, liturgical books, all these are things an artist can produce once and be done with. But music is never finished. As soon as you sing a note it vanishes forever. As soon as the service is over, whatever beauty you achieved during it has to be produced all over again in the next service. − Rowan Benedict Sheehan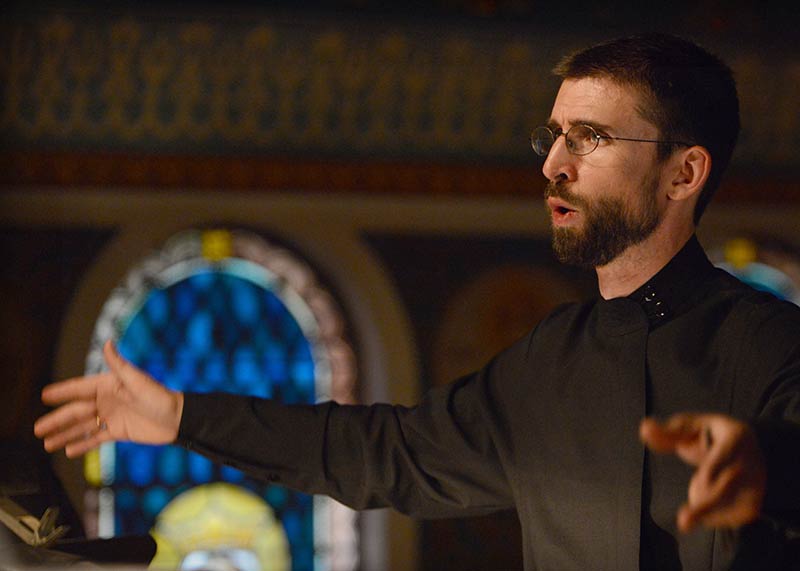 Benedict Sheehan, Choirmaster of St. Tikhon Orthodox Theological Seminary and Monastery in South Canaan, PA, and his wife Maria spent the weekend of January 25-27, 2019 grooming the choir of St. Michael the Archangel Orthodox Church in Louisville, KY.
I arrived a little late on Saturday morning and jumped into the vocal fold stretches that Maria Sheehan was leading, coaxing our voices up two octaves and back down on an "oo".
The fusion of intense work and reward during the two-day choral workshop was so inspiring that it was hard to let go. The Sheehans and Stephen Jacobs, Director of St. Michael's Choir, agreed to an interview, which I hope translates some of the wisdom shared that weekend, if not the glory of singing together for 10 hours. – "As soon as you sing a note, it vanishes forever."
The workshop with the Sheehans was a natural outflow of Stephen Jacobs' attentiveness to the wider world of Orthodox choral music and his desire to improve his own skills and those of his choir.
Stephen – I had heard from a lot people about the great work that he and his wife (Benedict and Maria) were doing at St. Tikhon Seminary and Monastery. I was familiar with some of his compositions, and I was very happy that he started the Chamber Choir of St. Tikhon Monastery and was doing Orthodox Sacred Music at a very high level. I knew this was someone that I wanted to become more acquainted with and to know on a closer professional level.
Benedict Sheehan is a rising star in Orthodox liturgical music as a composer, conductor, teacher of music, and writer of commentary on the status of Orthodox choral music in America. He recently played key roles in two of the 2019 GRAMMY-nominated projects for "Best Choral Performance."
I began following Benedict's career through our mutual friends at the Orthodox Arts Journal and by appreciating his involvement in the PaTRAM Institute as a co-founder with Vladimir Gorbik, the artistic director and conductor of the professional men's chorus at Metochion Church of the Holy Trinity-St. Sergius Lavra, Sergiyev Posad, Russia.
I asked Benedict and Maria to comment on their impressions of working with Jacobs and St. Michael's choir in Louisville.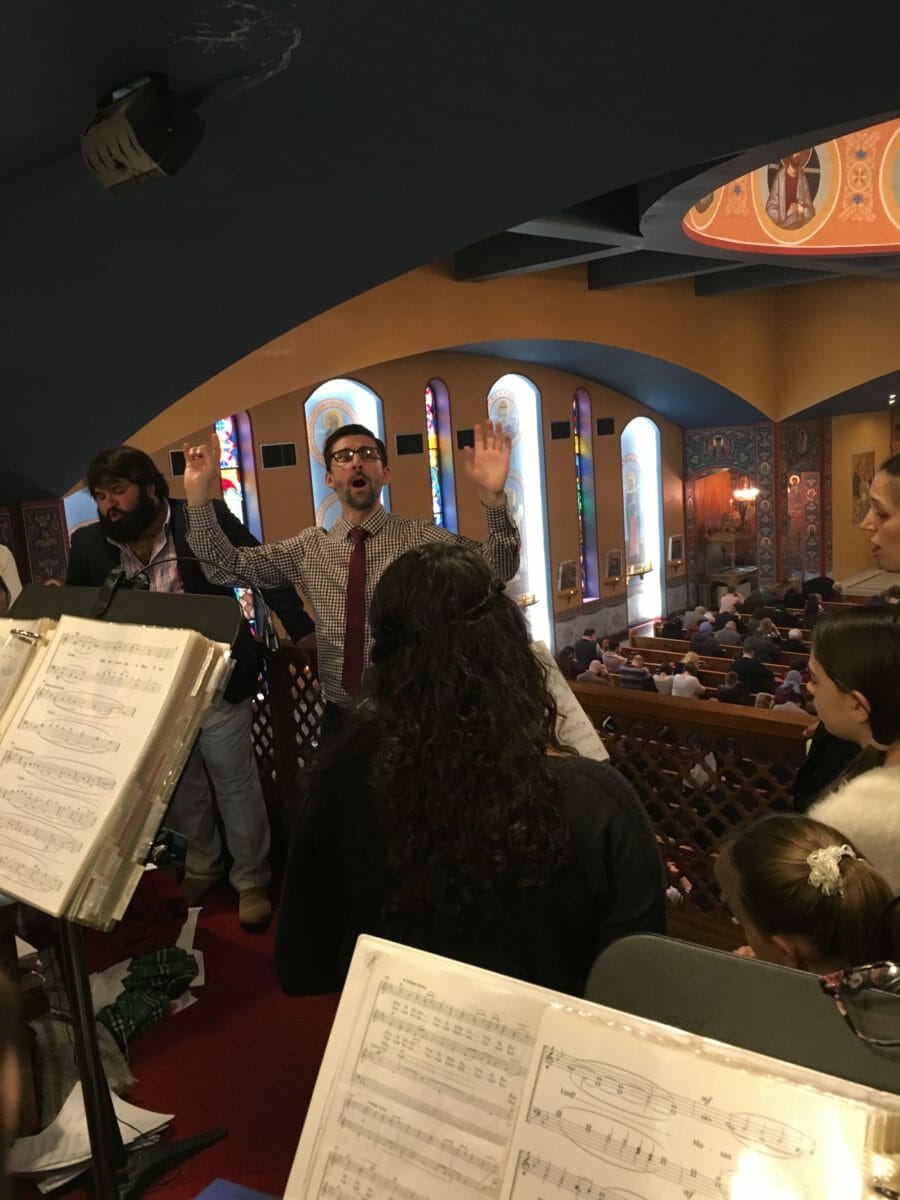 Benedict – I'm very inspired by how Steve has really given himself, heart and soul, to the work of building up music in his parish. He obviously had a lot to work with, given the heroic efforts of Kh. Olga Atty before him. But he's clearly "increasing the gift of grace." Steve is a very talented musician and a blessing to St. Michael's.
They're lucky to have him!
A lot of churches are struggling to find choir directors nowadays and Steve embodies the ideal of a "homegrown" musical leader who grew up singing in that church and now can offer the gift back as its choir director.
He's an image of a parish bearing fruit. I wish there were more parishes where this were the case.
Maria – Steve has an exceptional natural talent. And he's spent years honing his talent into skill. I think for many of us, were we in Steve's shoes, the temptation would be really strong to just rest on the laurels of that talent. What more do you need, you know? The services are beautiful, he leads competently and the choir sings strongly; the chanting is wonderful.
But at this point is the real test.
How does an institution or a community transition from "good" to something even better? Transitions are where the rubber meets the road. So Steve's particular asset, even more than his natural talent, perhaps, is his conviction that there is more to learn and that "good" can and should become "great" and, God willing, "holy."
St. Michael's choir had a strong history of cultivating a high level of liturgical singing before Jacobs gradually took over responsibilities from his aunt Kh. Olga Nehrebecki Atty, widow of the late Archpriest Alexander Atty who was the pastor of St. Michael's for 30 years, and later the Dean of St. Tikhon Theological Seminary.
Jacobs entered into that bright choral stream from infancy with parents, uncles, aunts and cousins singing in the choir. Since 2007 he has been keen to continue the rich heritage of training workshops that Kh. Olga began with David Drillock, former director of St. Vladimir Orthodox Seminary Choir.
Stephen – It is, in my opinion, one of the best things I can do as a choir director. It is so important for myself and our choir to learn and grow together from other Orthodox professionals. I remember the first time Prof. Drillock came to St. Michael, and we thought we were pretty good.
He spent what seemed like hours working on one line of a piece of music. It showed me and the choir that there was so much more that we were capable of. By the time he finished that piece of music, I looked over at some of our choir members and they were literally moved to tears by the beauty of our sound.
The Sheehans worked a great deal with St. Michael's choir on technical aspects of singing such as vowel and consonant shaping, enunciation, pulse/tempo, bright voice vs. dark voice, and on concepts like audiation and phonation. I asked why it is necessary for choir members to understand and acquire these technical skills.
Maria – Unfortunately, ours is no longer a singing culture. It used to be. We have, in Christianity, one of the greatest singing traditions of human history. But we're not really continuing to make music in our everyday lives as we once did. So this vocal grammar, if you will, is new to most of us. It probably would have been new to people in the past too, but they did it instinctively because they had a singing culture that allowed them to learn these things sort of by osmosis.
I have found that it helps people today to have a conceptual understanding of these things that now can seem like magic or some unattainable inborn talent. I think of vocal and ensemble technique like athletic training. We use all kinds of technical terminology for physical exercise now that no one knew or used a generation ago.
But we have to do that because we now have to forge deliberate paths to physical fitness because of our modern, sedentary, technological lifestyle today. Likewise, we have to forge deliberate paths to vocal fitness in this age of music consumption, rather than music making.
I also find this technical approach can help church singers sing in the many different styles that circumstances and traditions may demand. Styles vary from culture to culture, parish to parish, and even service to service. We need to be agile enough as singers to respond to those demands and make a sound that is "right."
Stephen – Sometimes, I think we all become too comfortable in our participation of the Divine Services. This workshop was a reminder of our responsibilities as members of the Sacred Music Ministry and how important our role is in the life of the church.
From a technical standpoint, Maria really showed us what our voices were capable of when used properly, and she explained to us that we have spent years creating some bad singing habits. It takes time and practice to train yourself and your muscles to sing properly on a consistent basis.
Benedict also worked with me during the rehearsals and services. He provided great feedback and training on my conducting. Something he said that truly resonated with me was: I have to trust my choir.
Benedict – I'd also like to speak to what I think is the implicit assertion that all this may seem unnecessarily complicated to some people. The greatest art often seems effortless to an outside observer. As a rule, I think, the most skilled artists are the ones who make what they do look simple. But, as we all know, underneath the seeming weightlessness of a Baryshnikov is thousands upon thousands of hours careful technical training. We all want church singing to seem simple and effortless and direct, as natural as breathing.
This is right. But in reality, I think simplicity is an illusion created by a consummate technique. Just as in all "simple" biological phenomena there lies a hidden infinity of complexity, so in art the simplest expressions of beauty are generally the fruit of immense and deliberate skill. I hear lots of people say, "We don't want complicated music in church. Church music should be simple." But they don't understand that simplicity (and I mean a simplicity that's not merely incompetence) is a technical achievement.
One of the hardest things to do as a singer, for example, is to sing one pitch—and what could be more simple than that? —consistently in tune for any length of time. You have to marshal all the technical resources of a singer to sing even the simplest music beautifully.
Maria – Over the years that I've been teaching—and learning—I've found that, in order to be physically able to make a well supported sound, a person has to be psychologically willing to do so. In order to really sing, a person has to project his or her voice over a much bigger distance, physically speaking, than is socially appropriate in everyday life.
Like it or not, singing is a physically assertive art form. Unlike more static arts that you can make in private and then display once the creative process is finished, singing commands attention from others.
Singing is also ephemeral; if a listener isn't paying attention, they miss it. So it has an urgency. Singing is also declamatory: it is always a particular text that we sing, and not just melody alone, so we're always singing about something."
"We're always singing about something."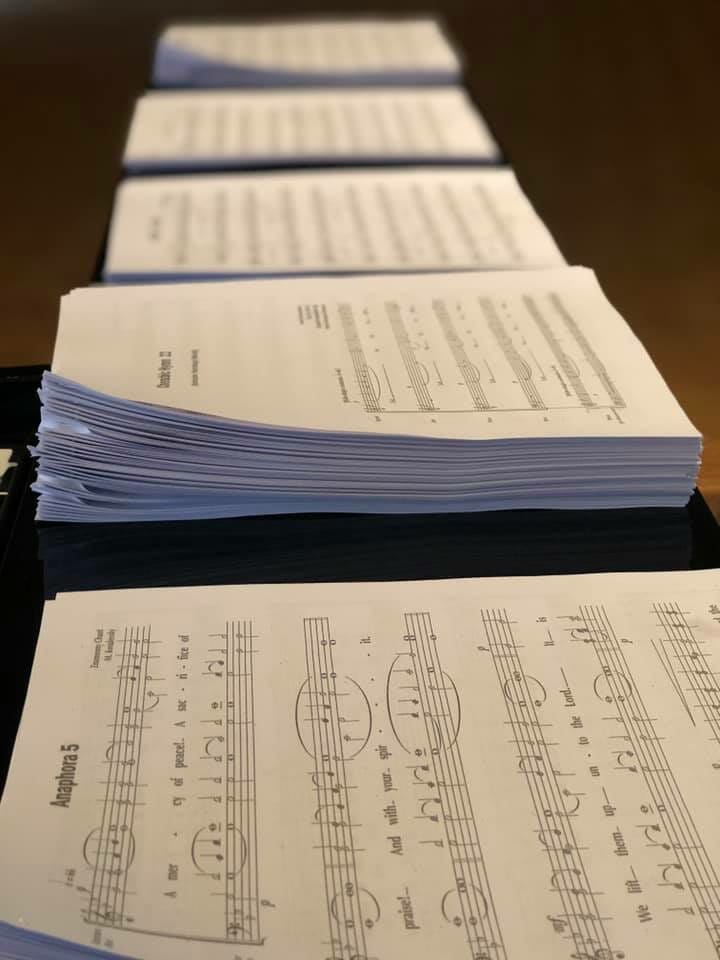 Delivered beautifully, the worshiper's consciousness becomes radiant with theology imparted musically so that whole passages of difficult precepts may be apprehended at once.
But theology wedded to music has a fragile integrity entrusted to singers who must skillfully labor to reveal heaven on earth.
Some of what Benedict had to say about the general condition of Orthodox music in our churches should make us uneasy as choir members, and also as leaders of our parish communities locally.
I asked Benedict to expand upon his observation that the overall level of musical quality in Orthodox churches in America is quite low, and what he meant by, "It is not that we can't do better but that we're not interested in doing better, and we're not putting resources into doing better. And this is true across jurisdictional lines …"1
Benedict – There are many parishes out there that are trying to do a good job with their church music. I don't mean to discount their work. And perhaps many are genuinely doing the best that they're capable of. But yes, I think our musical standards in American Orthodox churches are, for the most part, embarrassing. Even the absolute best church choirs in the country are barely on par with an average college choir, or even a decent high school or community choir, and most are far worse.
This should bother us.
We should want to do something about this. We humans are resourceful, especially Americans! If we want to do a thing, we generally figure out a way to do it. I'm convinced that if we really wanted great church choirs, we would have them right now.
I think we've spent a generation or more living on accumulated musical capital and we haven't been reinvesting. We haven't been educating musicians in the Church or even expecting them to be particularly well-educated somewhere else. We've taken church music for granted for a long time. And only now that we're running out of musical capital—that is, a pool of church musicians that know their job and know how to teach it to others—are we realizing that we have a crisis on our hands.
The clearest and most effective remedy—the only remedy, really—is to start to infuse our parishes and dioceses with people that have real musical training. And not just any musical training, but choral music, vocal music pedagogy, people that know how to teach adults to sing, how to teach children to sing, know how to lead a choir, who know how to conduct and how to inspire people to sing well.
Having had violin lessons when you were nine years old—or even being a highly trained concert violinist—doesn't necessarily mean you know the first thing about how to train and lead a choir, let alone a church choir in the specialized context of Orthodox liturgical music in America.
Benedict had much more to say about how parishes can address the need for trained musicians in practical ways, but he and Stephen also commented on why our approach to singing is an indicator of our day-in, day-out care for the church.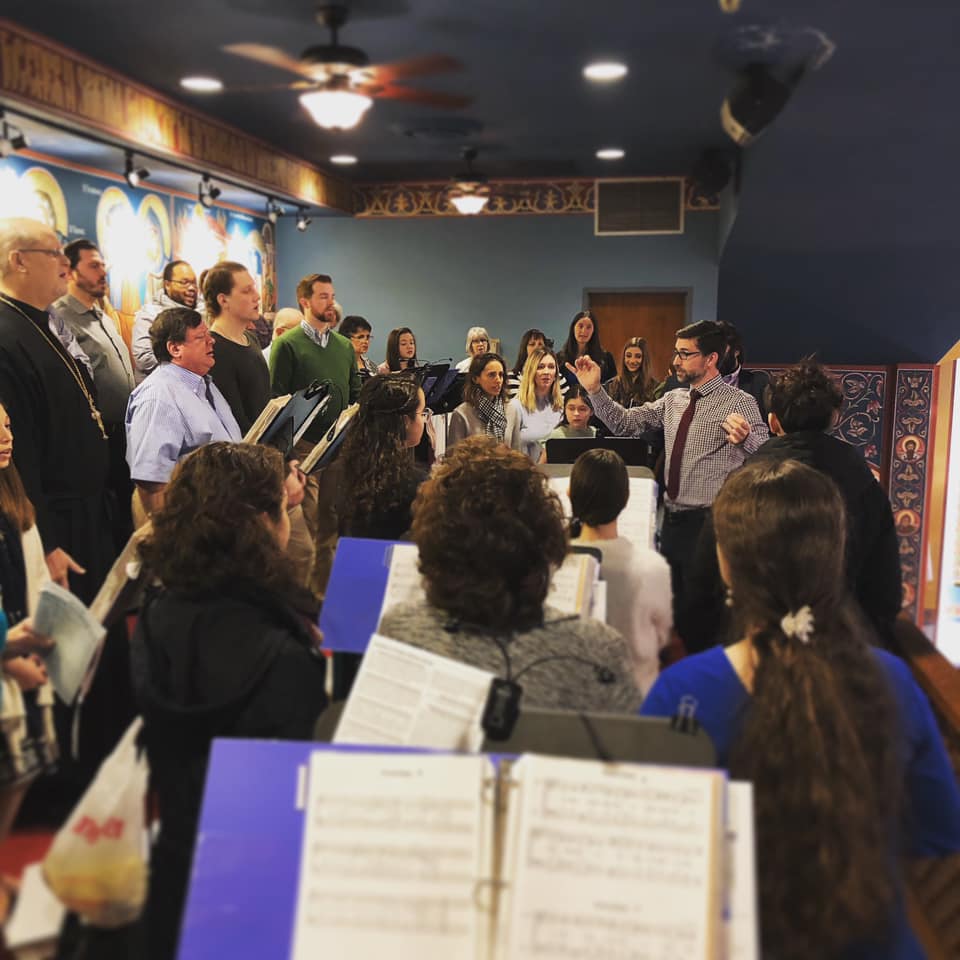 Benedict – A parish can spend hundreds of thousands of dollars on their building and their iconography and be satisfied with a lasting testament to their values, but those things eventually represent only what a church's values used to be.
Because music is ongoing, and because maintaining a musical culture requires a constant infusion of time, talent, energy, and personnel, music accurately represents a parish's values today. I would argue that it's in fact the clearest indicator of a parish's values.
Of course, other ongoing church programs can indicate a parish's values too, but let's not forget that the Liturgy is the one a thing a church does that only a church can do. Many other organizations can provide assistance to the needy, counseling, even religious education—many do this even more effectively than churches can—but only a church can serve the Liturgy. I think if we don't prioritize the Liturgy—and what is the Liturgy without singing?—then we've forgotten what it means to be a church.
In the "Prayer Before the Ambo" at the end of every Divine Liturgy, the priest prays "Sanctify those who love the beauty of thy house." How do we love something? By serving it, by giving ourselves to it, by sustaining it and cherishing it. The beauty of all the liturgical arts in a church is quite literally a manifestation of our love for God's house—and thus, our love for Him who abides in it.
But singing beautifully in church, above all, manifests that love now, in real time. The great thing, though, is that this is a path to sanctity, as the "Prayer Before the Ambo" says. God sanctifies us through our actively loving the beauty of His house. And not just us, but lots of people. Everyone who walks into a church where this is happening will be affected on a deep level. This is the kind of beauty that saves the world, as Dostoevsky said. God knows we need it!
Stephen – In the Orthodox Church, nothing is done in any of the liturgical services without an elevated voice. When it is done beautifully there is nothing in this world better. One saint says, "When you sing, you pray twice." The church realizes the importance of beautiful singing and beautiful music. In fact, St. Michael's has grown in size and attracted new members because of our liturgical music. I believe our parish is healthier because of our emphasis on beautiful liturgical music.
"Beautiful singing and beautiful music" are not affectations, just as our iconography is not decoration. Because the theology of the Orthodox Church is embedded in her hymnography, church singing is a primary instrument of its preaching, catechesis and evangelism. Sermons, Bible studies and church schools support spiritual formation, but this is not how the Church draws near to the soul; it is through the depth of her spiritual poetry beautifully chanted and sung.
When I asked Stephen why St. Michael's has an unusually vibrant choir, he had this to say.
Stephen – St. Michael's has an unusually vibrant parish, which first and foremost I attribute to our beautiful pan-orthodox community. Because of this, we make concerted efforts to sing a variety of Orthodox music from all different cultures. This parish is home to people from all over the world: cradle Orthodox from Lebanese, Syrian, Slavic, Greek, Egyptian, and Ethiopian backgrounds, those of Western European heritage and many more, but also to many American converts.
This is only part of the reason for our vibrant choir. We have been blessed over the last 40 years with two parish priests, Fr. Alexander Atty and Fr. Alexis Kouri, who have supported and loved the beauty of sacred music.
Both of these priests have not only financially supported our singing mission as a parish, but have also strongly encouraged its growth and participation in all services. Kh. Olga was instrumental in developing our varied repertoire. She was an inspiration to me as a young child singing in the choir. We still sing many pieces she introduced, and we continue to learn more and more music, including modern Orthodox composers such as Benedict Sheehan.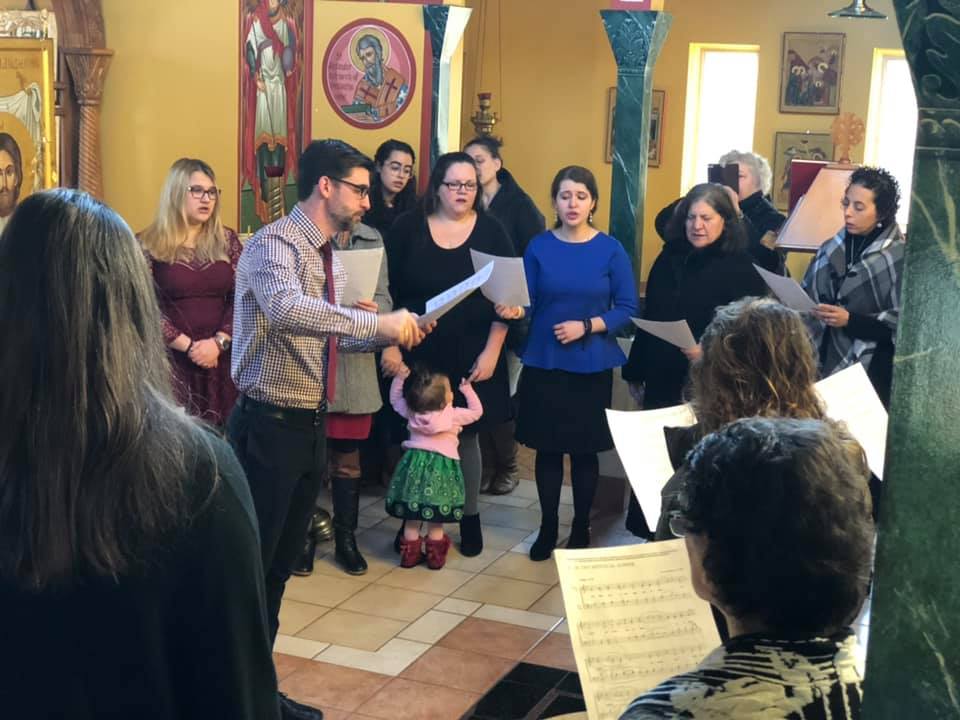 Benedict – I just want to add that "from those to whom much is given, much is also required." My hope for St. Michael's choir is that its director and members do what's necessary to keep improving and growing as a vital ministry, not only to their parish, but to the Church at large.
If they undertake that work, then I think, with God's blessing, they can forge a path that other parishes in America will be inspired to follow.
—————————————————————————
1The State of Church Singing in America: An Interview with Choirmaster Benedict Sheehan, Orthodox Arts Journal, September 28, 2015
Benedict Sheehan directs an ensemble of St. Michael's Choir antiphonally singing Dimitry Bortniansky's "Let My Prayer Arise" in St. George Chapel on the campus of St Michael the Archangel Orthodox Church in Louisville, KY, January 27, 2019.
The fruits of a masterclass with Benedict Sheehan directing an ensemble of St. Michael's Church Choir singing William Byrd's "Ave Verum Corpus" in St. George Chapel, Louisville, KY, January 27, 2019.
Rachmaninoff's Bogoroditse Devo (Rejoice, O Virgin) Stephen Jacobs directs St. Michael the Archangel Orthodox Church Choir of Louisville, KY during its annual Nativity concert, December 2018.
—————————————————————————–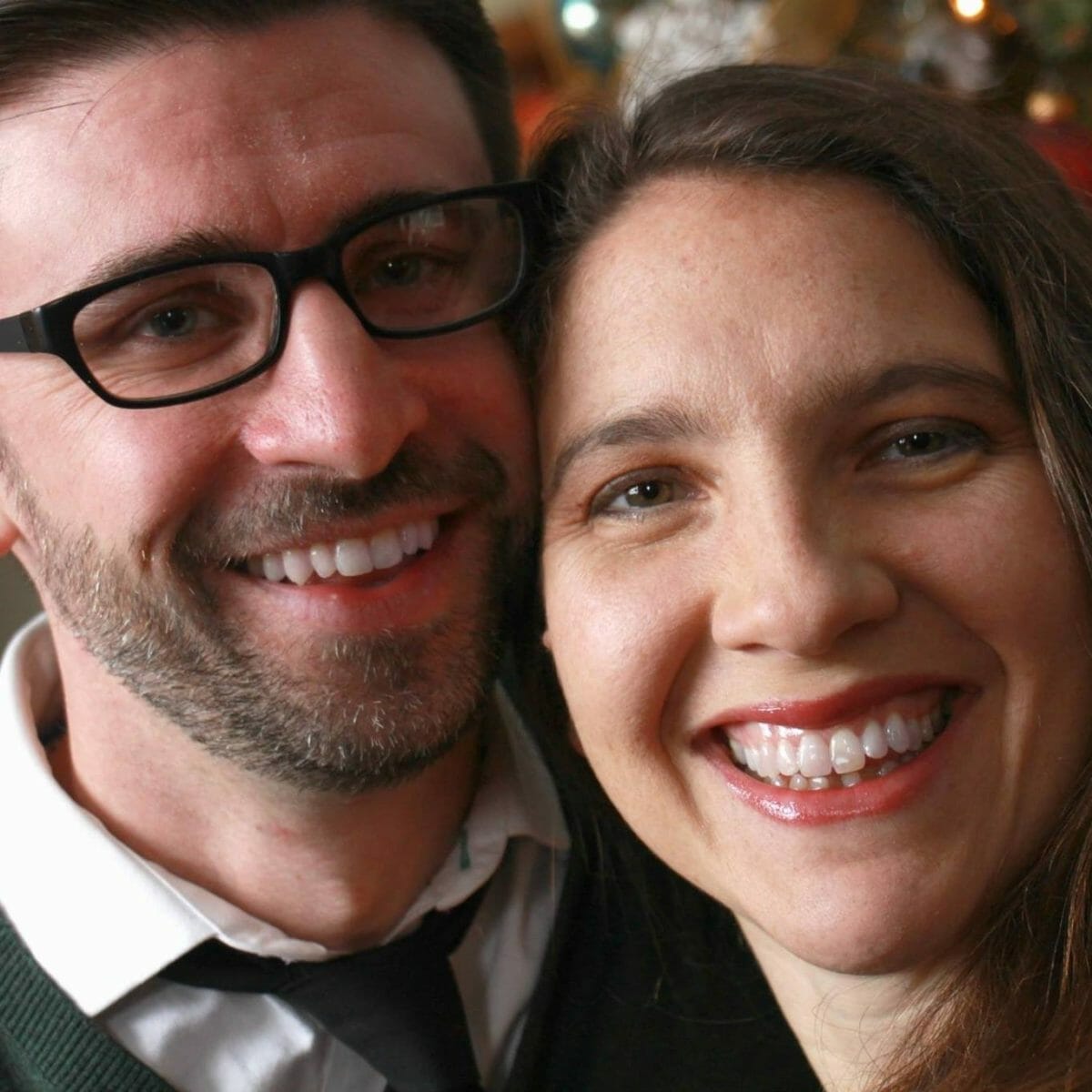 Benedict and Maria are the parents of seven daughters. The two met at Westminster Choir College in Princeton, NJ where Benedict earned his Bachelor of Music in Theory and Composition, and Maria her Bachelor of Music Education. Benedict also holds a Master of Music in Conducting at Bard College Conservatory of Music, and a Master of Divinity from St. Tikhon Theological Seminary. As a conductor, Sheehan has made several recordings with the choirs at St. Tikhon, including the debut album of Chamber Choir of St. Tikhon Monastery, "Till Morn Eternal Breaks: Sacred Choral Music of Benedict Sheehan."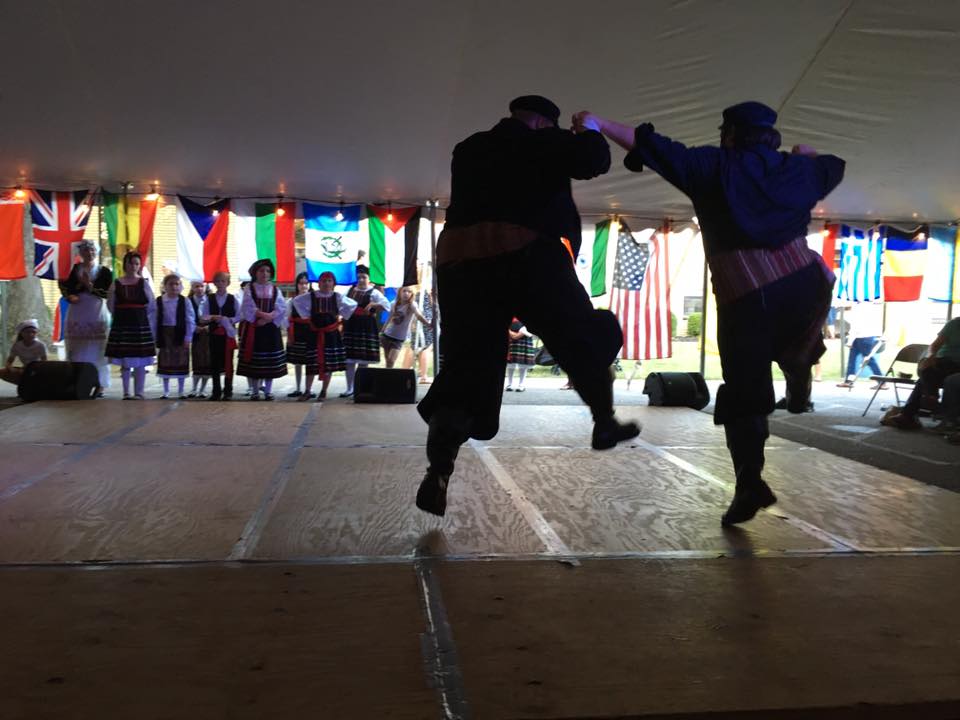 Stephen Jacobs is the father of two daughters and a son, and the husband of Amanda Morgan Jacobs. A graduate of the University of Louisville, he is Community Relations Director and Director of Music at Immaculata Classical Academy, as well as Director of Music at St. Michael the Archangel Orthodox Church, Louisville, KY.
He sings, he dances, he gives "his heart and soul to the work of building up music in his parish."