I was recently asked to design a new chapel for Saint Gregory Palamas Orthodox Monastery in Perrysville, Ohio. It is an especially pleasing project for me because the site is located in the heart of the most idyllic Amish farm country – rolling hills, huge simple barns, elegant Victorian farmhouses, quiet roads with horse-drawn buggies. And the monastery itself is special as an English-speaking community within the Greek Archdiocese. As such, the monks are very willing to honor local cultural traditions as much as possible within their Athonite monastic rule.
Thus the project to design their new chapel was an ideal occasion for me to practice my ideas for developing an American Orthodox architecture.
The current monastery chapel is a curious structure built several decades ago. It has some pleasing features, such as a simple white exterior with a dome, a very fine terrazzo floor, and a carved iconostasis from Greece. But the building is an amateur construction with many unfortunate details, and it has deteriorated and is not worth repairing. So the brotherhood asked me to design a new, somewhat larger, chapel that would stand upon the foundation of the current one, keeping the floor, altar, and iconostasis in place.
So I very carefully measured the existing elements and devised a floor plan that subtly extends certain parts of the foundation, while maintaining the basic geometry of the existing terrazzo floor. Whereas the old chapel has an odd hexagonal cupola standing on six aluminum columns, the new design is a classic four-columned Byzantine space. The shape of the foundation required some unusual complications to the interior forms, probably resulting in a more interesting building than if it had been designed from scratch. The iconostasis will be extended one bay at each end, and fits seamlessly into the new design.
The church will be built with 2×6 framed walls, so structurally it is not the masonry building that one expects with a Byzantine style church. I wanted to present this fact honestly, both inside and out, so that the building will seem authentic to its design, and not an imitation of something that it is not. On the interior, I decided to make the four columns under the dome out of wood, and also roof the side aisles with tongue-and-groove wood ceilings. This makes it very clear that it is a wood-framed structure, while still allowing for all the plastered arches and vaults needed to support a complete scheme of iconographic murals.
Since the exterior has no liturgical need for plastered surfaces, it is there that I had an opportunity to fully express the American tradition of architecture in wood. The form of the structure is rendered with the practical restraint and simplicity that we see in Amish farm buildings. But it is not utilitarian, as there are elegant details, such as exposed rafter tails, eave brackets, arched windows with wrought-iron grilles, and a timber-framed front porch. The walls are clad in cedar lap siding, and everything is painted white to stand out in the verdant landscape.
This exterior detailing is not only honest and true to the stick-framed structure, but is also wholly traditional in America. The very same details could be seen on a Victorian house or Protestant country church. And it is by no means a new idea to have an exterior like this on an Orthodox Church. We can see the very same approach used in many historical Orthodox churches in North America. Some good examples would be the churches in Wilkeson, WA, Juneau, AK, and throughout the Canadian Midwest. It is such a practical solution to building an economical Orthodox church that it almost seems too obvious to describe. And indeed, it was obvious to our pioneer predecessors. But somehow that which was practical and honest became forgotten in the mid-twentieth century, and most Orthodox churches were built with faux stucco, brick veneer, fiberglass ornaments, and so on, in poor imitation of the look of Byzantine masonry. And so nowadays, I think people will see it as an almost astonishing breath of fresh air to see an Orthodox church that is clad in a wholly simple, practical, and American style.
The monastery is currently raising funds for construction, at which point the plans will be developed further in collaboration with a local architect of record.
Andrew Gould's Church design work can be seen at New World Byzantine.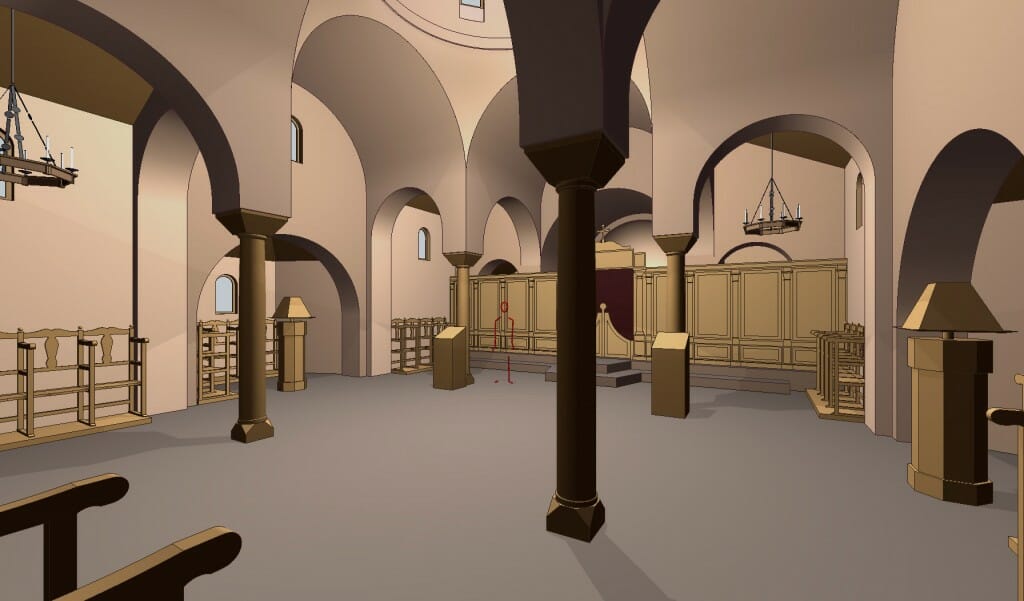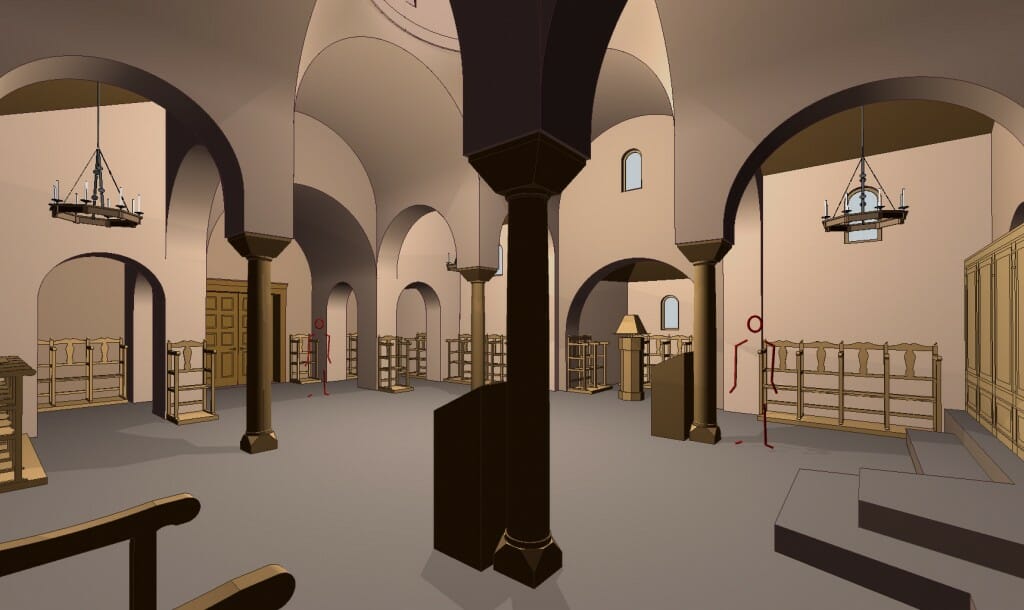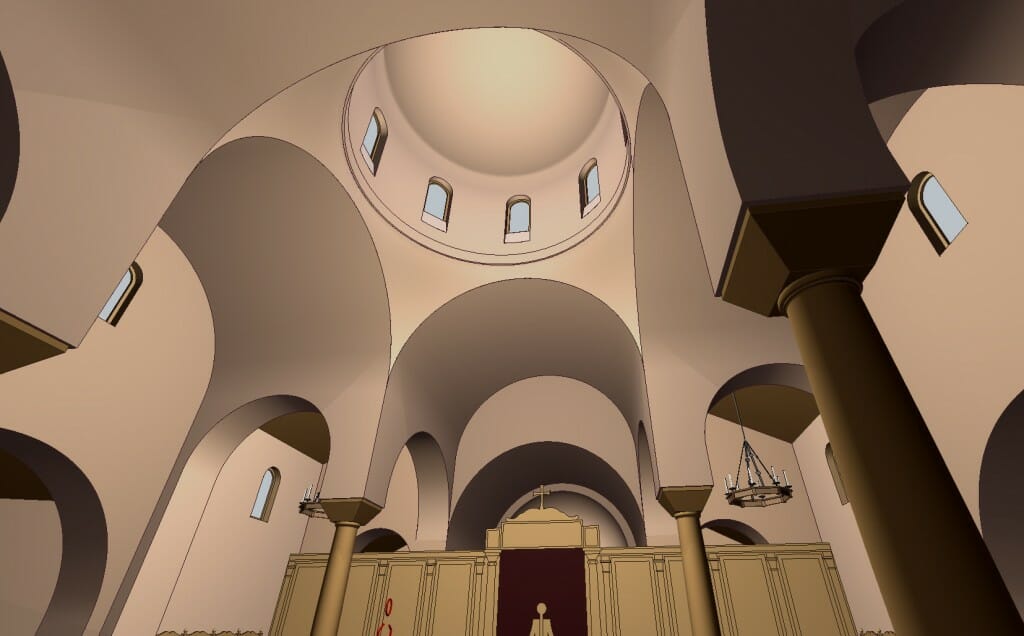 Update – 2019: This project is now under construction: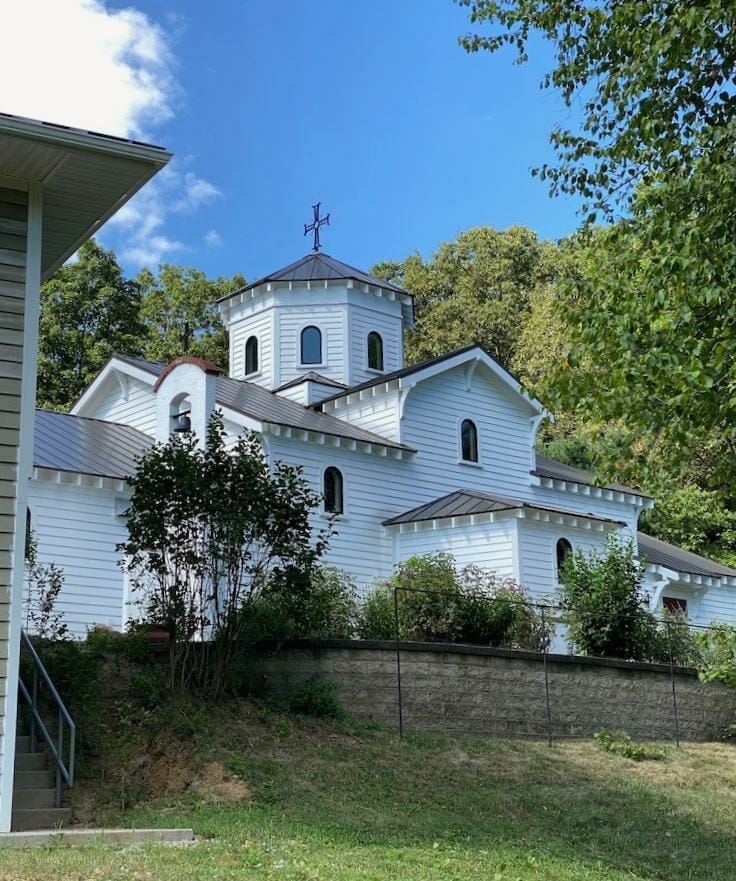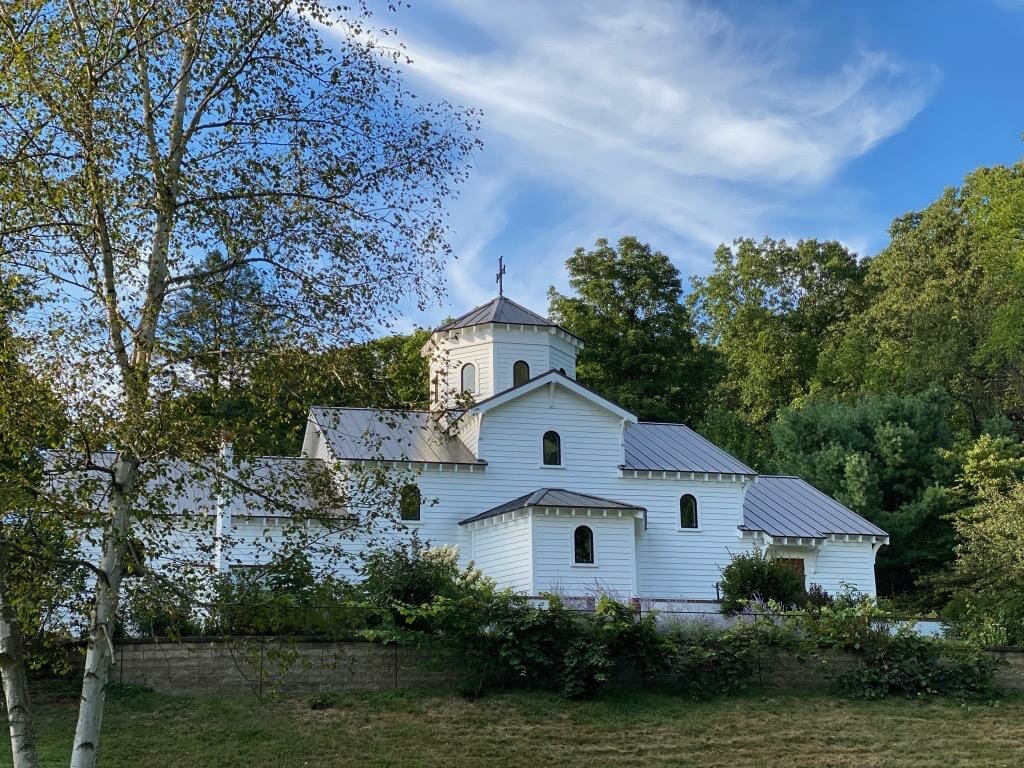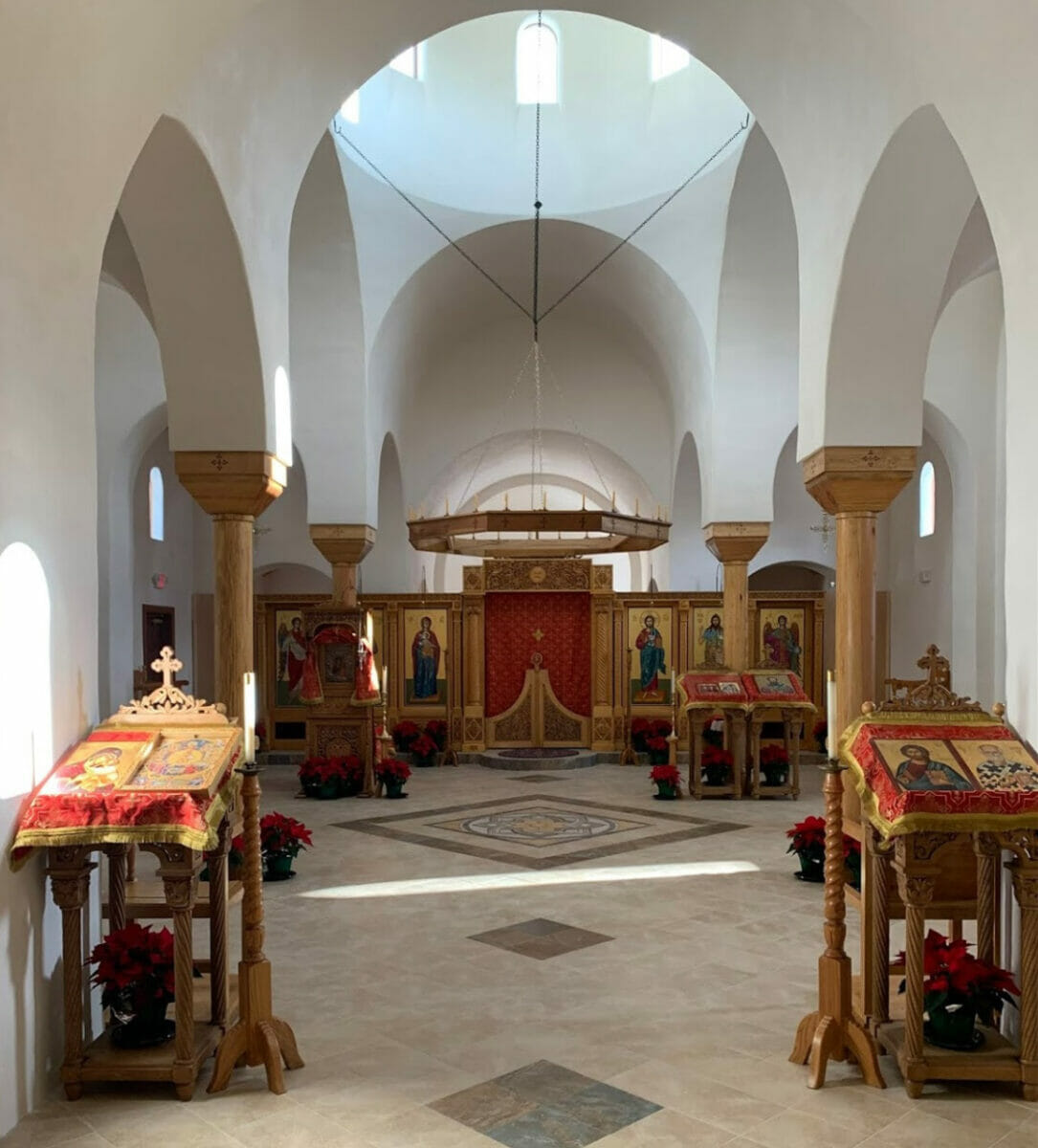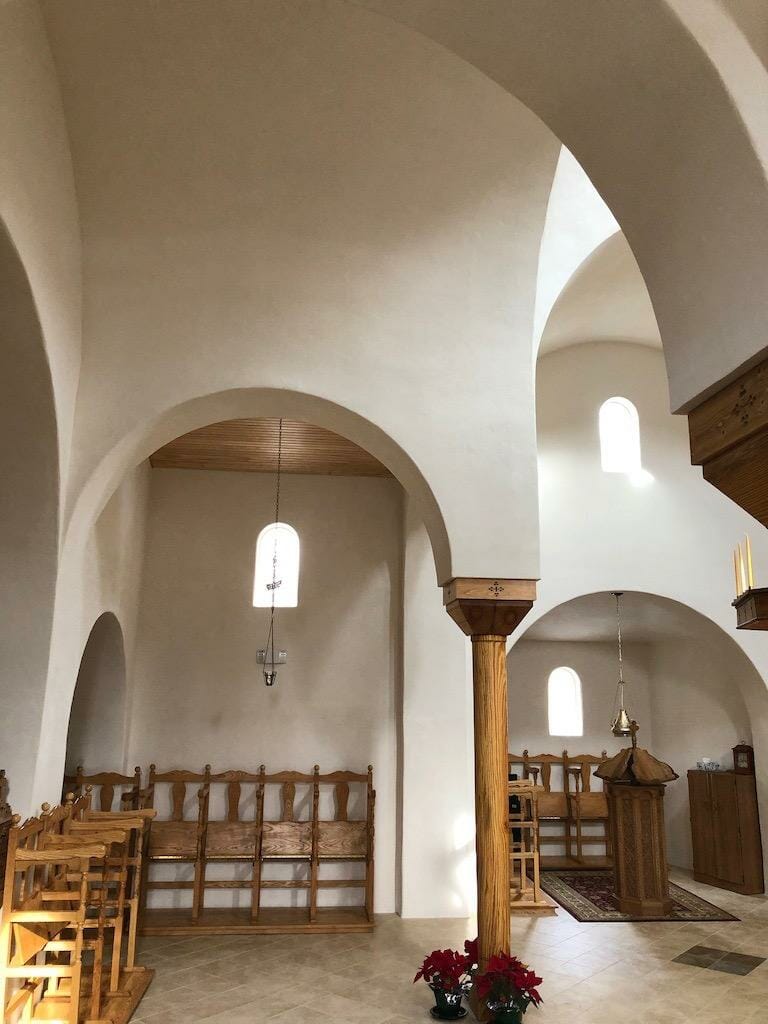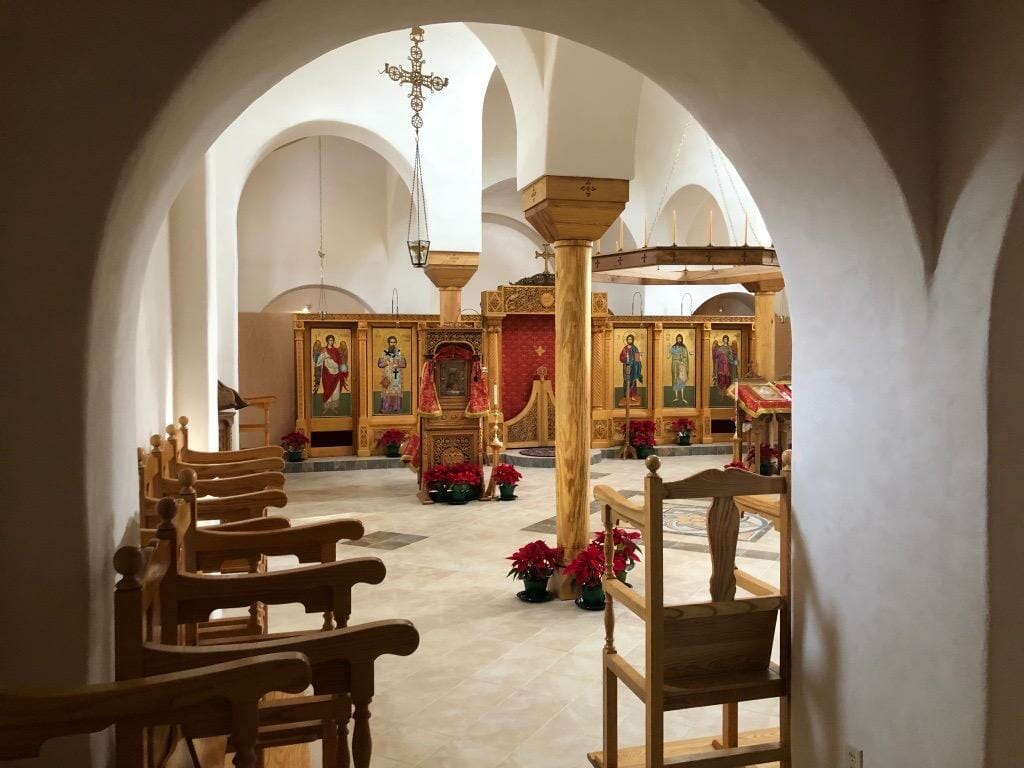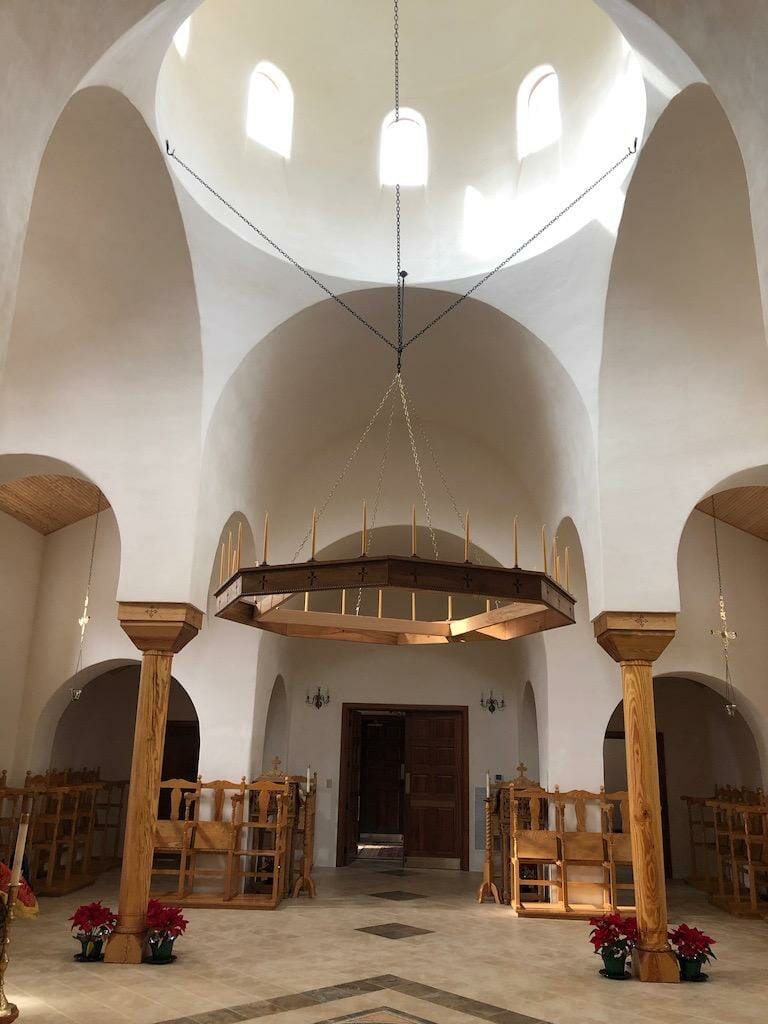 Update 2020: The chapel is now being frescoed.