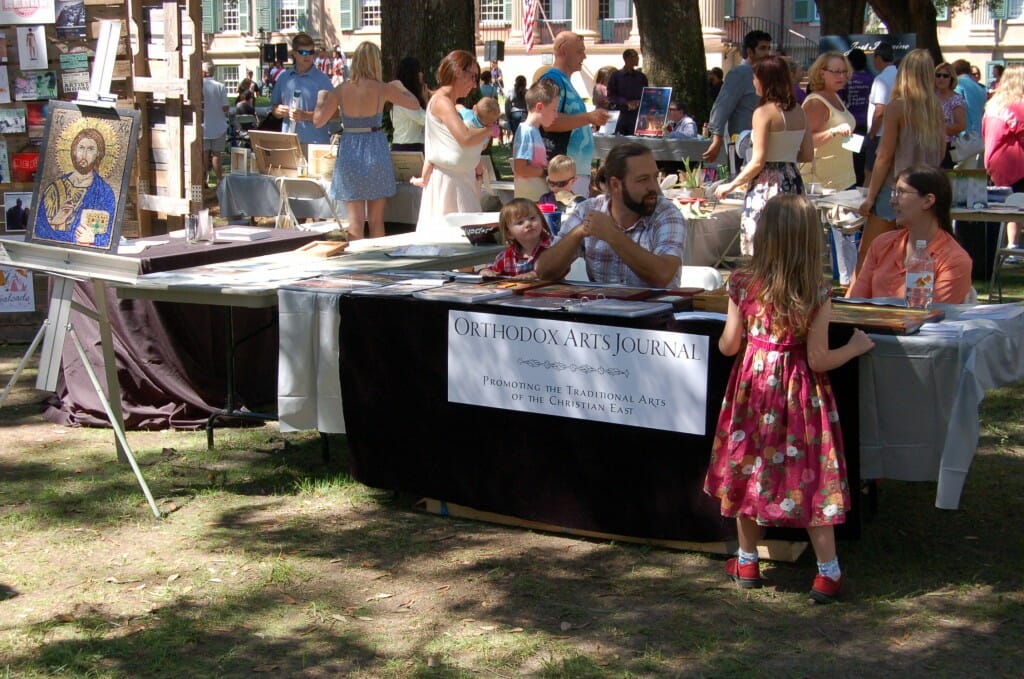 With the goal of presenting Orthodox liturgical arts to a wider audience, the Orthodox Arts Journal participated in a large public arts event in Charleston, SC, on September 21st. The event, the annual OPEN Arts Expo, is produced by the Charleston Regional Alliance for the Arts, which promotes non-profit arts organizations, and of which the OAJ is a member.
The expo was held at a beautiful square in the downtown Charleston historic district, on the campus of the College of Charleston. There were fifty different arts organizations represented at booths, ranging from small artist cooperatives to major art museums. There were also theatrical troupes and music and dance schools, which offered performances throughout the day. Over two thousand people visited the event.
Orthodox Arts Journal was the only organization present with a liturgical or religious focus. In many ways, our participation was an experiment to see how liturgical arts might be able to fit into the energetic and secular arts community of Charleston. We felt that our presence was very well-received. We had good conversations with the public and with other artists, and were surprised to find that most of them had some personal connection to the Orthodox Church. Apart from several actual church-going Orthodox we met, there were many non-Orthodox who knew a good deal about the church or iconography from family connections or travel in Eastern Europe. So the art we had on display was not quite so 'foreign' to Charlestonians as we might have expected.
In the future, we hope to expand on this good beginning by organizing a major show of contemporary iconography to be displayed at one of Charleston's art galleries. The event will coincide with a series of concerts and liturgical arts lectures at the local Orthodox churches.