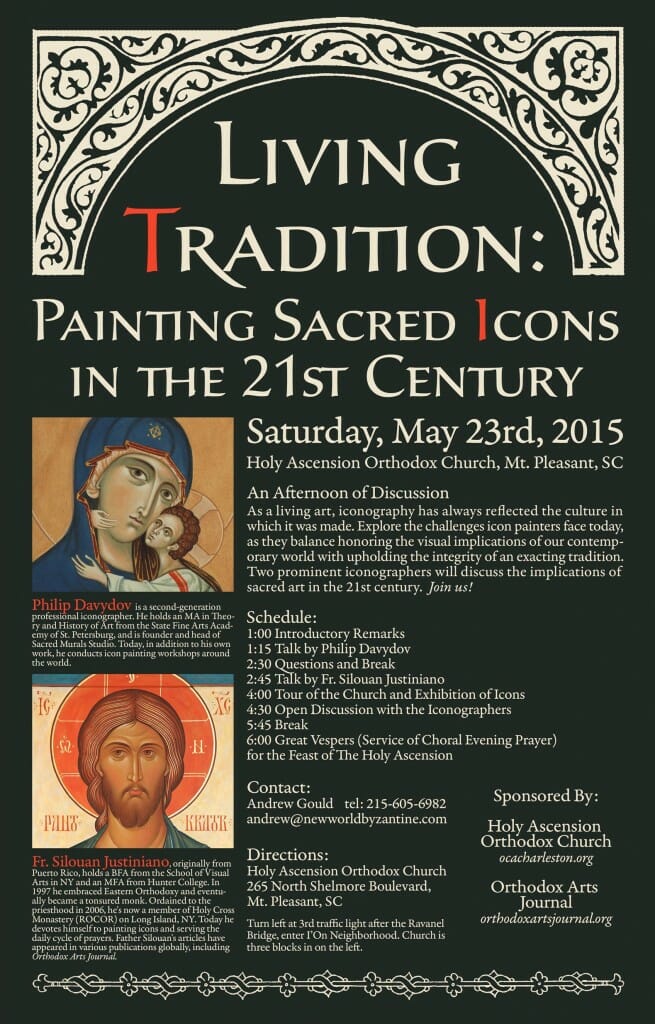 I would like to announce an upcoming event sponsored by the Orthodox Arts Journal. Living Tradition: Painting Sacred Icons in the 21st Century, will take place in Charleston, SC on May 23rd, 2015.
We have invited two prominent iconographers, both contributors to the OAJ, to come and share their perspectives as liturgical artists in our contemporary age. Philip Davydov and Fr. Silouan Justiniano have considerable experience in the fields of both modern art and traditional iconography. I anticipate that their talks will speak to the timely question of what makes Tradition alive, and in what ways traditional art and the modern world interact.
The schedule is as follows:
1:00 Introductory Remarks
1:15 Talk by Philip Davydov
2:30 Questions and Break
2:45 Talk by Fr. Silouan Justiniano
4:00 Tour of the Church and Exhibition of Icons
4:30 Open Discussion with the Iconographers
5:45 Break
6:00 Great Vespers for the Feast of the Ascension
The event will take place at Holy Ascension Orthodox Church, whose architecture and iconography offers an ideal setting for a discussion of liturgical art. Of interest to anyone who might come will be the Spoleto Festival USA, taking place concurrently in Charleston, from 22 May to 7 June, offering hundreds of world-class artistic performances.