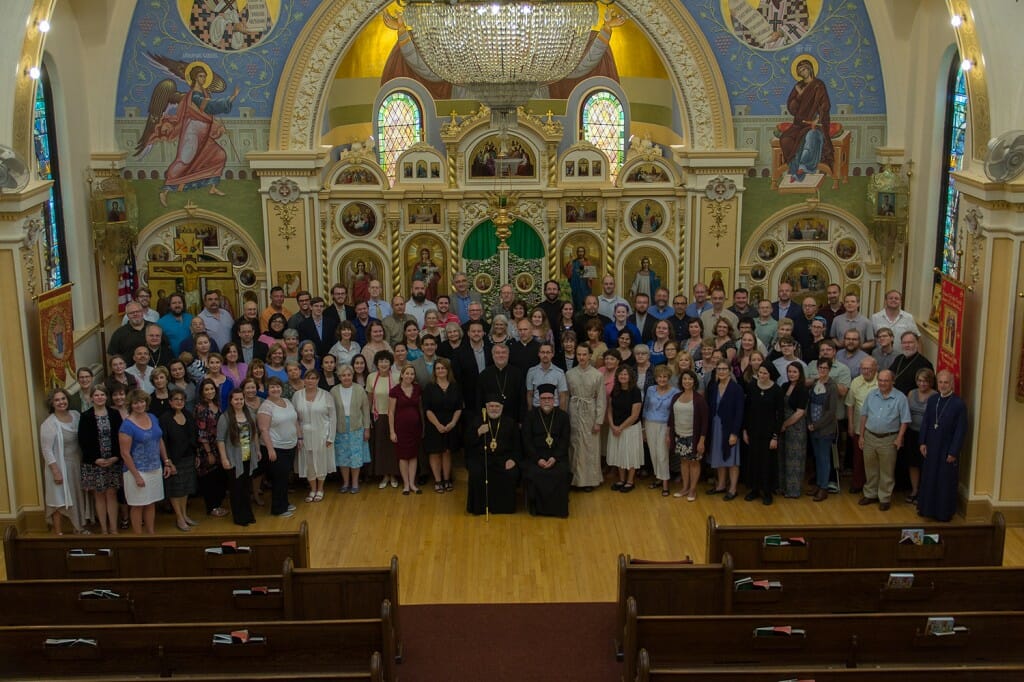 Minneapolis, Minn. – Participants from nearly every jurisdiction in North America attended the 2016 Pan-Orthodox Music Symposium held at the historic St. Mary's Orthodox Cathedral here. "When we attend conferences and symposia, every once in a while you really feel like you are attending one that is truly special," said Michael Lang, of Christ the Saviour Church in Ottawa, Ontario, "this year's ISOCM Symposium had that special feel."
Michael was one of over 140 other participants from 31 states and 5 countries and representing 10 Orthodox jurisdictions, and Roman Catholic, Byzantine Catholic, and Lutheran traditions.
The five-day event sponsored by the International Society for Orthodox Church Music (ISOCM) concluded with a hierarchical divine liturgy on the Sunday of All Saints, June 26, 2016 celebrated by His Grace, Bishop Paul of Chicago and His Eminence, Metropolitan Elia of Oulu, Finland.
Participants sang new settings of the post-communion troparia by Father Sergei Glagolev at the liturgy and sang other new compositions written for the symposium. The youth of St. Mary's Cathedral who were attending the parish's vacation bible school sang parts of the vigil and liturgy with the over 140 symposium participants.
"There is nothing quite like a gathering of Orthodox Christian liturgical musicians. This symposium definitely proved that in spades," said Larissa Sander, one of the symposium directors. "What a wonderful gathering of like-minded souls – singers dedicated to the glory of God and His Church, people who came seeking musical and liturgical beauty."
The symposium also included workshops on the use of Byzantine Chant in parish practice led by John Boyer, a session with Juliana Woodill on teaching children to sing, and learning from John Black on how to work with senior choir members. Formal presentations were also given by Dr. Kurt Sander on the theme of joyful sorrow in church music, Dr. Paul Barnes on the use of Orthodox music in concert settings, Dr. Nicoletta Freedman on balancing aesthetics with theology while singing or chanting.
The keynote address was presented by Father Ivan Moody, board chairman of the ISOCM, exploring the idea that beauty, prayer, and music are inherent to our Orthodox ethos and liturgical experience.
A working session explored the future of Orthodox church music and how participants can work together on topics including: church music for children, research and publications, leveraging social media, training of leaders and singers, engraving and transcribing music, and concerts and outreach. The results of this session will be shared in a formal letter which will be sent from the ISOCM to the North American Assembly of Bishops and the music departments of each jurisdiction.
"I would say I thoroughly enjoyed the balance of education, participation and of course the music itself," said Nina Lickwar of St. Jonah Church, Spring, Texas. "It's a sensational feeling when you have a composer present to hear their art come to life, an electrical one when they conduct you singing it and heartwarming when you leave being friends with them."
Enthusiasm for the event has been overwhelming with participants asking the ISOCM to consider hosting another regional gathering for North America. Society board members have already met to discuss ideas for theme and possible locations. "The Society strives to provide resources for those interested in Orthodox liturgical music and opportunity for them to meet, discuss vital topics related to church music," said Father Ivan. "In meeting, we strengthen our relationships which improves the quality and beauty of singing."
Symposium Highlights:
Captions/information for the attached photos is listed below, and a full collection of photos is being assembled at
https://stmarysoca.smugmug.com/2016/2016-PanOrthodox-Music-Sympos and will include video clips in the coming weeks. Presentation recordings are being edited for posting as well and will be made available at:www.orthodoxmusicsymposium.org
About the ISOCM:
The International Society for Orthodox Church Music (www.isocm.com) works to increase awareness of Orthodox liturgical music and chant by hosting gatherings around the globe, publishing resources and proceedings from its events, and facilitating research studies which explore the many facets of Orthodox Christian music.