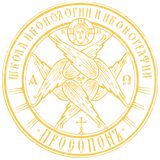 (Editorial Note: this article was submitted by Lynette Hull, an iconographer trained in the Prosopon School)
The Prosopon school of Iconology and Iconography will celebrate its 25th  anniversary by hosting a conference, entitled "Locating Prosopon," at Princeton Theological Seminary, April 12 – 13, 2013. The Prosopon School, founded by Master Iconographer, Vladislav Andrejev, has taught an estimated 4000 students across North America, England, Russia, Eastern Europe, and South America. By using the ancient Byzantine egg tempra method and uniting it with iconological principles, the Prosopon School draws the student into the practice of prayer.
The Prosopon School's distinguishing feature is that its primary focus lies not in the production of icons but rather on the transfiguration of the student's inner icon, aligning that icon with God's icon, the Incarnate Logos, Christ. Through the discipline of writing an icon, the student learns to look inward, develop attentiveness and begin to pray, in pursuit of the words of St. John Chrysostom, "When you discover the door of your heart, you discover the gate of heaven."
Writing in "Prosopon School Icons," Andrejev says, "The path of the knowledge of God begins with the synergy of dogmatic faith and sacramental art…Religion which does not engage in the creative artistry of incarnating itself in life develops an overly discursive consciousness and deprives the believer of what the practice of prayer should be – the art of seeing God as He is."
The "Locating Prosopon" conference will explore both the school's ideas about and the iconological implications of the term "prosopon". Simultaneously, the conference will serve to locate in an historical context the milieu out of which the Prosopon School developed. We will also explore the influences upon Andrejev, the school's founder, and the reception of the school's icons by the dominantly Protestant culture of today's America.
The "Locating Prosopon" conference will culminate with a newly discovered "Icon of Orthodoxy," written by Andrejev himself. This icon gives visual form to the truths which the Orthodox Church holds regarding the icon. Unlike all the other feasts, there is no "festal" icon for the Sunday of Orthodoxy; traditionally churches venerate the Icon Not Made by Hands. Andrejev's Icon of Orthodoxy gives full expression to the richness of Orthodox understanding of the Incarnation. This icon expresses the very reason the church, after suffering iconoclasm, raises high the icon, marches around the people, and testifies to the essence of the true faith.
We welcome all who are interested in finding out more about Orthodoxy, iconology, iconography and the Prosopon School. To find out more about the school, visit
www.prosoponschool.org
To register for the conference go to:
www.prosoponanniversary.org