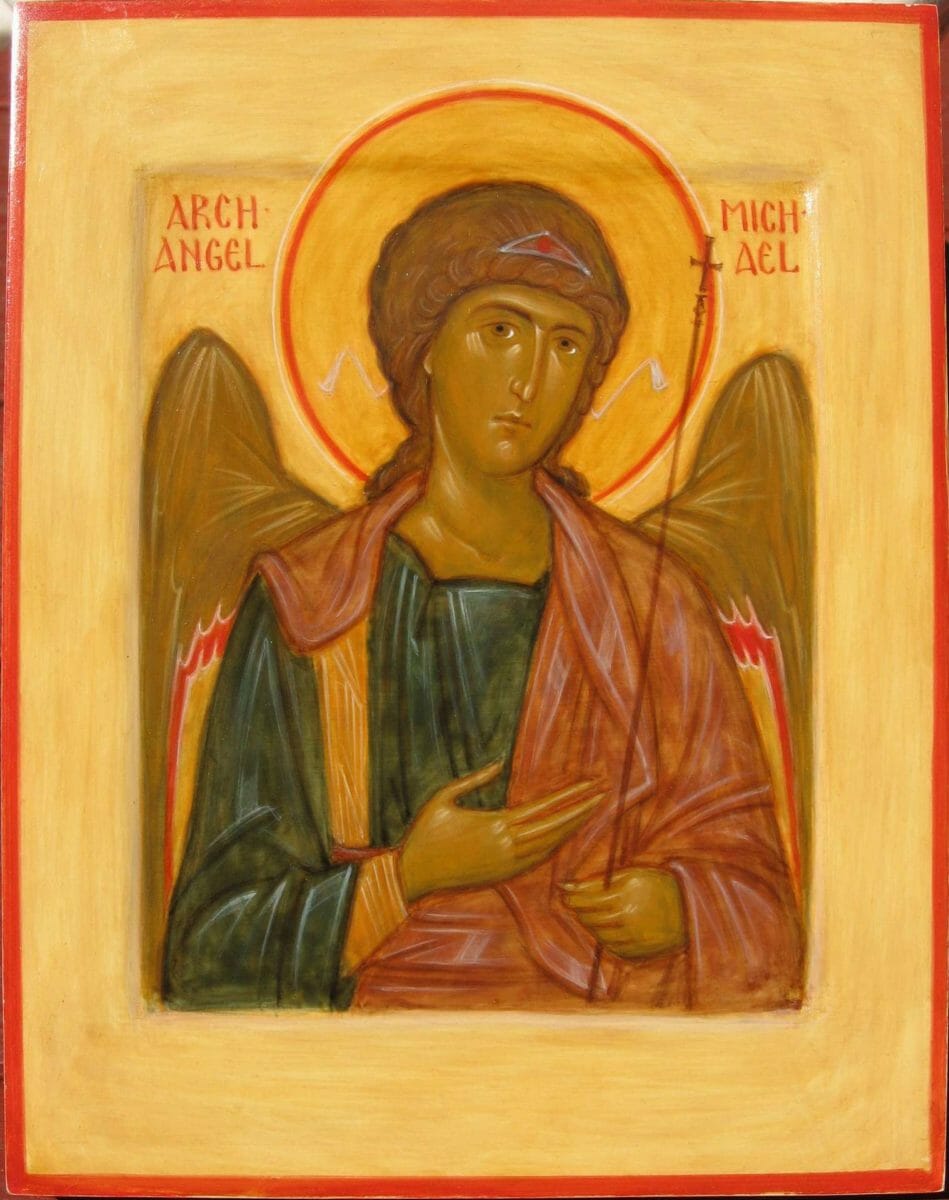 It is my pleasure today to present the work of Matushka Ann Margitich, iconographer based in Santa Rosa, CA. Her work has a special place in my heart, my favorite among the many icon painters I am privileged to know. She paints the most kindly and gentle figures, with a delicate beauty of color and surface that is immensely approachable and attractive. I am pleased to offer the following interview to gain a few insights into her marvelous work.
Gould: I've heard you were among the last pupils of Leonid Ouspensky. How did your interest in icon painting begin, and how did you come to study with Ouspensky?
Margitich: I was one of his last students, one of the very many that studied with him in the final years of his life. I first met him in in 1983 and he reposed in 1987. I learned most of his views on painting and ways of working from two of his students, Fr Patrick Doolan, who is an American, and Helena Nikkanen, who is from Finland. They both worked with him extensively.
I became interested in iconography after meeting Fr Andrew Tregubov in 1979. I met him shortly after I was received into the Orthodox Church. I had just received a BFA degree with a concentration in painting and was exploring possibilities on what to do next. Fr Andrew had just been to Paris and had met Ouspensky. He was very enthusiastic to learn icon painting. He handed me a copy of Ouspensky's book "The Theology of the Icon" and a book with large color plates of Russian icons. The theology of the one book and the beauty of the icons in the second, as well as Fr Andrew's encouragement was what started my interest in icon painting. He invited me to help in a painting project that he was undertaking in his parish in New Hampshire.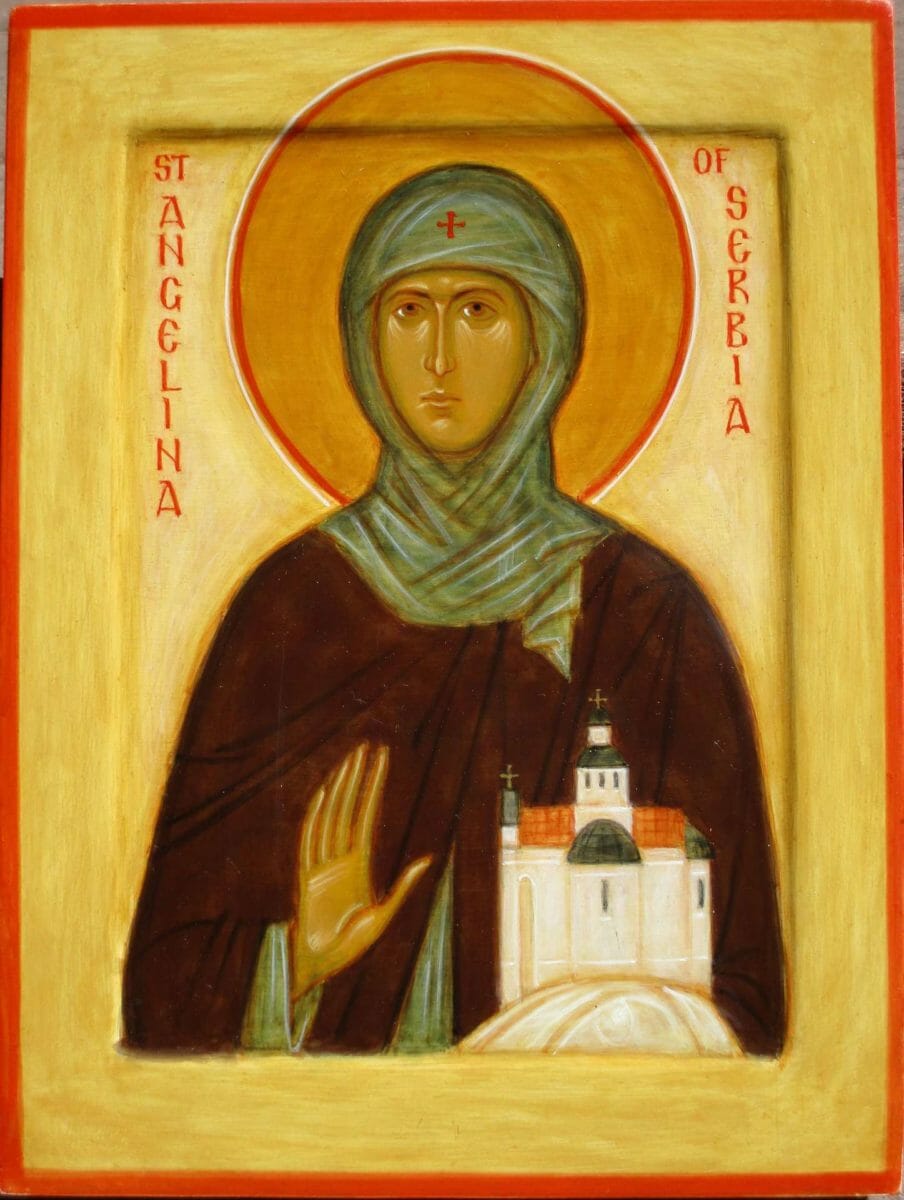 We had a real struggle in our first attempts to paint. We weren't aware of anyone painting in egg tempera in the United States. We made several attempts on our own by looking closely at the icons in books and using recipes from "the Practice of Egg Tempera Painting" by D.V. Thompson. There were very few resources at the time. It was always my intent to go to Paris and study with Ouspensky, but when several attempts to go there failed, Fr Andrew suggested that I spend a semester at St Vladimir's Seminary. I ended up spending two years at SVS.
It was during that time that I met Fr Patrick. While I was at SVS, Fr Patrick was in Paris studying with Ouspensky. When he returned from his first visit there, he shared with me his notes, and showed me his work and some basic principles of the painting process.
During my last semester at SVS, the school invited a guest icon painter from Finland to teach. Her name is Helena Nikkanen and she was also a student of Ouspensky. She taught an icon painting class as well as a lecture class in the history and theology of the icon. Both were very good and complimented what I had learned from Fr Patrick and Fr Andrew.
My husband, Fr Lawrence, and I were married in 1983. That same year we travelled to Europe and I was able to visit with the Ouspenskys. (Leonid's wife, Lydia, acted as translator) I had a wonderful visit with them. They asked me lots of questions, and I was able to see some of Leonid's work in progress, which was quite enlightening. I had brought some of my own work, mostly pencil sketches and a few panels in progress. I received a very thorough critique, which was hard, but very helpful. During the time that I was in Paris, I also visited churches where I could see icons painted by both Ouspensky and Fr Gregory Krug. When I returned a couple of years later, I was able to paint a little with him and received further critique of my work.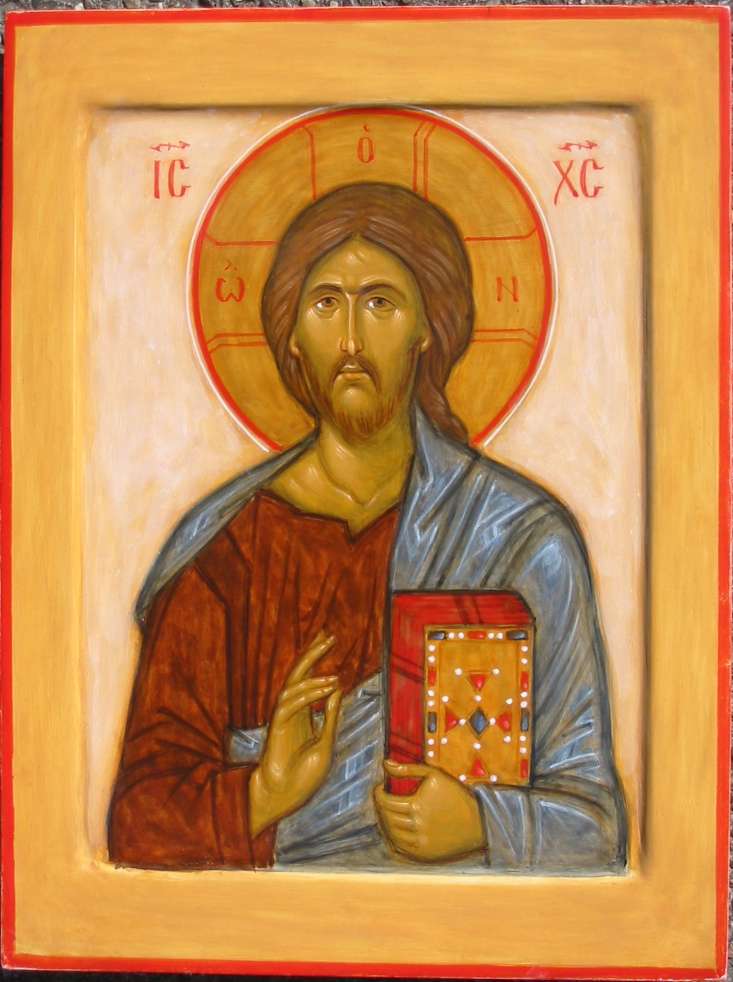 Gould: Have you had additional training, or collaborated with other iconographers, since then?
Margitich: A very good piece of advice that I received at Seminary when we were leaving was to never paint on my own. Not only is it important to check in with other painters about theology and subject matter; we also learn so much from seeing our colleagues' work in progress and discuss their use of materials and painting techniques. I have kept in contact with other painters from that original class at SVS, but I also have been very fortunate that we live near the monastery where Fr Patrick lives; he and Fr Moses, another icon painter, are painting frescoes in our church in Santa Rosa, which has been a great situation for me to continue learning.
Another piece of advice I received at the seminary was to let the icons themselves be the teachers. It is important to see icons. We have been fortunate to have had some great icon exhibits come through our museums in America, but I have also made effort to see the icons and churches of Orthodox countries.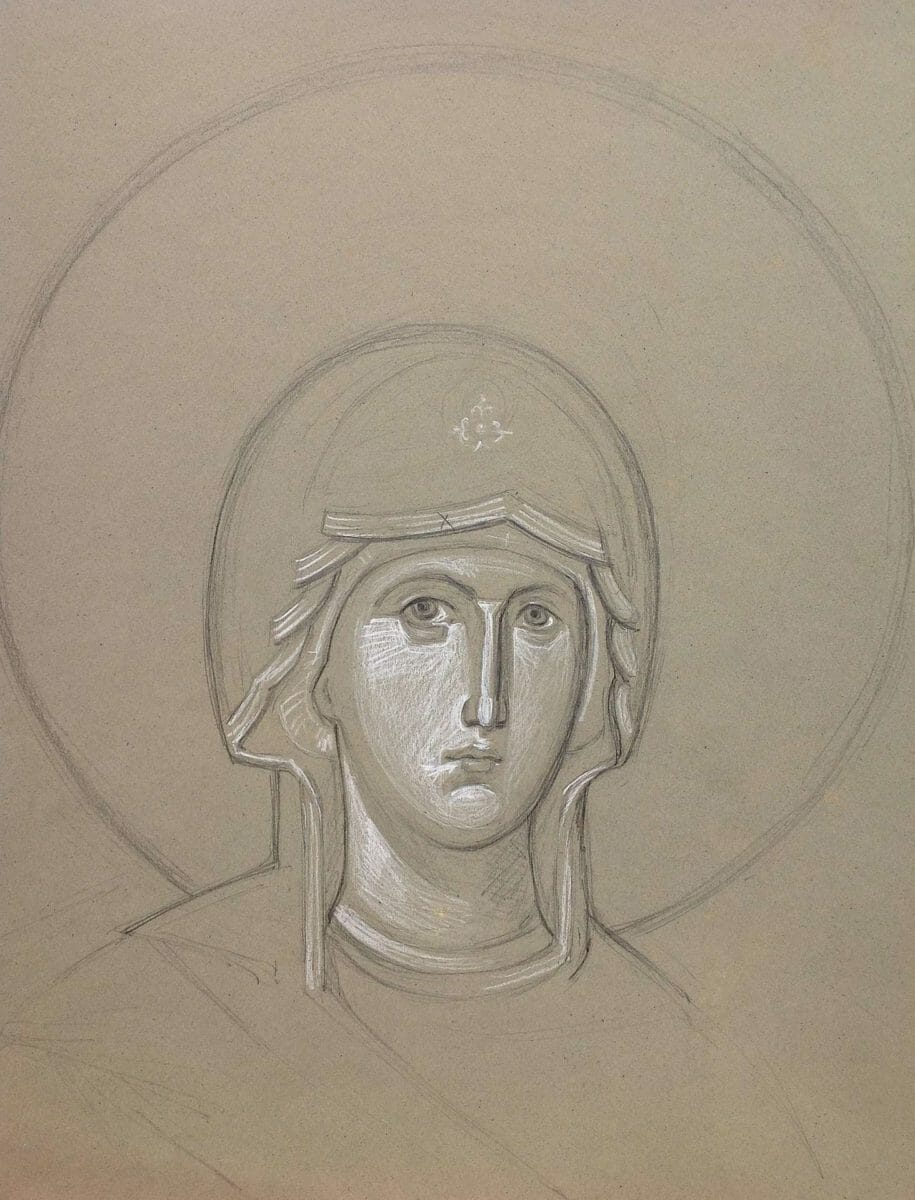 Gould: Would you say that you try to adhere closely to Ouspensky's style and methods, or are there things you choose to do differently? Is there any particular historical style or school of iconography that is a particular inspiration to you?
Margitich: I look at Ouspensky's work a great deal when I am painting, especially for composition and color; you can see his artistry in his icons, the way that he painted is full of life and creativity and yet always remains within the Tradition of the Church. First of all, he placed a great deal of importance on the theology of the icon. You can get that from reading his books. As far as the painting process, he gave us some important principles to follow, but there was very little emphasis on formulas or specific ways of doing things. When I asked him for color formulas, he said, no, you figure that out from your own experience. Strong drawing and composition was very important. Studying (but never copying) good icons so that we understood the principles that made them beautiful was equally important. I stick with these principles, but as you can see, they allow for a huge amount of artistic freedom to explore many different styles and ways of painting.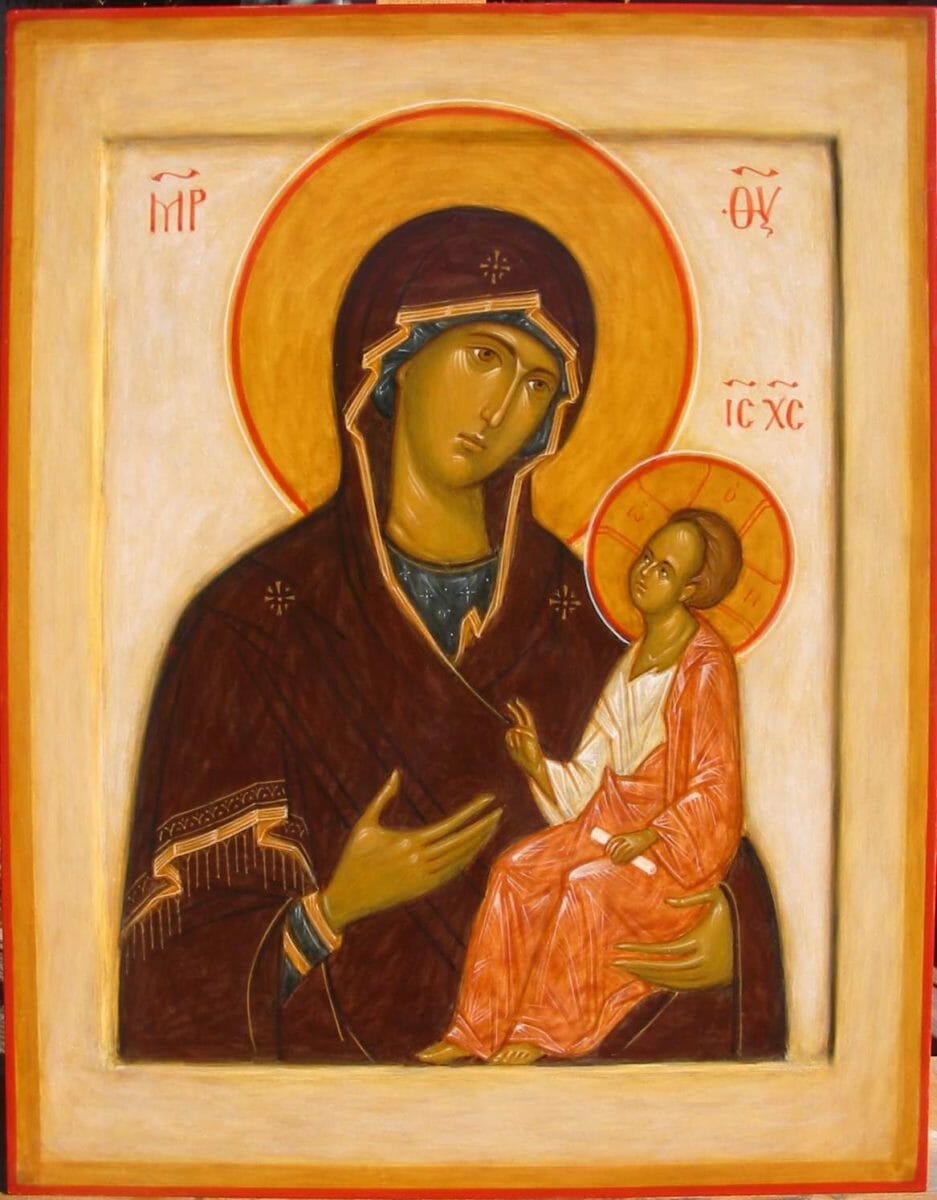 As to schools and styles of iconography, I am thankful that we live in a time where there are so many resources available to us. When you consider all of the icons and churches that have been discovered and cleaned since the early 1900s, and how many of these are made available to us in books and websites, it is amazing. Of course, we should use all of these resources to our advantage and explore them all. What I am looking at for inspiration is always changing.
Gould: Some icons are hard for modern people to understand. The strange perspective, severe faces, and esoteric content, can be off-putting to people who are not used to them. But I feel like your icons have an amazing clarity and accessibility. The compositions are simple, the colors soft and luminescent, and the faces are so open and friendly. Do you think these qualities make your icons especially attractive or understandable to modern eyes?
Margitich: As modern people we can be pretty narrow minded in our artistic sensibilities and most of us know mostly western art, which is largely illusionistic in its artistic principles. Iconography does not use illusionistic principles. It has its own language which is based on nature, but stylized. This artistic language has developed in the Church to reveal to us a transfigured reality. We, as modern western people, have to work a little to understand and appreciate this language. It does help to educate people about the icon and why it looks the way it does, but even more important, we need to have well-painted icons. A well-painted icon can draw the viewer in and invite them to prayer. That is part of the responsibility of the icon painter. It is accomplished through the beauty of line and color and composition.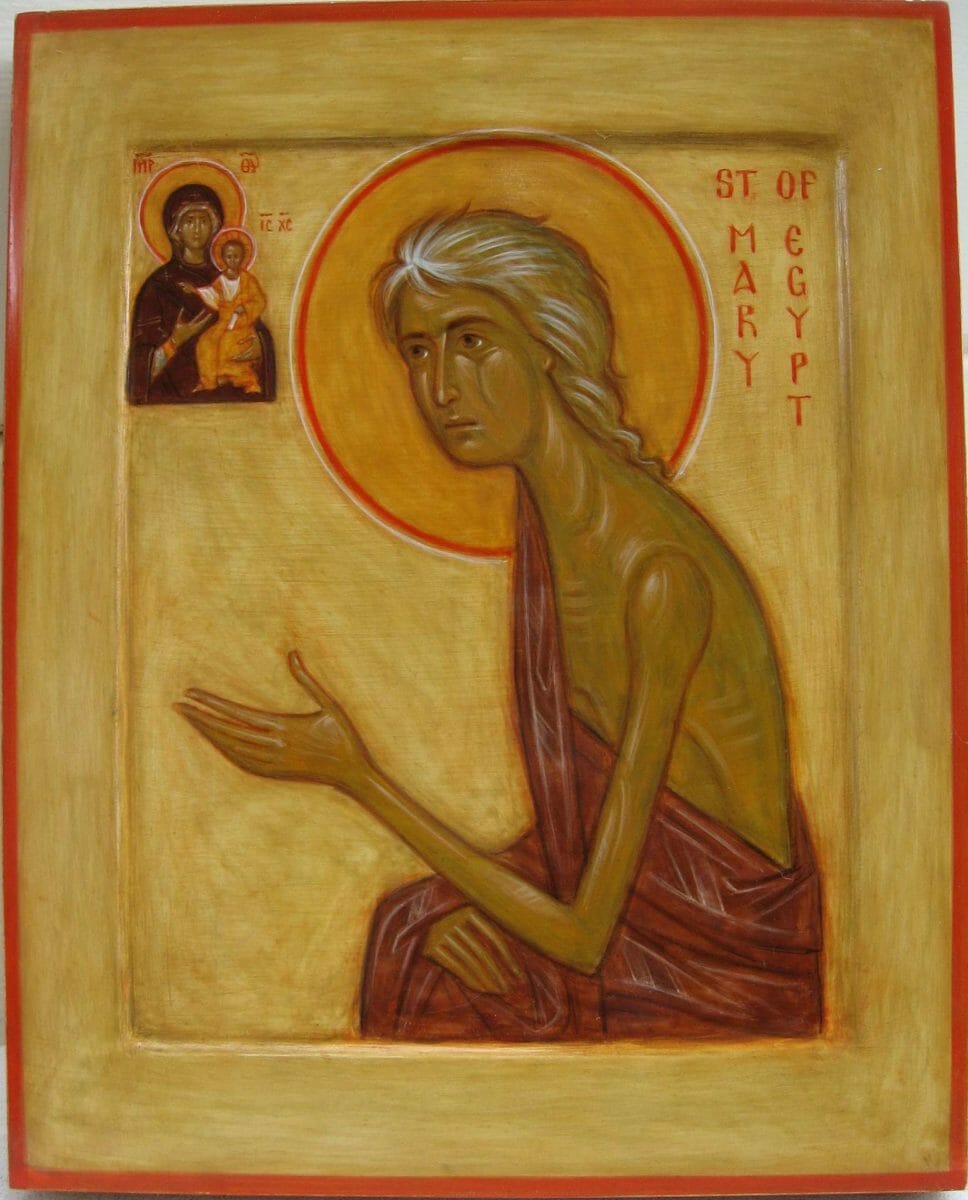 Gould: Is there anything you can say about the way you draw faces? There is something quite special about them. They remind me, perhaps, of really good children's book illustrations, the way they are so expressive and so gentle at the same time. I find myself personally very much drawn to them.
Margitich: Thank you. I think that what I said in the last answer applies here as well. As icon painters, we spend a lot of time on the faces, especially in the drawing stage. Not only does the face have to be well drawn and the features well proportioned, but the face and the features have to be well proportioned to the rest of the figure and the composition as a whole.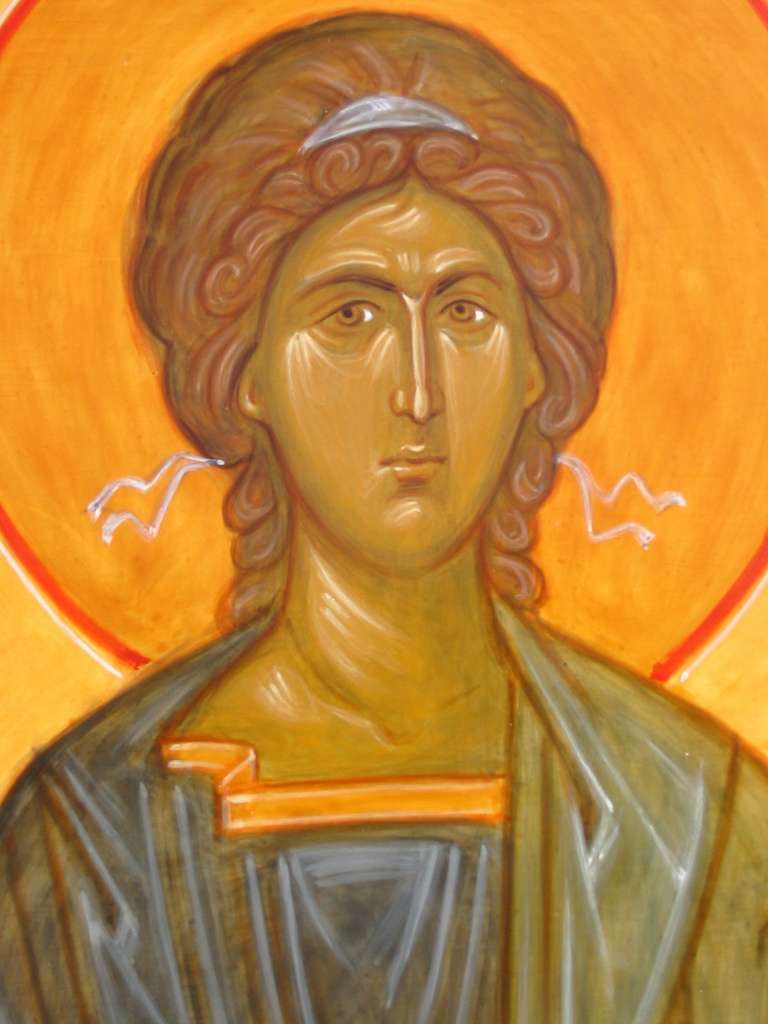 Gould: Tell us about your working methods. What types of gesso and pigments do you use? Is there anything special about your painting technique?
Margitich: I am painting in egg tempera on solid wood panels. The gesso is made from rabbit skin glue and whiting. The pigments are from varying sources. I use a basic iconographer's palette which is fairly limited. I do a lot of studying and drawing from other icons, older ones especially. Sometimes I transfer my drawing to the panel, but mostly I am drawing directly on the panel with pigment and brushes. I spend a lot of time developing the whole, abstract composition. When applying color, I usually build up the color with many washes. Sometimes I layer different pigments separately to create color. Once again, I try to use the colors to create a whole composition that interesting and harmonious.
Gould: To me, one of the most striking things about your icons is the surface. It looks like the most delicately polished ivory – just immensely satisfying to see and to touch. There is no suggestion of a clear film above the paint layers, as the varnish looks completely integrated with the paint. This is a quality we see in many of the finest medieval icons, but it is so uncommon in modern work. How do you achieve this beautiful finish?
Margitich: The reason that we use egg tempera on panel icons is that it the best way to create a color surface that is luminous and full of life. Egg tempera can be difficult to work with, but its natural qualities seem to serve the painting of icons well. The finish that you are talking about is not only achieved through the olifa, or varnish, which penetrates into the painting layers, but also from using the traditional gesso and slow build up of the painting layers.
Gould: Real olifa such as this has fallen out of favor with many iconographers. It is known to darken over time, and is so easily damaged by lipstick and cleaning. What is your feeling about this? Do you think there is merit in modern artist's varnishes, which are more durable?
Margitich: Applying olifa to the finished icon can be very tricky. It does have a wonderful quality, especially when it is fresh. We use it because it penetrates into the layers of paint and makes them luminous. The disadvantage to it is that it does need to be protected and cleaned. If there were something that could be applied over the olifa that would not compromise it and that would protect it, I would be interested. In our church, the icons that are venerated are in a frame with glass, to protect them from lipstick and lip balm. Of course, the sacristan and church cleaners should be educated on the proper care of the surface.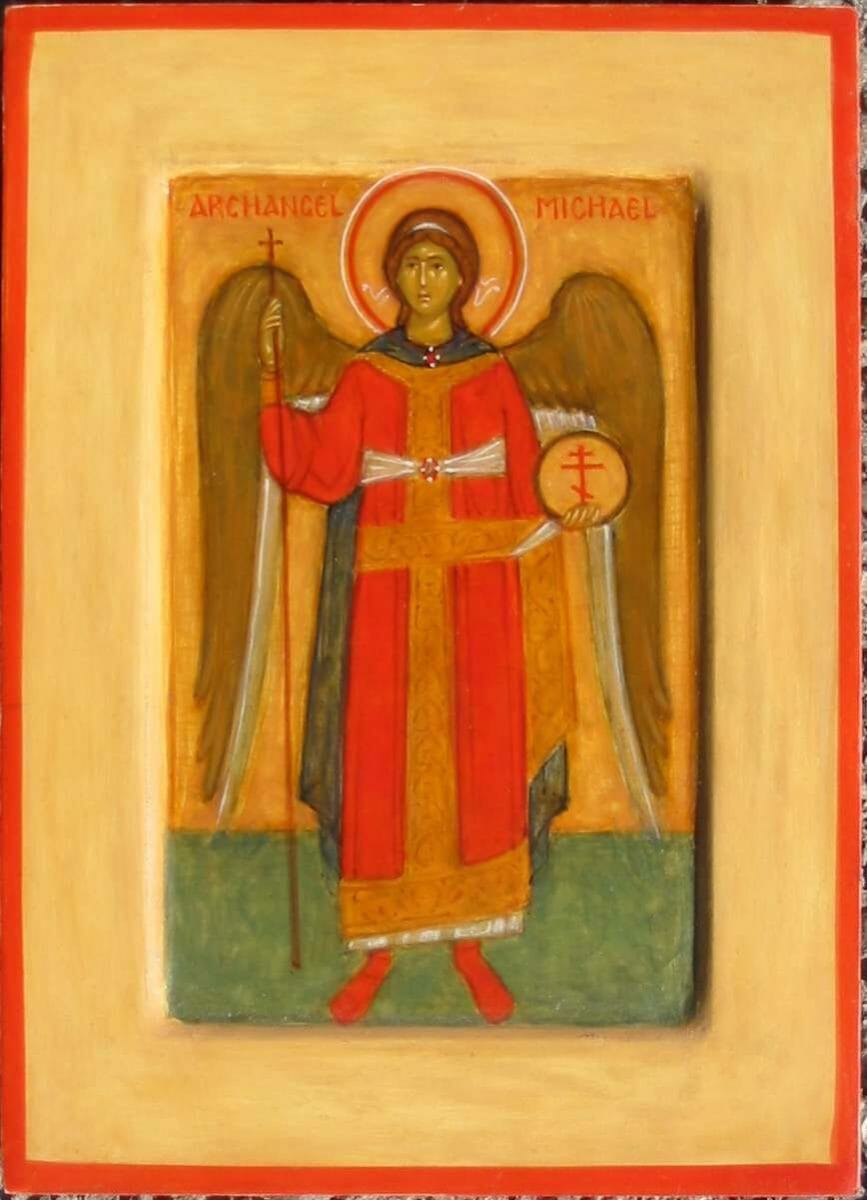 Gould: What types of commissions do you typically do? Are you working on any especially interesting projects right now?
Margitich: Most of my work is commissions for people for their homes and panels icons for churches. I have done several small iconostases as well. Every commission has its own interest for me.
Gould: Is there a 'dream project' that you hope to do one day – a big commission that would really show off your skills?
Margitich: Not really. I am always happy for the commissions that I receive. I also enjoy doing work that is not by commission and I can just do what I like.
Gould: What do you think of the general state of icon-painting in America nowadays? Do you have any advice to young people who may want to pursue it as a vocation?
Margitich: When I started painting the real difficulty in America was partly a lack of resources and opportunities to learn. But the real challenge in parishes was to convince the older generation that the 18th and 19th century icons to which they were accustomed (often lithographs or westernized religious art painted in oils) ought to be replaced with icons that were true to the tradition of the Church. Today, that does not seem to be a problem, but I worry that in our attempt to replace these older icons we are not careful with what we are replacing them with. I am more hopeful now as I am seeing some good things happening in America in both icon painting and in church architecture.
It is not easy for a young person in America to learn icon painting. I know that I would have benefited from more serious training. I have recently learned about the icon painting schools in Russia that have very serious requirements, and I think that that is very good. I know of one student from here that has gone to St Sergius Academy to study, and I am hopeful that she is receiving good training.
Considering prospective icon painting students, it would be good if they were young. If they had some artistic talent and some solid artistic training would also be good. Even before starting they should have a good discipline for drawing and a willingness to work hard and of course, a real love for the Church and her art
Gould: Thank you for speaking with us. And particularly, thank you for your marvelous icons. They are a great blessing and inspiration for Orthodoxy in the New World!