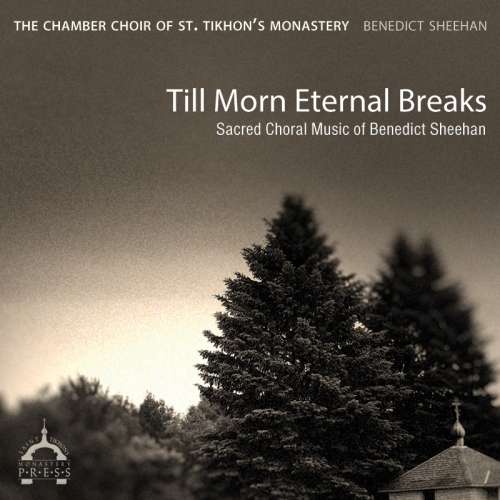 The recent release of the CD Till Morn Eternal Breaks marks a number of laudable firsts: First and foremost, it is the debut CD comprised almost entirely of the choral works of American Orthodox composer Benedict Sheehan (b.1980), a gifted musician who has something important to say in ways that are both traditional and innovative. Second, it is the debut CD of the Chamber Choir of St. Tikhon's Monastery, the first professional vocal ensemble to have been formed under the auspices of St. Tikhon's Monastery in Pennsylvania, America's oldest Orthodox monastery. These two factors alone make the appearance of this CD a welcome event upon the landscape of American Orthodox sacred music, which, as some recent articles have observed, does not often offer a picture of optimism.
The creation of new works presents Orthodox artists in North America and in other countries where the Orthodox Christian faith is a small minority with both a challenge and an opportunity. The challenge lies in the fact that one must create within well-defined, traditional norms that are often at odds with the surrounding culture and thus require a sacrificial ascetic effort on the part of the artist to remain within those norms. But the fact that the cultural milieu is so unaccustomed to Orthodox art opens up numerous opportunities to speak to people who might perceive a new icon or hear a new piece of Orthodox music in new and unexpected ways, especially given that many individuals in contemporary society are experiencing an inner hunger for the beautiful, the spiritual, and the deeply meaningful.
Composer Benedict Sheehan, whose works appear on Till Morn Eternal Breaks, understands these issues very well. In his articulate liner notes to the CD, he discusses how his compositional activities have been framed by his work as an Orthodox church musician—currently as Instructor of Liturgical Music and Conductor at St. Tikhon's Orthodox Theological Seminary and Monastery. But in the program selections for this initial CD of his works, he manifestly goes beyond the narrow confines of an Orthodox choirmaster's art, reaching out to the world and society beyond any real or imagined "monastery walls."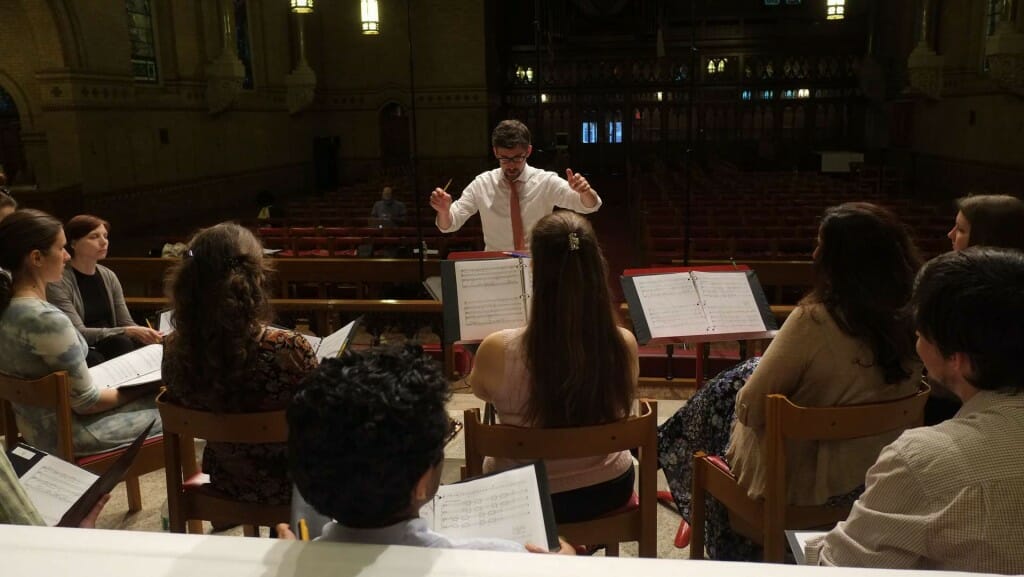 The music on this CD was composed over a period of roughly eighteen years: from the earliest works, "Let All Mortal Flesh" and "Now the Powers of Heaven," composed in 1997, when Sheehan was preparing to enter Westminster Choir College to pursue his Bachelor of Music degree, to works composed in 2014-2015, inspired in part by his collaboration with Vladimir Gorbik, the eminent Russian Orthodox choirmaster from Moscow. "The Lord Is King" and "Holy God" were premiered by the Patriarch Tikhon Choir, under Gorbik's direction, during their first North American tour in the Fall of 2013, while "From My Youth," "The Beatitudes," and the "Cherubic Hymn No. 1" were all used as workshop pieces during the initial Master Classes taught by Gorbik in the United States. "As traditional Orthodox liturgical music goes, these pieces are better than anything currently being written in Russia," was Vladimir Gorbik's assessment. High praise indeed! Three of these pieces, "The Beatitudes," the "Cherubic Hymn," and "The Lord Is King," employ actual pre-existing Russian chants, while the others—"From My Youth," "Holy God," and "Now the Powers," use chant-like melodies that may be termed "conscious counterfeits"—a term coined by Sergei Rachmaninoff to describe themes he had invented for his famous All-Night Vigil, opus 37.
In between these two creative poles, Sheehan wrote and arranged a considerable amount of music for various Orthodox parishes where he served as choir director. But even as he was composing to fill the practical needs of his ensembles, he was seeking to address wider creative issues that have challenged Orthodox composers in America ever since English began to be employed as the language of worship in the mid-twentieth century. His "Canon of Christmas," composed in 2001, is, in Sheehan's own words, "an attempt to compose original chant for English that sounds neither Greek nor Russian (two dominant strains in Orthodox music), but partakes of the spirit of both in a way entirely new." This piece, originally composed for church use, was revised in its present form to be sung in a concert setting.
The largest work on the CD is the "Triduum Paschale" (The Three-day Passover), a three-movement musical journey through Jesus Christ's passion, death, and resurrection. Here is an example of how a composer with an Orthodox mind-set reaches out beyond the realm of strictly liturgical texts and is able to recognize and find inspiration in poetry outside the Orthodox tradition: the first movement—"The Crucifixion," based on a translation of a twelfth-century Irish lyric about the Virgin Mary's grief and suffering at the Cross; the second movement—"Nondum," uses a poem by Jesuit poet Gerard Manley Hopkins (1844–1889); and the third movement—"Easter," also on a poem by Hopkins. Here as well, the composer skillfully incorporates recognizable elements from Orthodox musical styles—such as the Byzantine scale and microtones used to set the words "Eli, Eli, lama sabachtahani?" in the middle of the second movement, and non-Orthodox styles—such as the sound of Colonial American psalm singing, used to express Paschal exuberance in the third movement, a bow to his own American cultural heritage and that of the majority of his audience. All these works show Benedict Sheehan to be an erudite and thoughtful composer, who speaks through his works to those who encounter his music.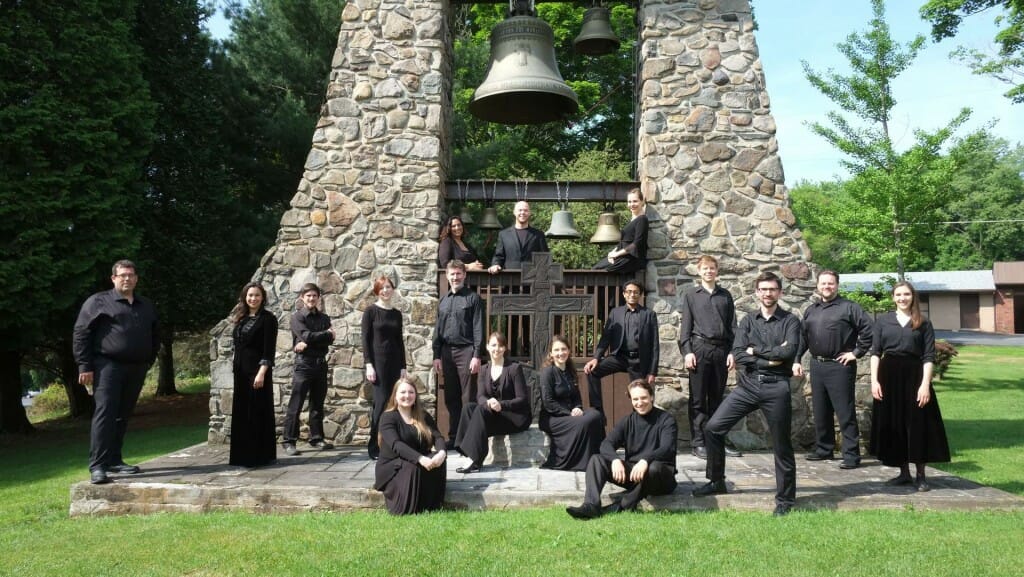 All types of music, especially newly crafted, original music, requires a suitable performance vehicle. History has shown that the existence of an outstanding choir can serve as a mighty catalyst for the creation of numerous new works, as was the case with the Moscow Synodal Choir in early twentieth-century Russia. In twenty-first-century America, the Orthodox Church has yet to produce organically its own choral ensembles capable of doing justice to new works. Recognizing this fact, Benedict Sheehan, with the blessing and guidance of Archimandrite Sergius (Bowyer), the abbot of St. Tikhon's Monastery and himself an educated musician, assembled the Chamber Choir of St. TIkhon's Monastery, the first professional vocal ensemble connected with an Orthodox monastery in America. The Chamber Choir's lofty mission is "to explore, promote, and build up the tradition of Orthodox sacred music in America, and to bring people of today's world into contact with the living tradition of ancient Christianity through vibrant and inspiring choral singing." Benedict Sheehan's role, not only as the composer of the music on the present CD, but also as the driving force behind the formation of the Chamber Choir of St. Tikhon's Monastery and its conductor on this disc, shows just what a multi-faceted and formidably creative individual he is.
On this, their premier CD, the St. Tikhon's Choir fulfills their lofty aspirations admirably. The singing is of a caliber that one expects from sixteen top-level professional singers, many of whom are highly accomplished Orthodox Christian vocal artists. Where appropriate, the singing is delicate and subtle, while at other times it is powerful and opulent. The ensemble's sonority is amplified by the rich acoustics of St. Stephen's Episcopal Pro Cathedral, in Wilkes-Barre, Pennsylvania, although at times the ambient resonance interferes with the intelligibility of the words; fortunately, the complete texts are included in the accompanying booklet.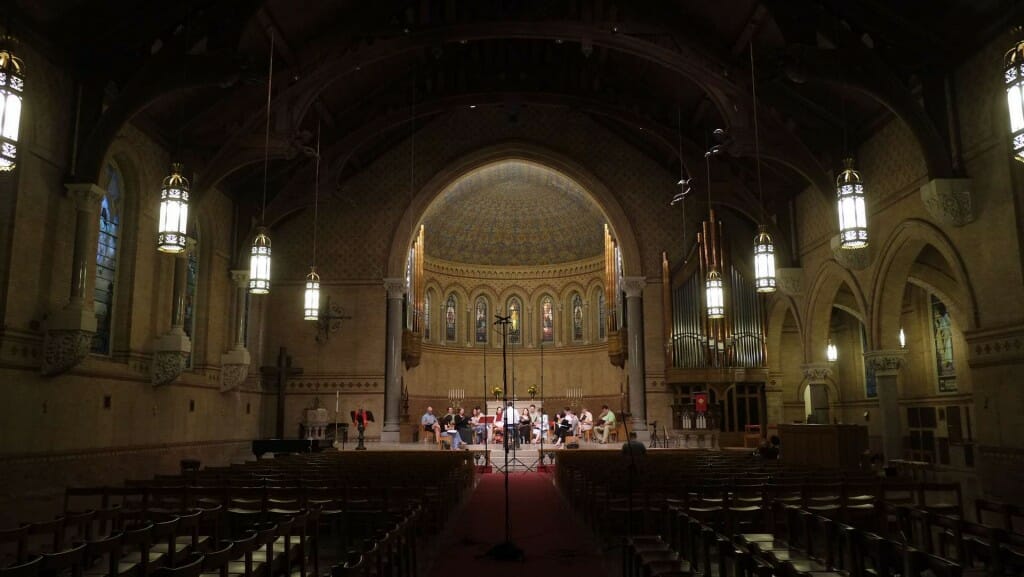 One may reasonably ask, why is it important or appropriate for an Orthodox monastery to be sponsoring a concert chamber choir comprised of professional musicians? The definitive answer can found in the historical experience of monasteries throughout the Orthodox world that regarded the monastic mission as that of engaging and influencing the surrounding society and culture, rather than retreating from it into a "wilderness." In counterbalance to the famed desert hermitages, there have always been urban monasteries and urban representations (metochia or podvor'ye's), which sought to interact with the non-monastic populace around them, and thus to serve as beacons of constructive spiritual, artistic, and cultural influence. Certainly, in our day, and specifically in the musical sphere, such an approach can be observed in the recording and touring activities of the Representations of the Trinity-St. Sergius Monastery in Moscow and the Optina Monastery in St. Petersburg, with their world-class, professional men's choirs, the Sretenstky and Novo-Spassky Monasteries in Moscow, which also support professional choirs, as well as the Choir of the Holy Trinity-St. Sergius Monastery itself, which maintained an active touring and concert schedule even in the darkest days of Soviet-era Communism in Russia. It is certainly cause for rejoicing, that now, St. Tikhon's, the oldest Orthodox monastery in America, has followed suit and added musical and artistic outreach in the form of a professional choir as a means of spreading the beneficent influence of the Orthodox faith far beyond simply interacting with those people who might happen to travel to the countryside in Waymart, Pennsylvania.
Among some Orthodox in North America there is an émigré mindset, that of "strangers in a strange land," whose posture is to maintain a separate identity and to preserve it intact. But there is another, more daring mindset—that of mission, which holds that the arrival of the Russian missionaries in Alaska and the transplanting in the New World of scores of refugees from Orthodox lands, is part of a providential plan to evangelize this continent and to turn it, eventually, to Orthodox belief and practice. This will require the engagement and conversion of American culture on every level, including the artistic and the musical. One can express the hope that this is but the first of many rewarding recordings, both of Benedict Sheehan's and other American Orthodox composers' works, and of the fine Chamber Choir of St. Tikhon's Monastery, which will contribute to that effort.
—Vladimir Morosan 
Till Morn Eternal Breaks is available for immediate purchase at St. Tikhon's Monastery Press and Bookstore and at Musica Russica.