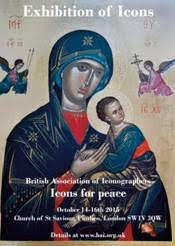 The British Association of Iconographers is organizing an Exhibition of icons called Icons for Peace on the !4th-15th and 16th October from 10:30am to 5.00pm at  St. Saviour's Church, St George's Square, Pimlico, LONDON SW1V 3QW.  The exhibition will be innaugurated by His Eminence Archbishop Gregorios of Thyateira (Ecumenical Patriarchate) on the 14th at 11.00am.

Our own Aidan Hart will be giving a talk called 'Archimandrite Zenon – a master iconographer for today' on the 14th at 2.30pm – 4.00pm. Aidan Hart, a member of the Greek Orthodox Church living in Britain, has been a full-time icon painter and carver for over twenty-five years. He has works in more than twenty countries of the world and in many cathedrals and monasteries. His aim, in accordance with the Byzantine icon tradition, is to make liturgical art that manifests the world transfigured in Christ.

Dr Guillem Ramos-Poquí will deliver a talk on the 15th  called 'Icons – a Living Tradition' at 2.30pm – 4.00pm.
Dr Ramos-Poquí originates from Barcelona, and has been living and working in London since 1968. He holds a PhD in Fine Art Painting from Barcelona University. Dr Ramos-Poquí has exhibited his secular art extensively since 1965. He is also a practising iconographer and the author of The Technique of Icon Painting.

The last talk will be given by Annie Shaw about "The History of Icons" on the 16th at 11.00am -12.15pm
Annie Shaw was formally educated at Cambridge School of Art and then Central St. Martin's, London; where she gained her degree in fashion and textile design. She was received into the Orthodox Church 20 years ago and soon thereafter started training as an iconographer under Mariana Fortunata (a pupil of Ouspensky). Later she was introduced to the Byzantine/Russian float painting technique as taught by The Prosopon School and tutored by Nikita Andrejev – the son of its founder. Ten years ago she set up The Fellowship of Saint Luke, a non-profit making organisation, to help promote the painting and understanding of icons in the UK.
On the 16th at 2.00 pm Mr Stephen Baister, a judge of the bankruptcy court in the City of London, will also give a first hand account of the Bethlehem Icon School and receive a donation on their behalf.
There will be a reception and private viewing on the 14th at 5.00pm to 6.30pm. Admittance will be by ticket only.  For tickets and more information including a detailed schedule,  please contact The British Association of Iconographers at info@bai.org.uk