The Museum of Russian Icons in Clinton Massachusetts is hosting it's 9th International conference of Iconographic Studies this June, 11- 13. The topic is "Icons and Iconology."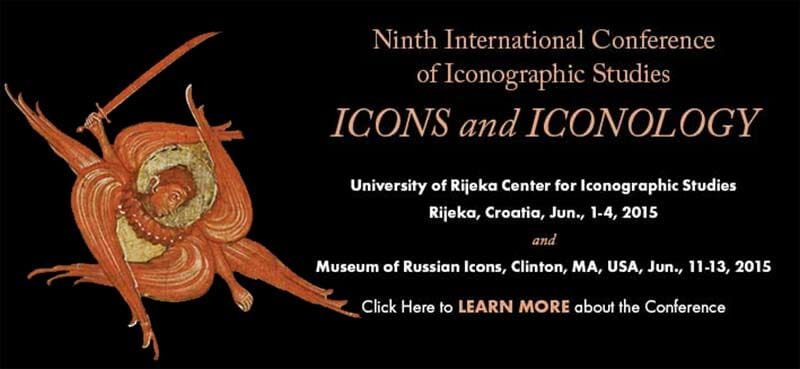 The Museum, since it's inception in in 2006, has worked hard to establish itself as a North American center for Icon studies. Towards this goal, the museum website hosts the "Center for Icon Studies." They regularly post peer reviewed articles, unreferred articles from scholars in process, post job listings, available scholarships, publish a journal and host conferences. This year's conference is bi-national, ½ in Rijeka Croatia June 1 – 4 and the second ½ in Clinton MA.
Both halves of the conference look interesting for those academics among us, with random topics ranging from "The Social Impact of Graphic Symbolism and Development into Iconographics" to "An Exploration of Ethiopian Icons and Misphysitism/Monophysitism."
The conference in Clinton MA has speakers of special interest to OAJ readers – two practicing iconographers who will speak about icons with the authority of practitioners, not merely as observers. Fr. Silouan Justiniano will speak on the topic of "The Degraded Iconicity of the Icon: The Icon's Materiality and Mechanical Reproduction," and Vladislav Andrejev will talk about "The Theological and Philosophical Reception of Icons." Both speakers bring this conference and the study of icons into the 21st century – something rarely done at academic conferences, which should give some lively energy and an interesting perspective.
The conference fee for the June 11 – 13th part in Clinton is $100, students $75, which includes conference materials, organized visits, lunch and coffee breaks. To register please call the Museum staff directly at 978-598-5000.
The Museum is also hosting what appears to be an extraordinary exhibit contemporaneously to the conference – Byzantium to Russia: The Origins and Development of Russian Icons 1200 to 1900.
The British Musuem in London is lending some ancient icons and artifacts, including St. John the Baptist and the famous St. George and the Dragon from their collection.
The exhibit will run from May 2 through Sept 12 when it will travel to the Chrysler Museum in Norfolk VA.