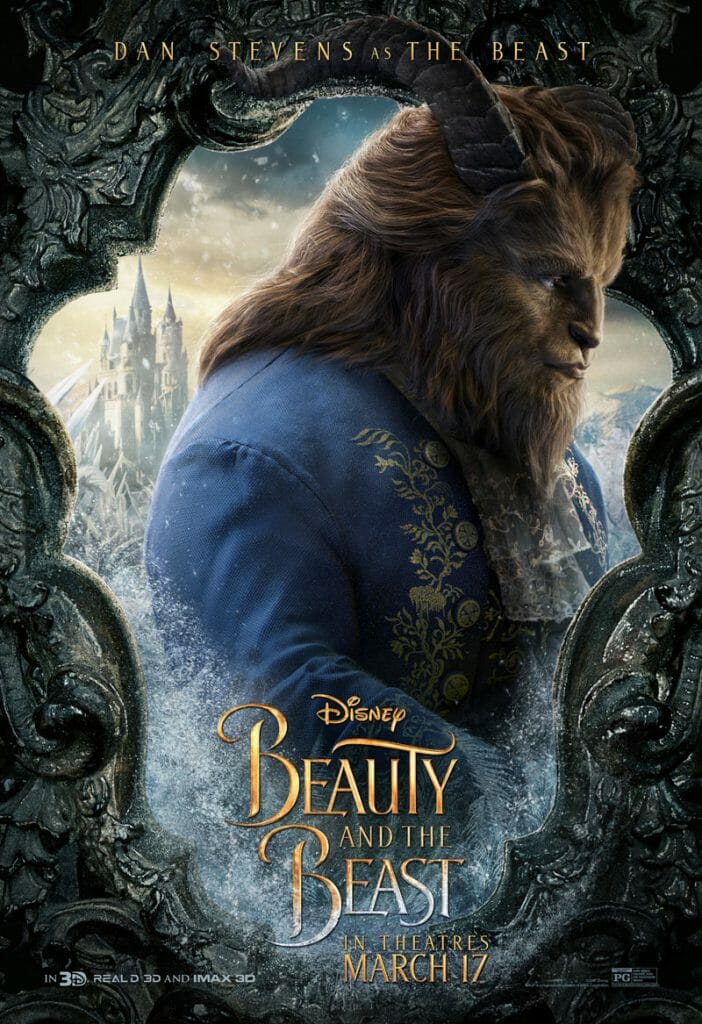 Disney's new live-action movie, Beauty and the Beast, has stirred up considerable controversy. Proponents of both feminism and the gay agenda have claimed the movie as a triumph for their cause. As an Orthodox Christian who has great respect for the power of fairy tales to shape our world view, I found these allegations troubling. Would even Disney twist a simple fairy tale into socio-political propaganda? (The answer is, yes, they would.) But as an artist, I have often observed that there exists a natural law in art, that when one tries to willfully distort its message, it often has the effect of proving a higher and more immutable truth. Because, in the end, beauty can reveal only one thing – the Truth of Christ. Disney has produced an astonishingly beautiful movie, and (unwittingly, I think) the most fully Christian interpretation of the story yet.
The story, Beauty and the Beast, was first penned under that title in 1740, but its origins can be traced back much earlier, and the essential theme of a virgin and a monster appears from the very beginning of storytelling. The tale has been retold in various guises through time, as pagan mythology, a Catholic morality tale, and more recently (In Disney's animated version of 1991), as a sanitized and idealized children's story. The new version expresses the moral anxieties of our own time, and it does so with remarkable honesty.
Our culture today is obsessed with subversion of gender roles, and this theme is prominent in the new Beauty and the Beast. Gaston and LeFou have an overtly homoerotic relationship. But I would congratulate the writers for not making them anachronistically 'gay' in the contemporary sense. Rather, they are both also interested in marriage to women, in addition to cavorting with war widows, groupies, and whoever else amuses them. They are shameless misogynists, interested in women only for conquest and self-pleasure. And Gaston is vain and sadistic to the core. They are the type of men whom Victorians referred to, quite literally, as 'wicked buggers'. And their relationship with one another is utterly destructive – mismatched as a couple not just in gender, but in every other way too. (How anyone can see these characters as a triumph for the Gay agenda is utterly beyond me. Do people now see the mere existence of something as moral affirmation, regardless of whether it appears good or bad?)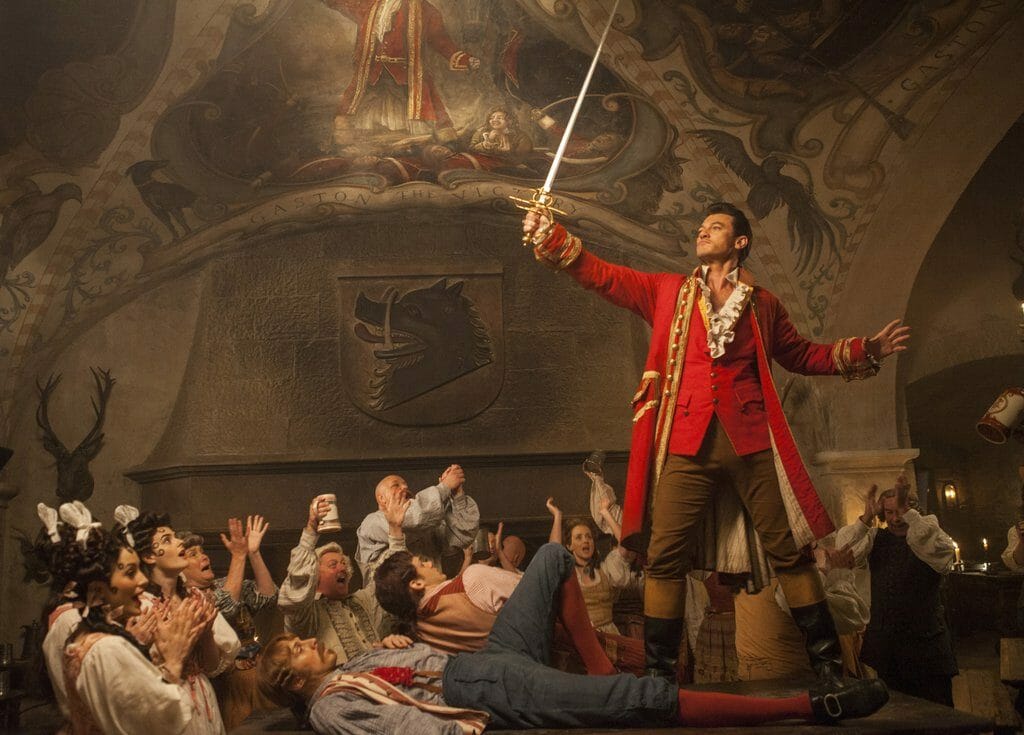 But there is another, more important, subversion of gender roles in this movie. The opening scene shows a grand ball at the prince's castle, the night the enchantress knocked on his door. It is a scene of repulsive visual debauchery – rococo fashion corrupted to its ultimate extreme – a riot of dirty lace and smeared face paint, dancing to dissonant, ruinous, harpsichord music. In this dance is only one man, the prince – all of his hundreds of guests are women, all for him. But the prince is no idol of masculinity – he too wears lace and makeup to excess, looking and acting more feminine than the women. The enchantress curses him for his sins, the guests flee, and his castle is locked in an eternal winter, the very memory of it erased from the world.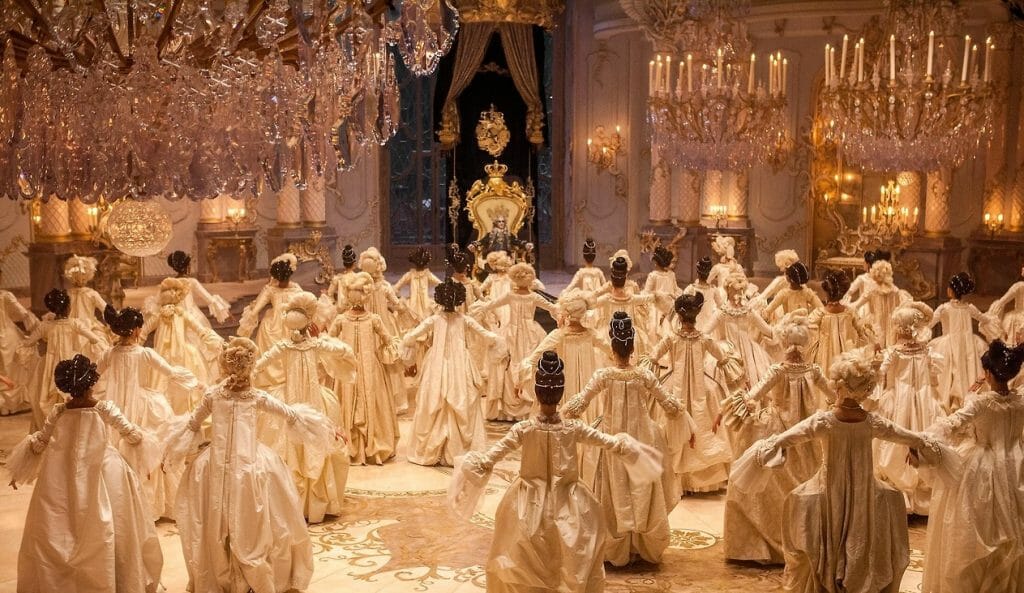 The beast's purpose in life (though he does not yet recognize it) now consists of learning to be a man. Cloistered in his castle, he spends his days reading, mixing the rage in his heart with poetry. His masculinity, suddenly revealed against his will in his monstrous appearance, is now a thing to tame and refine. Belle teaches him to be more man than monster, and he becomes a thing of beauty even before his physical transformation back into a man.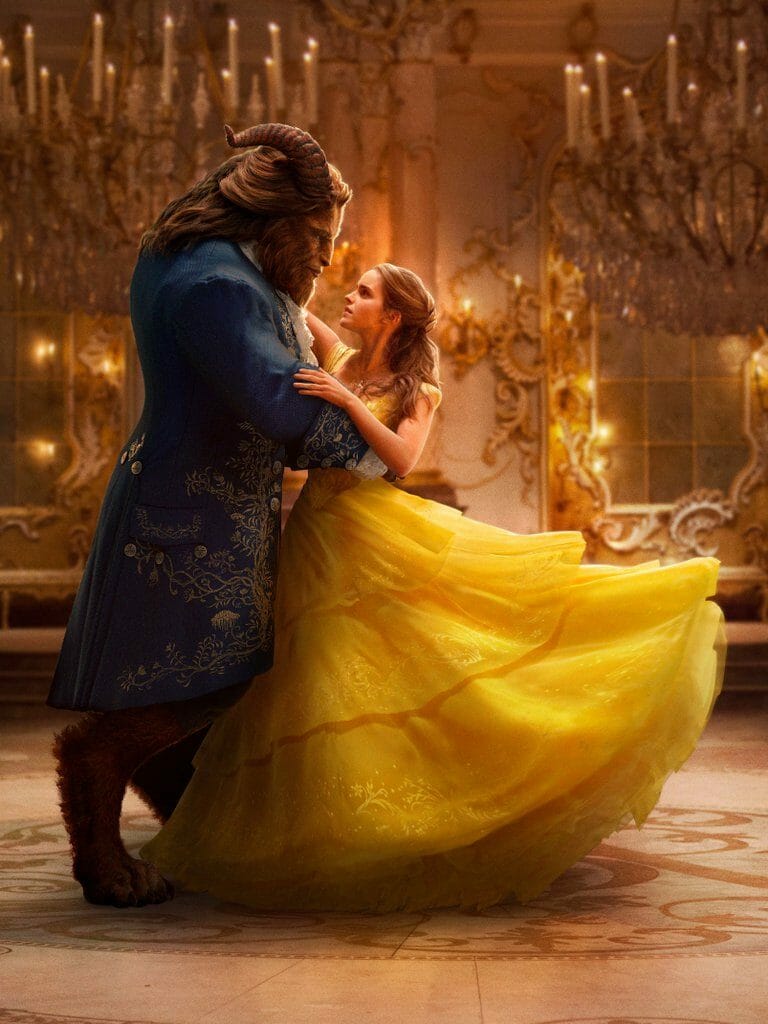 And when the curse is finally lifted, the prince is radiant with pure and masculine beauty, the perfect complement to Belle's chaste and virginal countenance. The movie ends with another ball, Belle and the prince dancing with all the villagers. But this ball is the very opposite of the opening ball. It is daytime now, couples dancing chastely, simple flattering clothes, a ballroom decorated with white flowers, an aesthetic of purity and goodness pervading every detail. Sure, there are still a few human foibles – someone has a clingy wife who can't dance, one of Gaston's old thugs still wants to dance with another man, but these are now things we can smile and laugh at, for beauty has triumphed, and winter will never reign again.
As I watched Beauty and the Beast, I felt that I was experiencing really honest storytelling – a narrative that reveals people (and their behavior) for what they truly are. The medium of cinema offers a direct visual revelation of truth even beyond what the written word can achieve. Never have I seen this power wielded more effectively, or with more virtuosity. The cinematographic aesthetic transforms continuously, always revealing the spiritual reality of the narrative – when there is sin, and when there is goodness. The baroque architecture and fashion that pervades the film is perhaps uniquely capable for this purpose. Baroque art ever straddles the line between intense beauty and decadent ugliness. With the slightest change of details and lighting, the scenery constantly shifts between the aesthetic of fairy-tale and nightmare.
The moral theme of Beauty and the Beast, of course, is that true beauty (or ugliness) is found within, and that it takes time to see it. But it is the role of the storyteller to tease these truths out, to reveal what the characters would keep hidden. In this film, it is the scenery, the enchanted architecture, which serves this role, constantly revealing where there is darkness and where there is light. And the difference is so precariously subtle, especially when it comes to gender. The film reveals this, showing us just what it really looks like when men do not adorn themselves in the beauty that rightly belongs to them.
So far I have spoken of matters of character development and aesthetic expression. Though I found these things to amount to a really honest (and Christian) expression of reality, it is hard to know to what extent this is deliberate or, if it is simply the unwitting result of good filmmaking and good acting (the 'natural law' effect). But Disney's new Beauty and the Beast has another major innovation to the storyline, one that cannot be dismissed as flippant or accidental – the puzzling character of Agathe.
Over the course of the film, we learn that the enchantress lives among the villagers, an unmarried spinster named Agathe. She is scorned by society and lives as a hermit in the forest. She is revealed to be saintly and charitable when she rescues Belle's father from near death. And she returns to the castle at the end of the film, observes that the beast has died and that the last petal has fallen, that her curse has become fulfilled. And she sees Belle profess her love and kiss the beast, and decides then to work her magic, not just lifting the curse, but resurrecting the beast from death.
In the older and simpler versions of the tale, we understand the enchantress to be a witch who curses the prince out of spite. But that interpretation is not possible in this film. Agathe is presented as more of a saint than a witch. And her curse is presented more as mercy than as punishment. It is clear from the portrayal of the opening ball that the prince has wrought his own damnation – that he is doomed to live and die in utter depravity. Like the Sodomites of the Old Testament, he has united the sins of gender subversion and inhospitality, and his kingdom must fall. Agathe's curse does not destroy the prince, but protects him from further temptation. He is left to live alone and introspectively, reading in his library, and observing the world by means of a magic atlas that Agathe left him as a gift. This gives him time to heal and to repent. His transformation into a beast has not hindered the possibility of love for him – it has enabled it.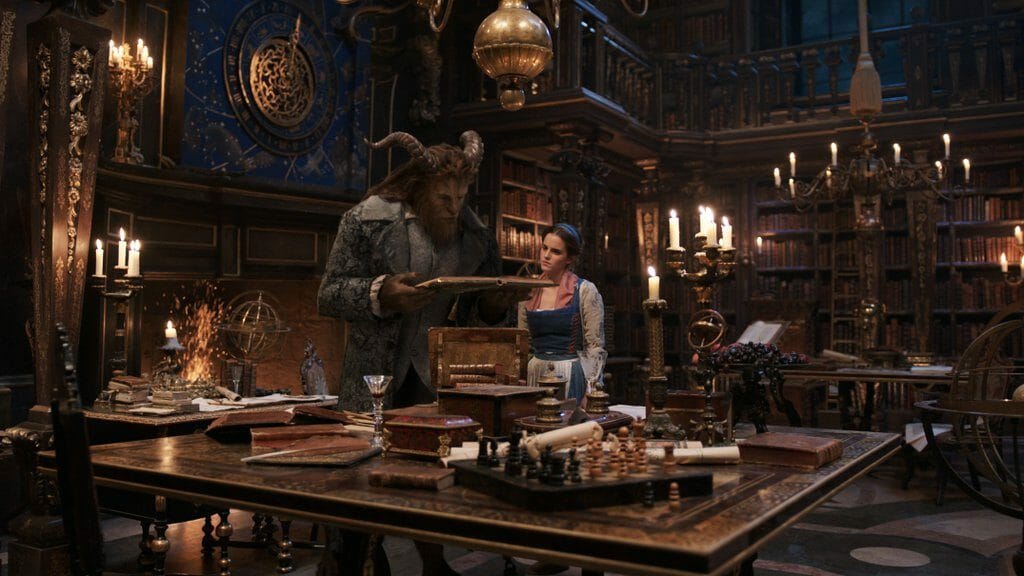 Though the curse is meant for the prince, it affects everyone in his lands, for they are all complicit in his sin. The housestaff, transformed into objects, admit that they stood by and did nothing when the young prince's mother died, and his cruel father decided to twist him into a tyrant like himself. And the villagers, once the proud vassals of the lordly estate, had not only the memory of the castle erased from their minds, but all love of knowledge. They lived as a village of illiterate idiots, forgetting that they were once the glamorous guests of the prince.
This seems to me to be a strong Catholic theme of communal responsibility, and a distinct improvement to the Christian narrative. Interestingly, only four people in the village seem to be unaffected by the curse – Agathe herself, Belle and her father, who moved there from Paris, and, importantly, the Catholic priest – the one person in the village who is respectful of Belle, and who owns books.
So what do we make of Agathe the Enchantress? Her curse enables the repentance of the prince, who must heal and wait through his long winter until he is finally ready to receive Belle as his guest. And her curse protects the villagers from the prince and his debauchery, allowing them to heal, as they live as ignorant peasants, working the land as humble folk. Agathe is clearly good (her name means 'goodness' in Greek), and at the end she lifts the curse at the most Christian moment, when the beast has sacrificed his life, and when Belle lies over him weeping in the pieta posture. Next come resurrection and eternal life (a.k.a. living happily ever after). To be quite honest, I cannot help but wonder if Agathe is explicitly meant to be a typology of the Virgin Mary. After all, the storyline goes out of its way to call her a virgin, her house looks just like a Catholic crèche, and she dresses in a hooded robe and transfigures in radiant light looking very much like an apparition of the Mother of God.
But, getting back to Agathe's curse, we see an expression of the second great anxiety of our times – the confusion of life and death. Perhaps even more dangerous than the subversion of gender is the subversion of life itself – the fetishization of death, or the denial that there is any real difference between the two. This theme is a troubling constant in our political life, with the world half-convinced that in many circumstances death is the greater good. And it is an anxiety that comes through in our storytelling, with movies about zombies and robots, creatures that are neither alive nor dead.
Agathe's curse reveals an inversion of life and death at the enchanted castle. The housestaff, once human, become objects, only partly alive, and gradually become less so over time. They await an ultimate fate worse than death, where they become only objects, with no memory or evidence that they ever lived at all. Their great despair is that they cannot really hug or kiss one another, and their attempts to do so bring them only pain. They long desperately for true life. Meanwhile, the castle itself, the very architecture, is growing more alive. The baroque scrolls and columns are gradually consuming themselves. The rococo ornament detaches from the ceilings and hangs down like vines, growing uglier each day. Whenever another rose petal falls, the castle shudders in self-disgust, shedding pieces of stone, slowly collapsing, trying to repent of its unnatural life.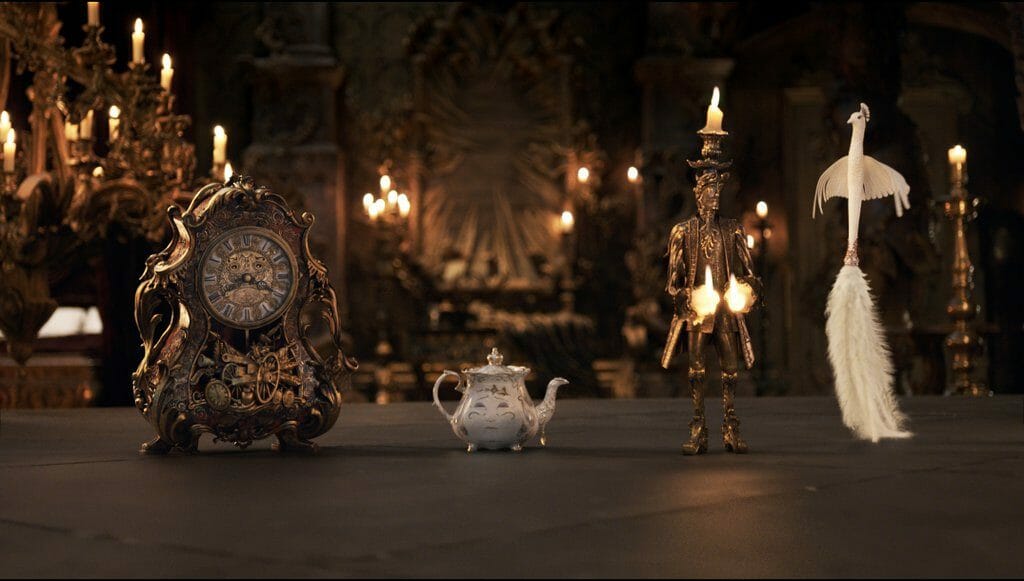 But I do not think Agathe's curse caused these distortions. Rather, her curse lifted the veil and revealed the effects of sin. For what is sin, but the mingling of life with death. The housestaff stood by and did nothing to help the boy prince, and so they were revealed to be only half animate, little better than the furniture. The prince had worshipped his costly posessions, taxing the peasants to pay for them, and making idols of them. Thus the castle is revealed to be alive, a terrible, suffocating, false god.
I think now, we can make more sense of Agathe's arrival at the ball. She comes looking like a worthless hag, for this is how the prince values her. It is his castle, and everything there looks as he beholds it. But then she transfigures, exactly like Christ, floating off the floor, clothed in radiant light. Her true appearance, as a beautiful saint, is revealed. And everything around her transfigures also (as when St. Seraphim of Sarov radiated uncreated light, and his friend sitting nearby did also.) But the prince, the castle, and the vassals, transfigure into their true ugliness – a beast, an idol, and a gaggle of fools.
Having seen their true selves, they now have a chance to repent, and so the movie unfolds to its Christian ending. Disney set out to make a movie about beauty, sumptuous and ornate beyond all measure, and true beauty reveals only one thing – the Truth of Christ.