From December 11, 2015 to January, 19, 2016 (Moscow, Russia) "Tsar's Tower" exhibition hall, in Kazansky railway station, hosted a large-scale exhibition entitled "Contemporary Iconographers of Russia". The exhibit featured sixty iconographers, masters of mosaic and gold embroidery, jewelers as well as architects from Moscow, Saint Petersburg, Ekaterinburg, Vladimir, Archangelsk and other Russian cities. The exhibit showcased an extensive collection of regional schools and studios. Leading iconographers and educational institutions displayed their works. The exhibition was conceived and sponsored by Archbishop Pankraty, rector of Valaam Monastery of the Transfiguration, Irina Yazykova, (expert in contemporary iconography) and Sergei Chapnin (Journalist, editor in chief of "Gifts" Дары), – an annual publication dedicated to questions of Christian art.
The idea for the exhibition was conceived upon the untimely passing away of one of the leading iconographers of Moscow – Alexander Sokolov (1960-2015). At the opening of the exhibit, Archbishop Pankraty stated, "contemporary icons have to be studied, collected, preserved, and used to teach future iconographers."  This idea led to the exhibition. A large portion is planned to be transformed into a larger scale project, the Museum of Contemporary Russian Icons. "Icons should not only be painted for churches or monasteries, but spread throughout Russia. Of course, the icon is primarily made for a church, monastery and prayer, but at the same time it is a work of art, and maybe it is the best of what is now in our art," said the archbishop.
First the story of contemporary Russian iconography, we have to look at the works of the older generation of iconographers. Most of them are muscovites, who started their creative careers in the 1970s and  early  1980s, when icon painting was considered religious propaganda. All of them came to the icon by different paths.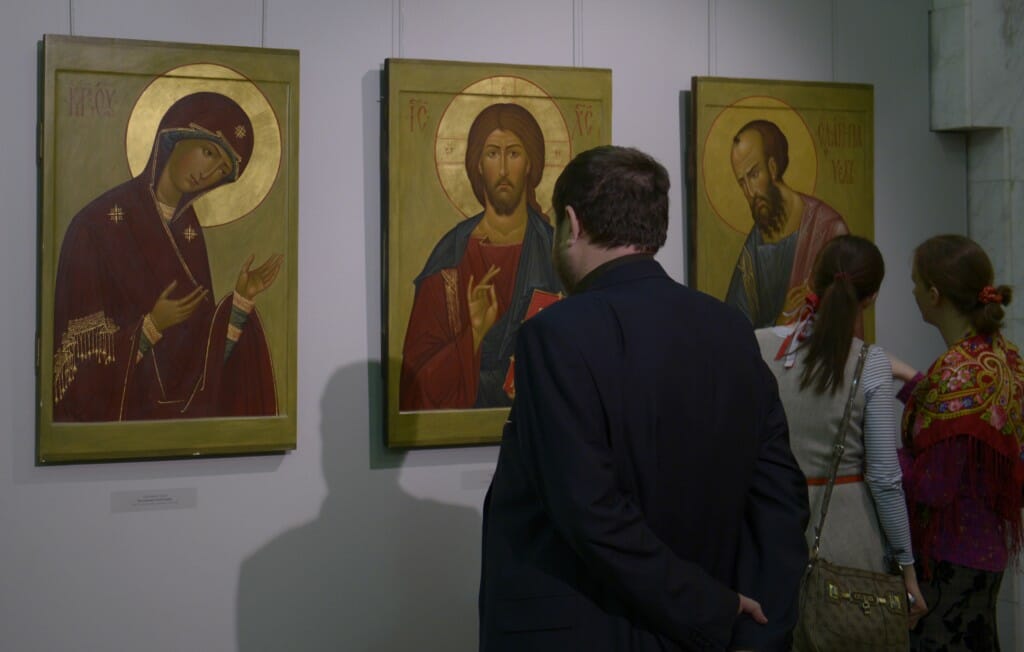 Some, like Alexandre Lavdansky, Alexander Chashkin and Anatoly Eiteneier came from the Avant Guard movement. Others, like Andrey Davydov and Alexander Sokolov, became interested in iconography while studying in art colleges. Almost all of them, in varying degrees, began with Fr. Zinon at Danilov Monastery in Moscow during its restoration to commemorate 1000 years of the Baptism of Russia in 1988.
This generation of artists had not only been rediscovering iconography, but also traditional techniques of egg tempera, natural pigments, gesso (levkas) recipes and varnishes, all of which are now taken for granted. Without knowing any better, they began by pouring "little lakes" of paint onto the surface of boards and letting those puddles fuse with the underlying layer. Only after a period of time had passed, artists stopped transferring drawings using tracing paper and began to fully exploit the possibilities of egg tempera. None of these artists remained a mere talented copier of medieval art, but found his or her own way in the profession, developing their own voice.

Fr. Zinon started in 1970, emulating the works of Nesterov and Vasnetsov, after which he delved into 15th century style and Byzantine styles of various epochs. Now he works exclusively in encaustic, a method of painting with hot wax, using early Christian prototypes. The connection with style has always been strong in Fr. Zinon's work. Like an archeologist, Fr. Zinon has has gone through all the epochs of Christian art, although, in reverse order.

Alexander Sokolov's works of  are always recognizable. The faces and facial features are quiet, subtle and consistent, while at the same time every image is personal and intimate.

Fr. Andrey Davydov has worked in encaustic for the last 15 years. His works are highly ornate, and the power of his colors is comparable with Romanesque and Pre-Mongolian images.

Alexander Lavdansky is the founder of Kinovar Studio. Looking at his images, we can also see a characteristic style, which absorbed Byzantine and classical Russian prototypes.

Anatoly Eiteneier presented only a few images at this exhibition (the Mother of God of Tenderness), but he was rightfully called one of the most complex, bright, unusual and talented iconographers of contemporary Moscow.

Alexander Chashkin, like many others, started his development in iconography after meeting Fr. Zinon. Alexander has a very special style, actively using pointillist technique for a number of years.

Andrei Bubnov
Like other iconographers, who started working in 1980s, he happened to be under the spell of father Zinon, sharing his love to Byzantine art. Years passing by fr. Zinon in his researches went deeper into the early Christian art, Andrei's interest remained in Byzantine tradition. And even though he works with it for many years, his approach is still fresh and creative, his images are lyrical and artistic.
Iconographer Irina Zaron and sculptor Sergei Antonov came to iconography in 1990, both with deep faith and being amazingly gifted. Speaking about Irina and Sergei, I can't say how many icons they have executed except to say that since 1990, they have done a lot. I would rather say they are among the very few (or, perhaps they are unique in Russia), who really create sacred spaces. We can not speak separately about paintings, carvings, icons or black-smithing. They create an integral liturgical space, where everything is interconnected, studied and lived through. An example of this is the astonishing interior of the Church of the Assumption of Andrey's Monastery in Moscow. Irina's painting is as tender and alive, as an old master's works. Sergey finds the most unique way to bring out the harmonious relationship of stone and metal.
Each of the following masters from the Sobor studio, which was founded by Svetlana Rzhanitsyna, talented student of Alexander Sokolov, has a characteristic way of painting, a signature touch and charisma.
Svetlana Rzhanitsyna, as well as Sobor studio performs variety of works in both iconography and monumental painting.  Other members of Sobor such as Svetlana Kobytova, Alexander Golyshev and Ekaterina Lukanina also showed their works at the exhibition.
Saint Petersburg's school of iconography started in the 1980s with an interest in iconography rising out of restoration specialists. The approach to studying was rather conservative. First of all, we have to mention the name of a staff preservationist of the Russian Museum, Sergei Golubev (1947-2008), who educated many generations of iconographers in the Icon Painting School of the Saint Petersburg Spiritual Academy. Among these are Alexander Stalnov, Valentina Zhdanova, Ivan Kusov, Khristina Prokhorova.
These masters do their best to fervently follow old models, traditions and canons. Probably the brightest illustration to this approach was given by Khristina Prokhorova in one of her interviews: "If someone will try to rewrite the Gospel in a contemporary language, it is not going to be the Gospel any more, but religious literature. The same here (i.e. in iconography) – if we paint in a free manner, expressing your vision, your style, this is not going to be an icon any more. We must not say that an icon should be painted according to contemporary methods.  It is analogous to the church service, which must be done according to the order, so the icon must be painted in accordance with the order too."
Other famous iconographers of Saint Petersburg featured at the show were Dmitry Mironenko, Natalia and Nicolai Bogdanov, work while referencing Byzantine and early Russian models.
Speaking of the early Russian iconography prototypes, we should of course mention the successful master Georgy Gashev, who started his creative path under the guidance of Fr. Zinon and preserved his style of the period.
Our own studio, Olga Shalamova and Philip Davydov's, was also featured in the exhibition.  We are also working in Saint Petersburg and consider iconography a creative and responsible research.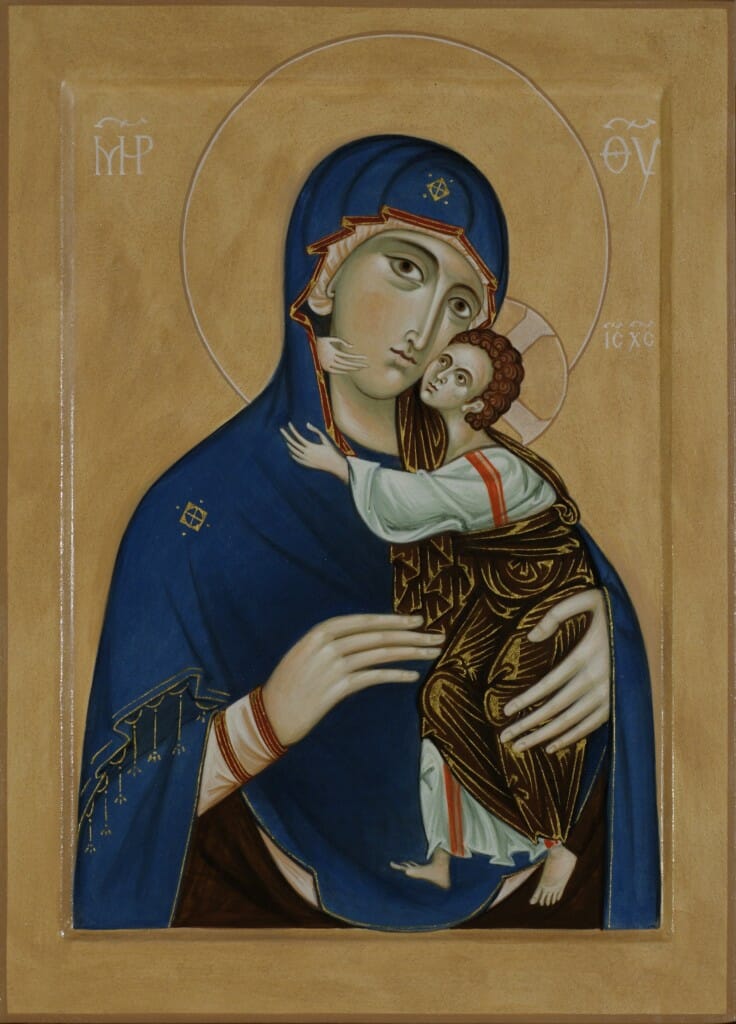 Iconographer Maxim Sheshukov, working in Sviyazhsk (Kazan region), manages to paint very traditional icons as well, as interesting creative works, which were exhibited at the show.
Arkhangelsk, workshop of Antonievo-Sijsky monastery was represented by Igor Lapin and Sergei Egorov:
The majority of icon painting schools in Russia were founded in the first half of 1990s, but the oldest school, now also considered the leader, was founded by Moscow Spiritual Academy much earlier, its roots can be traced back to 1958. That was the year, when a small group of people started to gather in Sergiev Posad (at that time – Zagorsk) to study icon painting. This group, which later became a school, started under the leadership of the most serious iconographer of the time – Maria Sokolova. By that time, she had considerable experience since her studies started before the October revolution, with restorer and iconographer Vasily Kirikov, who revealed the Trinity of Rublev and other icons in the beginning of the 20th century. Maria Sokolova, who dedicated her life to deep and faithful studies of traditional iconography, mostly followed the traditions of the Moscow School of Icon Painting the XV – XVI centuries. Contemporary teachers and students of this School use a large range of precedents for their studies, mostly selecting early Russian and Byzantine periods, considering these the pinnacle.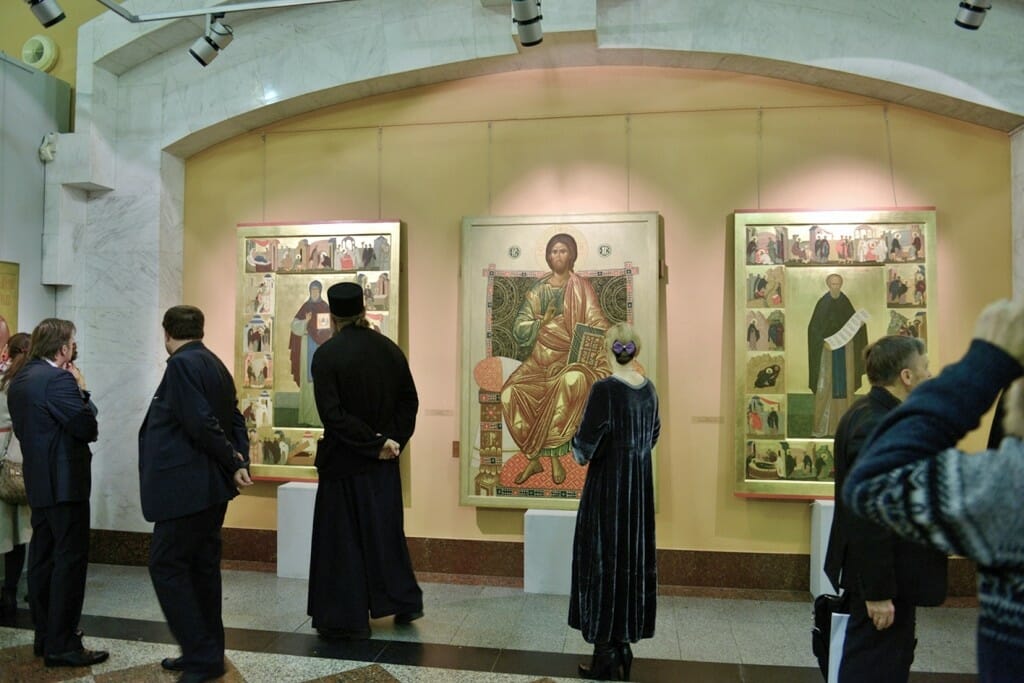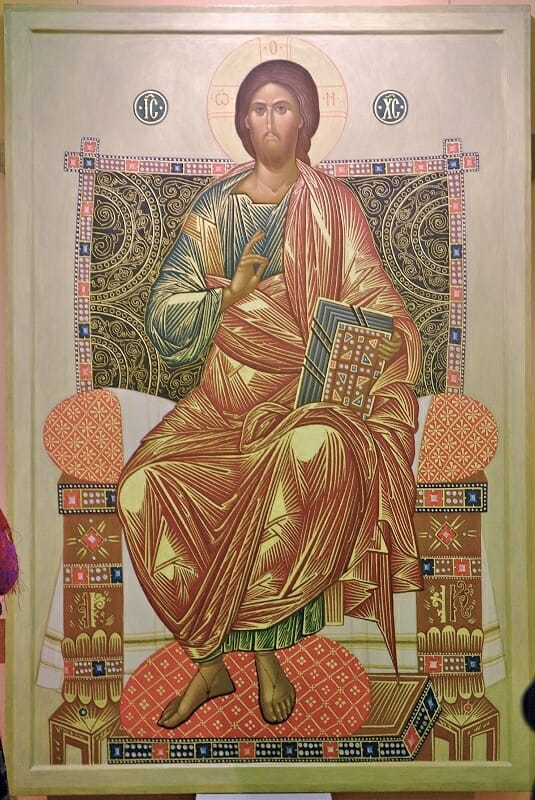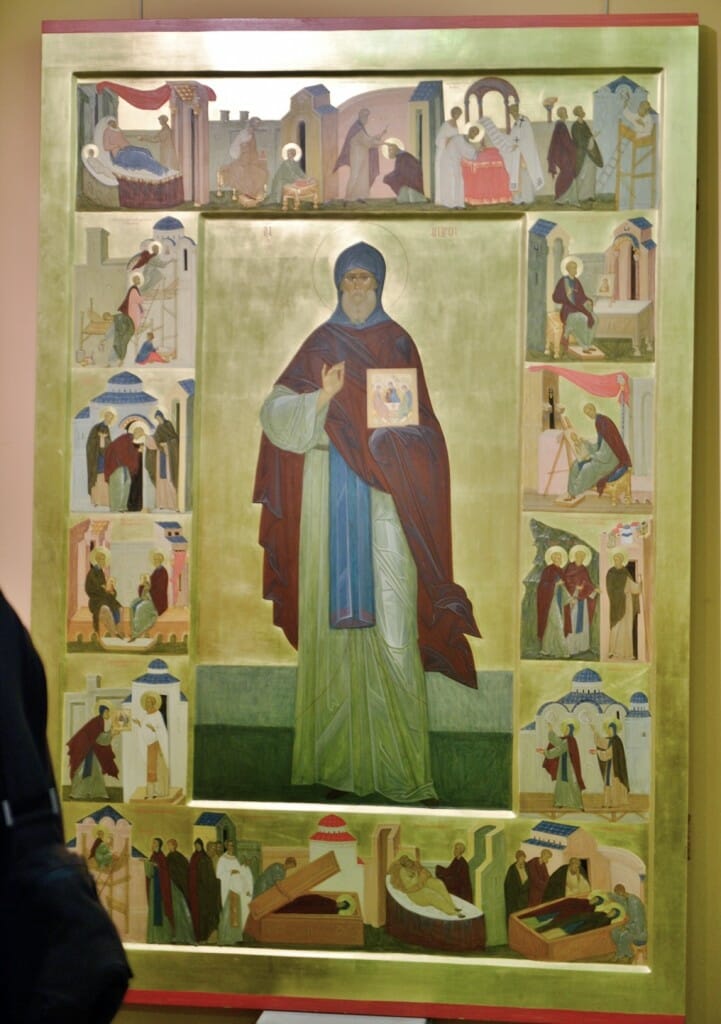 Saint Tikhon's Institute, founded by Irina Vatagina (student of Maria Sokolova) also educates iconographers using models of early Russian iconography.
Mosaicist Alexander Karnaukhov, born in 1947, is a leading artist, as well as a talented and charismatic master of mosaics. He belongs to the older generation, since he started his work under the Soviet regime as a secular artist, but has now spent a long time working in churches. Alexander Kornoukhov's work has an almost experimental quality, but is made with a serious, scholarly approach, deeply rooted in tradition. His works enrich churches in many countries of the world.

Denis Ivannikov, head of Moscow Mosaic Guild, with Michael Sushkin exhibited an unusual type of mosaics – an easel mosaic on wood panel. Mosaic icons were widespread during Byzantine types, but now this technique is lost. These two masters made 5 mosaic icons specifically for the exhibition. We especially wanted to mention Denis Ivannikov's works due to a very particular way he builds up his mosaics, using tiles very economically, only for most essential parts of the image. The rest is left uncovered, showing a worn wood texture.
Embroidery was presented by the following workshops: Ubrus, So-Deistvie, Workshop of Sofia Slutskaya, and also by works of some separate masters: Marina Amirova and Marina Turnova.


These photographs display the range of contemporary Russian iconography. It was one of the goals of the curators – to show that iconography in Russia can be up to date; to show that it is a traditional form of art with its own discoveries and revelations and that it develops dynamically. At the discussions during the conference, all the speakers agreed, that the exhibition shows all the "layers" of the contemporary state of iconography. It is evident, that the technical skills are already on a good level, but there is still long way to go towards significancy. The first iconography exhibition was organized in 1989, 26 years ago. Since then, there have been many large and small ones, but the visitor's question remains: what is a contemporary icon? Is iconography a real art, or it is just a craft of copying old models? What attitude should we have towards it? Most people considered icons exclusively as liturgical objects and only a few people considered them to be works of art. Now, finally, at the opening of this exhibition, for the first time in our epoch, everyone could hear the words of Archbishop Pankratiy, recognizing artistic and aesthetic values of the icon. This became the main idea of the exhibition, separating it from all the previous ones.
The unedited and additional photographs can be found in our flickr album at https://www.flickr.com/photos/25669502@N07/albums/72157662208557946/with/23302743959/
More pictures on this page: http://rublev.com/novosti/vystavka-sovremennykh-ikonopistsev-otkrylas-v-moskve
And a video: https://www.youtube.com/watch?v=D9J_lanBRAo