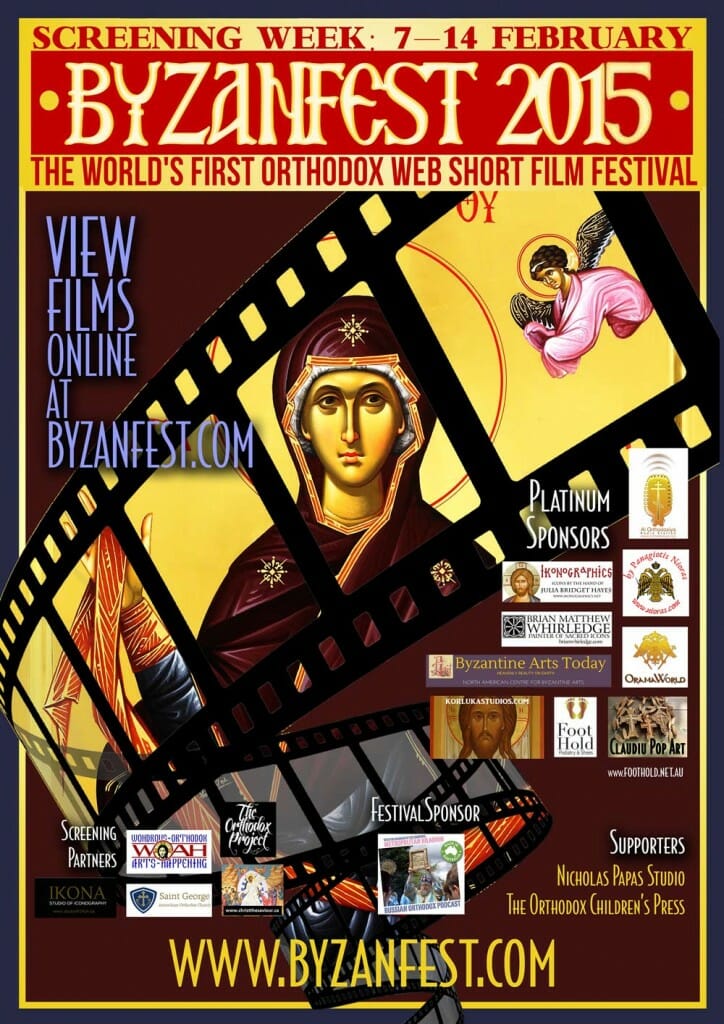 Chris Vlahonasios  is the founder and director of Byzanfest, the first online festival of Orthodox short films.  He is also a blogger at Orthodox Filmmakers and Artists.  I interviewed him about how all of this came about and about his view of the possible relationships between Orthodox arts and film.   Along the way one will find some screengrabs and descriptions from a selection of the films submitted for the 2015 festival. 
2015 marks the second edition of Byzanfest, a festival of short films made by Orthodox filmmakers. Can you tell us a bit what prompted you to create such a festival and how the festival works?
The main stimulus came after watching a documentary the Melbourne-based community TV, Channel 31, about the growing number of web-based film festivals, though their focus was on web-series. It then got me thinking, "wouldn't it be amazing if there was an Orthodox web-festival?" Having established the Queen St. Film Festival whilst at university, I knew this type of festival had several advantages: few overheads, global reach and adopting what will soon be the standard way audiences will consume their media. It would also provide Orthodox filmmakers an excellent opportunity to showcase their work and raise greater awareness of the existence of the 'Orthodox-filmmaker'.
The Festival is hosted via the Orthodox Filmmakers and Artists (OFA) YouTube channel which will also be embedded on www.byzanfest.com site. From 7th to 14th February anyone around the world can watch these films on any device and anytime. People can also vote for Audience Favourite by clicking the 'thumbs up' icon under the film.
Can you give us a sense of the range of films which are submitted and what films distinguished themselves last year?
Byzanfest received entries from USA, Romania, Greece, Serbia and Lebanon; however, only 12 could be selected for screening. I would say this year's collection explores some really fascinating issues. Last year could be categorised as more 'light-hearted'; this year's films deal with Christian persecution, disillusion via reality, mid-life crisis and living out Christ's parables.
I'm extremely pleased with each and every films. The quality and story-telling is worthy of acceptance in any major indie festival program. Orthodox filmmakers are very imaginative and multi-layered artists, names to look out for. It's such a shame the world prefers the controversial over talent and originality.
On your website you speak of an Orthodox phronema applied to film.  How do you see the Orthodox mindset play itself out in moviemaking?  How can film engage in a conversation with the more traditional Orthodox arts?
Our phronema is the lens through which we see the world – that lens is Christ. From what I've learnt and discovered over the years this doesn't mean we make 'Bible-movies' or every film has to achieve an Ostrov benchmark, it's something that guides moreso than instructs us. An 'Orthodox' film doesn't necessarily always have to have a spiritual message. It's when we combine our inspiration, skills and individuality with a living-relationship with God which directs us along with the guidance of our spiritual father or mother – that's our phronema in action.
Orthodox filmmaking is like any art form, whether it be worldly or ecclesiastical works. 'Art', as a concept, is the depiction of the 'essence' of things. 'Essence' is unchanged and proof of how things are: 'truth'. 'Truth' is the realisation of how things are intended. This is therefore 'beauty', because they cannot be anything else than what they are. In terms of having a conversation with traditional Orthodox arts, film is a tool of observation, even meditation. It allows us to express things in a combination of vision and sound. It allows us to linger, ponder, experience and engage with that beauty that's before us, whether it be an icon or a tree.
With the moderate success of Lungin's "The Island"(Ostrov) and the recent controversy regarding Zvyagintsev's film "Leviathan" for its portrayal of the Church, it seems like Orthodoxy is making prominent appearances in Cinema.  What Orthodox filmmakers and films do you think are setting the tone right now?
Leviathan is only 'popular' because of the current geo-political climate. I wish filmmakers who don't chose to maintain an Orthodox phronema during the creative process would leave spiritual and Church matters alone as they may then be encouraged by other incentives, such as fame.
There are several Orthodox films still in production but due from release in 2015. There's Shawnee Smith's awesome documentary, Orthodoxy: A Love Story and Kevin Bryce's All These Flowers which explores the lives of people dealing with Bi-Poplar disorder. But perhaps the film everyone is eagerly waiting for is Priest San starring Pyotr Mamonov who played Fr Anatoly in Ostrov. Unfortunately, this has been shelved with a release date most likely later this year or early 2016. However, the recent Serbian film by Ivan Jović, The Healing, will be the most talked about Orthodox film for 2015. A film about the aftermath of war and the power of forgiveness. A remarkable work which I think and hope will inspire many contemporary Orthodox filmmakers.
How can someone view the films of this year or last year's festival?
If you go to the Orthodox Filmmakers and Artists YouTube channel you'll find last year's program under the "Byzanfest 2014' playlist. From 7th to 14th February, this year's program will be under the 'Byzanfest 2015' playlist. You can also view the films from the Festival and OFA websites.
Links
OFA/Byzanfest 2014: http://youtu.be/tfJ48l95X1k?list=PLqftEcMG5LQ4hafrFuZbxfmqEPWAeFSb8
Byzanfest: www.byzanfest.com
FB: www.facebook.com/Byzanfest
OFA: www.orthodoxfilmmakersandartists.blogspot.com
FB: www.facebook.com/OrthodoxFilmmakersAndArtists
Interview with Ivan & Monja Jović: www.myocn.net/making-healing-orthodox-film-makers-perspective/
Shawnee Smith interview: www.myocn.net/orthodoxy-a-love-story-shawnee-smith/
Ostrov podcast: www.myocn.net/moving-icon-ostrov/