I have always been fascinated by liturgical book bindings from the Middle Ages. Their perfect union of leather, wood and metal, as a supple and tactile work of functional art, is singularly satisfying. In contrast, there is something lacking in most contemporary gospel covers, which are normally made by applying decoration overtop the cardboard covers of an ordinary modern binding. These books lack the satisfaction of complete integration of the binding with the ornamentation. Indeed, the first gospel cover that I made, was, from a structural standpoint essentially an ornate wooden box that holds a modern bound book.
Having been asked recently to make a gospel cover for Holy Trinity Orthodox Cathedral in Boston, I decided to try a different approach entirely. Knowing that the covers of medieval books were wooden panels covered in leather or metal, I consulted with bookbinder Brien Beidler as to how a modern printed book could be rebound in this ancient manner. Having designed the covers to Brien's specifications, I collaborated with Jonathan Pageau, who produced the intricate icons, carved from boxwood, that would form the central panels.
I framed these icons in quarter-sawn douglas fir, and shipped them, along with the gospel book, to Brien. He disassembled the factory binding, page by page, and then re-sewed the leaves to stout linen cords. The cords attach to the wooden covers, and the spine was then covered with soft leather, all done by hand in the medieval European manner.
When I received the newly-bound book, I was amazed at its satisfying feel – strong and heavy, and yet so supple and warm to the touch. It has that quality of gravitas that I have experienced when handling antique books made before the 19th century.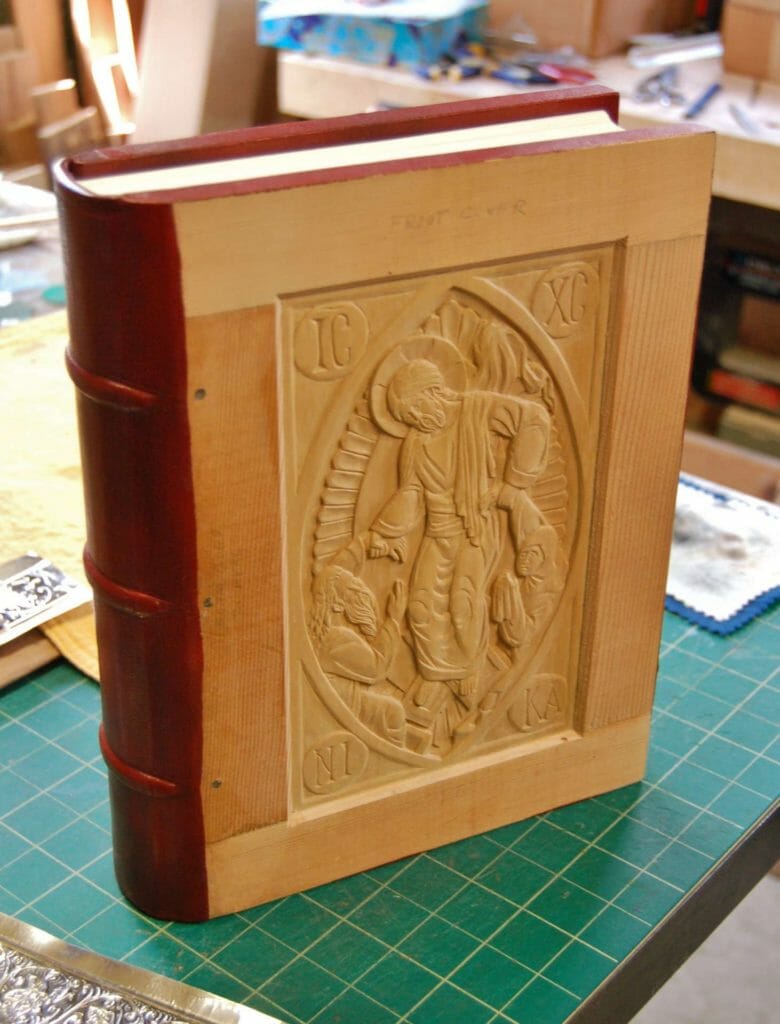 I decided to clad the frame in basma – embossed strips of nickel-silver, which I import from Russia. I have described the venerable history and aesthetic qualities of basma previously, in another article. I cut the basma to fit the frame, and attached it with tiny nails.
Next I soldered brass bezel cups to the basma and set them with green aventurine cabochons. And I fashioned ornamental rings of twisted brass wire to frame each gemstone, to better integrate them with the texture of the basma.
Now comes the most unusual step. From the outset of the project, it was clear to me that the brilliant silver basma would visually overwhelm the gentle coloration of the wood icon and the leather binding. I needed to do something to tone it down, to give it more depth and subtlety. After much experimentation, I found I could paint the basma with Japan paint (matte-luster oil paint), and then rub through that paint to reveal the raised design. This technique greatly enhances the beauty of the material, giving an effect not unlike enamel, perhaps reminiscent of the medieval gospel covers made in Limoges, France. Not only does it add a little color, but it also gives depth and contrast, allowing the raised design in the basma to shine brightly against the matte paint behind it.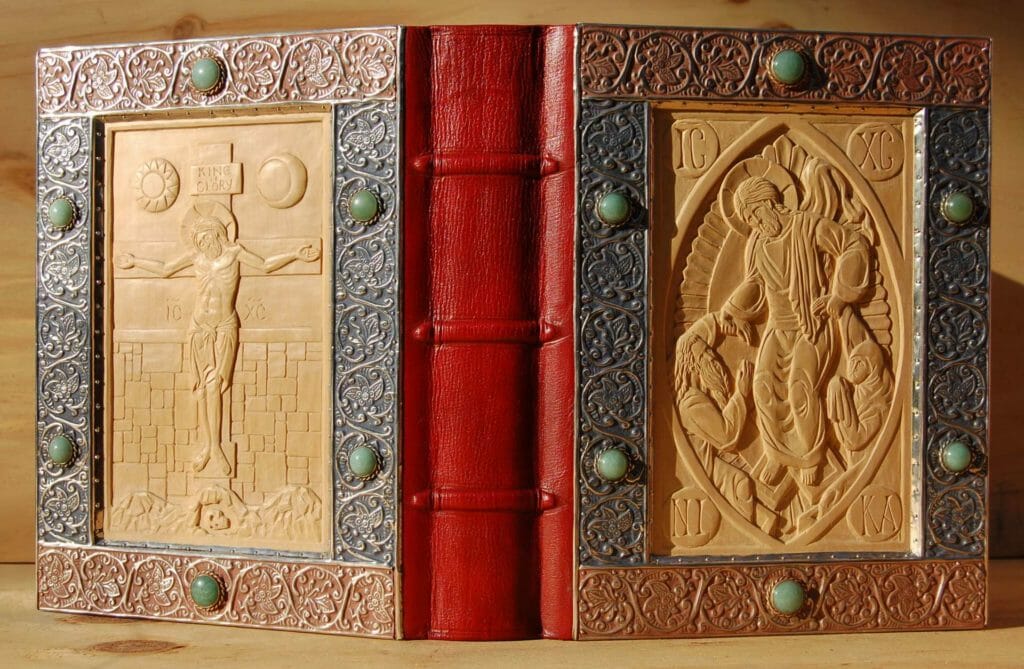 This project proved to be one of the most successful I have worked on. The materials, colors, and textures work together to present a visual and tactile experience that is most satisfying. And while the result is broadly reminiscent of various medieval artworks, it is not even close to being a copy of any particular historic piece. In fact, it looks quite fresh and new, perhaps even peculiarly American, in its clarity of composition and straightforward presentation of natural materials. I hope this project offers some inspiration to others who seek renewal in traditional liturgical art.
Andrew Gould's design and liturgical artworks can be seen on his websites: http://www.newworldbyzantine.com/ and http://www.nwbstudios.com/