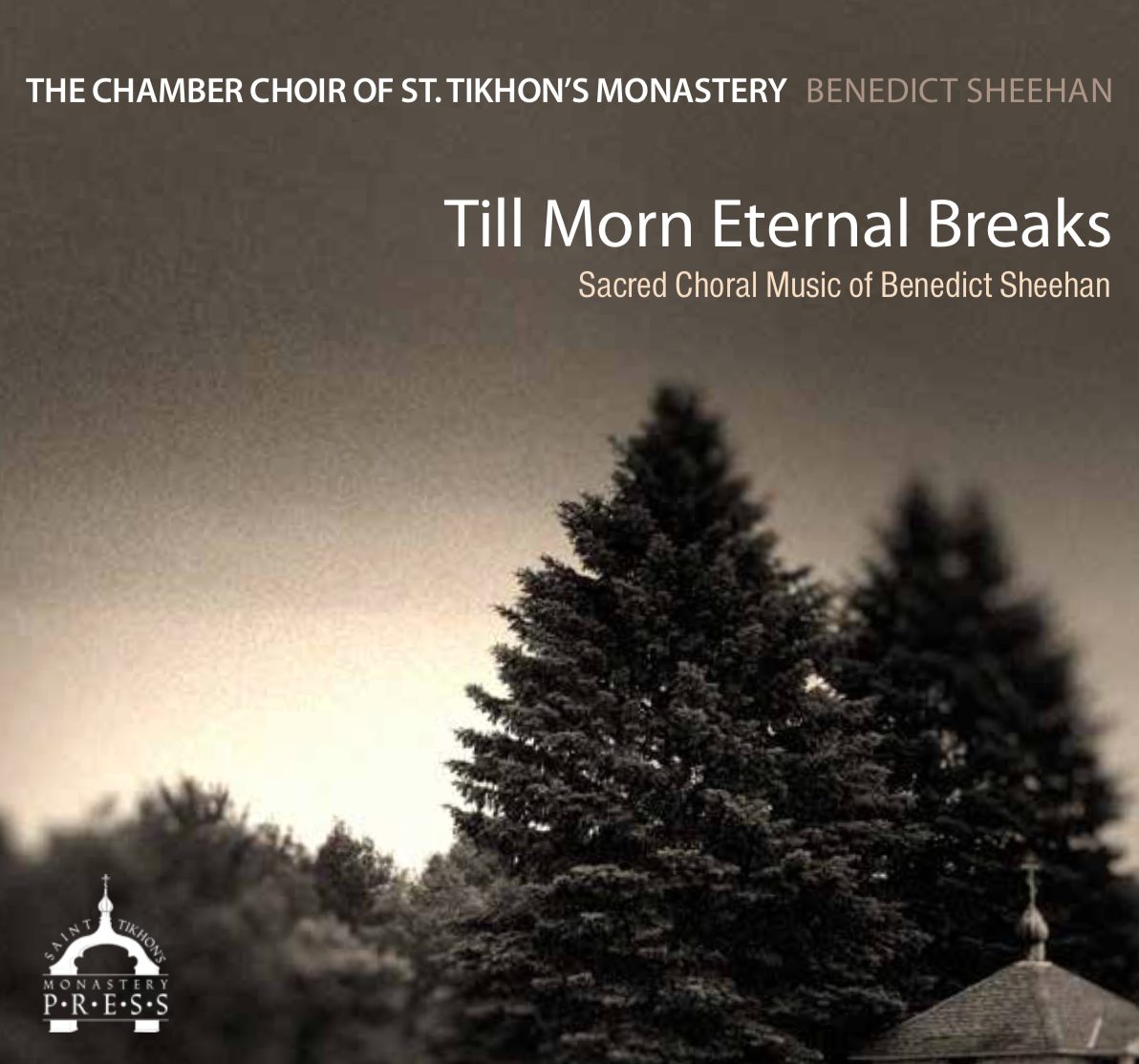 On November 9, a new recording by the Chamber Choir of St. Tikhon's Monastery of original compositions and arrangements, entitled "Till Morn Eternal Breaks: Sacred Choral Music of Benedict Sheehan," will go on sale from St. Tikhon's Monastery Press. (To pre-order, visit stspress.com) The project is the first of its kind: a recording of new Orthodox music by a professional vocal ensemble under the auspices of one of America's best known and most venerable Orthodox institutions. The CD will officially be launched at a concert by the Chamber Choir on November 12, at 7:30pm, at the Church of St. John Nepomucene in New York City. For more information and to purchase tickets to the concert, please visit monasterychamberchoir.com. The article below is from the liner notes of the forthcoming CD.
Any composer working within a tradition of music for worship has certain constraints laid upon him or her at the outset. Concrete practical realities—the abilities of the singers, the expectations of the worshipers, the liturgical function of a given hymn, the witness of historical precedents, the inviolability of sacred texts—all exert a substantantial pressure on the creative energies of a composer. However, if the adage of Leonardo is to be believed—"strength is born of constraint and dies in freedom"—then the pressure of practical realities in fact acts as a catalyst for creativity rather than as a drag upon it. This has certainly been my experience. If I may be so bold as to put Stravinsky's words into my own mouth, I have often found that "my freedom [is] so much the greater and more meaningful the more narrowly I limit my field of action and the more I surround myself with obstacles" (The Poetics of Music, 65). Perhaps a more disciplined mind than my own might feel differently, but I'm fairly certain that I would never have written a scrap of music without the aid of the sturdy barriers, both pragmatic and aesthetic, that circumscribe the Orthodox tradition of liturgical worship. Such constraints have a wonderful way of ruling out the endless possibilities that confront an artist, and of focusing his or her energies on what is concrete and essential.
However, music composed specifically for liturgical use is one thing, and music arising out of an Orthodox ethos and experience, but composed for concert performance, another. The present recording includes examples of both kinds of music from my own body of work over the past eighteen years. I'm certain the one informs the other (though I leave it to the listener to determine exactly how). Obviously, concert music in the present day has very few practical or aesthetic constraints laid upon it, save perhaps its ability to attract an audience, but I assert that the same aesthetic principles that undergird Orthodox liturgical music, and Orthodox spirituality in general, may be brought to bear with good effect on music meant for concert performance. Arvo Pärt's music is a prime example of this approach, and I think his immense popularity as a composer indicates that something in this approach connects deeply with listeners. Pärt is certainly not the only contemporary example of this rencontre between liturgy and concert hall—Poulenc, Duruflé, and Messiaen are a few examples from recent times—but he is perhaps the best known today, and is one of the few well-known living composers working specifically out of the tradition of Eastern Orthodoxy.
The present disc includes a fair sampling of music conceived for use in Orthodox worship. My own experience growing up in parishes of the Orthodox Church in America, a jurisdiction with Russian roots, informs the sound of the music substantially. A number of the works, like Cherubic Hymn, No.1, The Beatitudes, and The Lord is King, are based on pre-existing Russian chant melodies. Others, such as From My Youth, Now the Powers of Heaven, and Holy God, while not based on chant per se, are composed in a style reminiscent of traditional Russian chant. The aim here, given the liturgical nature of the music, is to compose in such a way that the music builds upon rather than disrupts the experience of an Orthodox believer trying to pray in church, and yet is fully alive in the native English language of the American faithful. Let All Mortal Flesh stands alone among the liturgical pieces as a work neither based on chant nor strongly reminiscent of it, at least in terms of harmonic language. It is perhaps an attempt at connecting the spiritual ethos of Orthodoxy with the sound-world of modern Western music in a manner that still, in my opinion, fits well into Orthodox worship.
The Canon of Christmas is a piece that I originally composed to be used in church, but have since assembled into its current form for concert use. It is essentially a two-voice texture, involving antiphonal singing and the use of a repeated refrain, both of which are forms integral to Orthodox worship. The rhythm and melody are driven wholly by the text—an excellent English translation of a Greek original by St. Cosmas the Melodist (8th c.)—and the piece constitutes an attempt to compose original chant for English that sounds neither Greek nor Russian (two dominant strains in Orthodox music), but partakes of the spirit of both in a way entirely new.
Triduum Paschale is my largest-scale choral work to date, a concert piece composed between the years 1999 and 2001, and revised again in 2015. The scheme of the work, whose title means "Three-day Passover," is a musical journey through Christ's passion, death, and resurrection. The first movement, The Crucifixion, is based on a translation of a 12th century Irish lyric (famously set by Samuel Barber in his Hermit Songs) that acts as a kind of Stabat Mater—or in Orthodox terms, a stavrotheotokion—a heartbreaking glimpse into the Virgin Mary's grief at the crucifixion of her Son. The second movement, Nondum, uses a poem by the great Jesuit poet and forefather of modernist poetry, Gerard Manley Hopkins (1844-1889), interspersed with exclamations in Hebrew of Christ's words from the Cross, Eli, eli, lama sabachthani? (My God, my God, why hast thou forsaken me?), coupled paradoxically with the joyful (and in the West, paschal) exclamation, Alleluia. The movement speaks of a world where God is seemingly and unaccountably absent, dead, and yet it conceals a profound hope that God will finally and fully reveal Himself in the end: "Yet to behold Thee as Thou art / I'll wait (Alleluia) till morn eternal breaks." The music is based on a Byzantine scale, and it features aleatoric solo passages in a microtonal Byzantine style composed in collaboration with, and first performed by, John Michael Boyer. The final movement, Easter, also based on a poem by Hopkins, is a profusion of paschal joy and exuberance. Anyone who has ever attended an Orthodox Easter vigil will immediately recognize the sort or reckless and overflowing spirit with which this movement—composed in a style faintly reminiscent of Early American psalm singing, and in mixed meter and mixed modes—is imbued.
Also included on this disc are two works—To Thee, Our Champion Leader (Vzbrannoy Voyevode) and In Thee, O Full of Grace (O Tebe Raduyetsia)—by the late Russian composer SERGEI TRUBACHEV (1919-1995), who is arguably among the finest church composers to work in Russia since the demise of the Moscow Synodal School in the years following the Russian Revolution, though he remains virtually unknown outside of Russia. Trubachev was a professional orchestral conductor and 20th-century modernist composer who, though only beginning to write church music late in life, was prolific enough to fill two substantial volumes with remarkable sacred compositions and arrangements. His style is reminiscent of the pre-revolutionary Russian nationalist composers who wrote church music—Rachmaninov, Chesnokov, Kastalsky, and others—but partakes of a subtle harmonic language and approach to voice-leading that is clearly informed by 20th-century techniques. As I try to do in my own compositions, Trubachev seems to deliberately restrain his hand, endeavoring to write music for church that has a certain timeless quality, reminiscent of the past without sounding stale or warmed over. My own part in these two pieces is that of a transcriber. Indeed, a good deal of my everyday work as a composer and arranger involves taking music originally written for Church Slavonic and reconceiving it for an English text. This is something that has been done often—with varying degrees of success—in the English-speaking Orthodox world for more than a generation now, as church culture in North America has made the gradual shift from Slavonic-language worship to primarily English-language worship (in some quarters). I maintain that the work of a transcriber is really the work of a composer, especially when dealing with music that is closely wedded to text; and it is often the case, paradoxically, that the original music has to be significantly recomposed to fit the new text if it is to actually feel anything like the original. (And yes, sometimes I decide to subtly alter the text as well!) This is what I have done here with the two works by Trubachev, I hope successfully.
The Orthodox musical tradition is extremely deep and extremely rich, and the music recorded here is but a humble offering. However, every generation must make its offering. In the hope that we are perhaps on the verge of a renaissance of Orthodox sacred music, and in the knowledge that many others are doing their part, I offer here my firstfruits to date.
LISTEN to a sample track from the CD.