There is a Russian adage which translates as "the task fears the master craftsman,"[*] meaning work goes well when one knows one's business. In the case of the recent master class in choral singing and conducting, entitled The Performance and Interpretation of Russian Sacred Choral Music, one could easily change this adage to "the task fears the Maestro," for indeed, our appointed craftsman knew his business.
When he first arrived at the opening prayer service (moleben), Vladimir Gorbik, the Maestro, carried himself in a manner that could be described as 'unassumingly attentive.' He quietly venerated the icons and stood off to the side of the church, his head inclined downwards as our local rector, Archpriest Nazari Polataiko, intoned the prayers for our three-day workshop to proceed successfully. This was Gorbik's first time in the Los Angeles area, and such newness radiated into the anticipation of both the organizers and the participants. For us choir members from Holy Virgin Mary Cathedral (HVM), the master class would be in familiar surroundings. Most of the other singers came from all over the Southern California area, while the rest flew in from different parts of North America (such as Washington, Texas, Oregon, and Alberta).
After the moleben, with swift movements and nimble handling of his luggage, Maestro Gorbik (the farthest traveler) accompanied us from the cathedral to the reception hall where we would spend the next two days preparing to sing a vigil and liturgy for the Afterfeast of the Transfiguration on the Julian Calendar. Once inside the reception hall we organized our seating three rows deep: first singers and conductors, then observers. Not losing any momentum, Gorbik sat at his electric keyboard, erect and with hands raised to the task of preparing the pieces. Though we knew we would stop for lunch, dinner, and an Akathist, hanging over us was the consensus that we would be nailed to our chairs and singing till well after dark.
His practical comments came early on, and as suddenly as lightning in either English or Russian. Sitting attentively in the tenor section was Dr. Vladimir Morosan, ready to do the heavy task of translating Gorbik's more complex thoughts. After making our way through the first piece we were at once stopped with a hand clap and an upward gaze from the Maestro. He spoke among our silence: "We're going to play a game." The game focused on staggered breathing, or "chained breathing" as it's known in Russian, so that there would be a continuous sound of singing, much like the continuous singing of the angels. The rules of the game were as follows: if one of us breathed in between musical phrases (or at any other noticeable spots) we had to stand up and remain standing until the end of the phrase. At first we kept forgetting either the rules or the fact that we were playing, but the Maestro quickly reminded us that such a game would be played for the remainder of the day. No one laughed.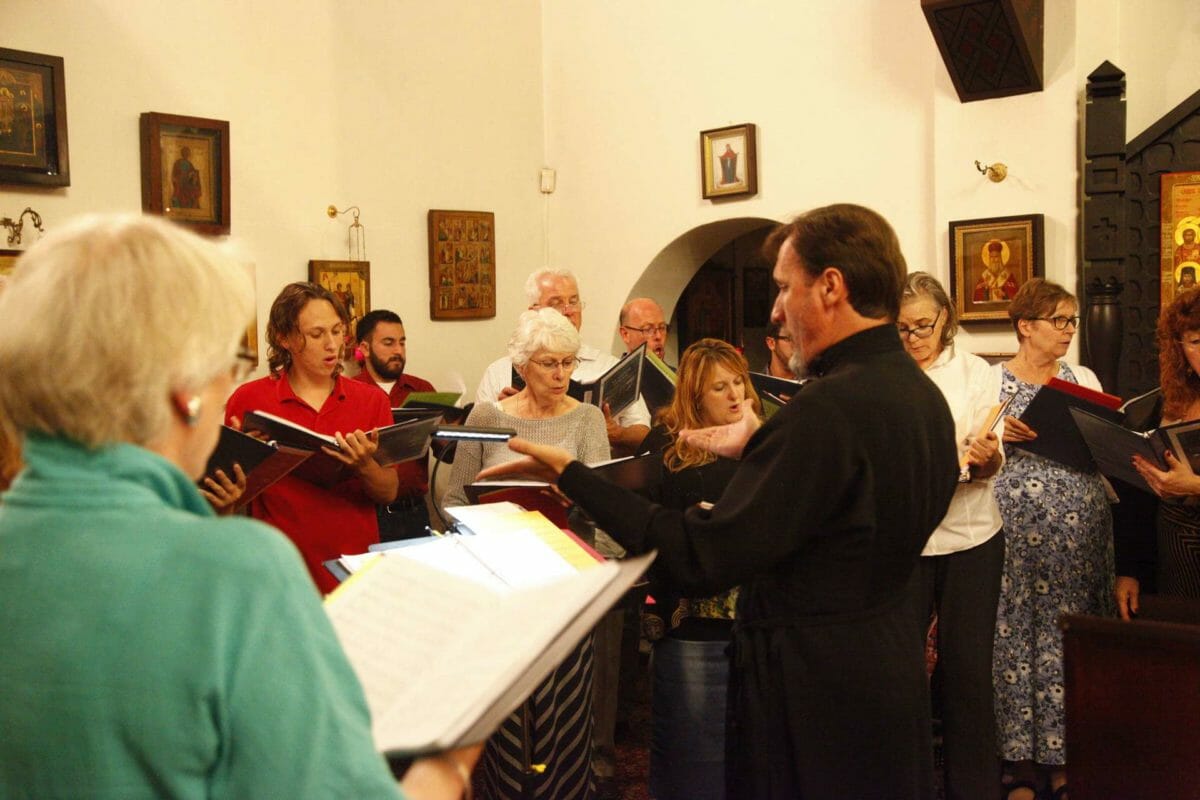 Later on, Gorbik gave us a charming anecdote in response to a question on proper breathing: he had once put this very question to one of his favorite elders—Archimandrite Matthew (Mormyl') at the Trinity-St. Sergius Lavra—over the phone. The elder responded by asking, "Have you ever seen a cow moo?" Baffled, Gorbik replied that he had grown up in the city and could not even recall the last time he had even seen a cow, to which the elder spoke for 50 minutes (fifty!) on the mechanisms of a cow mooing, its triangle-shaped muscles, and how such technique should be the singer's aspiration. "Even two minutes of a monk's time are valuable," said Gorbik, "so I hung on every word!"
Gorbik's anecdotes were nothing short of remarkable, especially when we got to the stichera (proper hymns) for the feast and the saint of the day (Martyr Euplus), all of which were set specifically for this master class by our regular director, Serge Liberovsky. Our musical phrasing was, from the beginning, not to the Maestro's satisfaction. "The end of a musical phrase," he said, "is like coming home after a long day. There are your children, your wife, your dinner. Not finishing the phrase strongly is like accidentally going to the neighbor's house, inconveniencing your neighbor and worrying your wife! I should know, since I have a wife and ten children." He continued, "If you want your children to listen, you must express yourself in a way that fits what you're saying. If I tell a funny story but instead of laughing, my children cry, then I've told it poorly. So, too, with these stichera. So-called 'spiritual singing' does not mean being devoid of emotion in song. Rather, emotion is in accordance with text. That's why I love ballads and ballad singing, for in them the narrative and the music are united." From then on the words of the stichera became as vibrant as any icon:
"Crossing the sea of suffering, thy sail filled with the breath of the Spirit…clad in a purple robe dyed with thy blood…and crowned with the wreath of victory by the hand of the Creator of Life [, O Martyr Euplus]…"
Equally vivid were his analogies for certain phrases of music or part coloring. At one point, when we were losing energy, he stopped us and said, "Your phrasing sounds like a downhill cart with square wheels. Let's try to round them out, huh?" Where he became a font of analogies was during his favorite pieces, one of which was Pavel Chesnokov's Cherubic Hymn (an arrangement of the Sofroniev Hermitage melody): sopranos became "blue sky", while basses were "hard earth" and "bells" and were instructed, during one exercise, to sing like a ringing bell. "The Russian tradition of bass singing is never heavy," he said, offering a comical parody of basses who imagine themselves to be the famous operatic basso Fyodor Shaliapin, but clearly fall short of the mark. Analogy became anecdote as he told of the bells at Trinity-St. Sergius Lavra which, when he stood between two of them, turned his body into a bell by the vibrations. One bell was so big, six men had to swing the clapper from side to side for 15 minutes to warm it up. Gorbik's main instruction for the Cherubic Hymn, though, was simple and touching: "This melody is like a lament, a Russian lament. But sing it as you would a lullaby."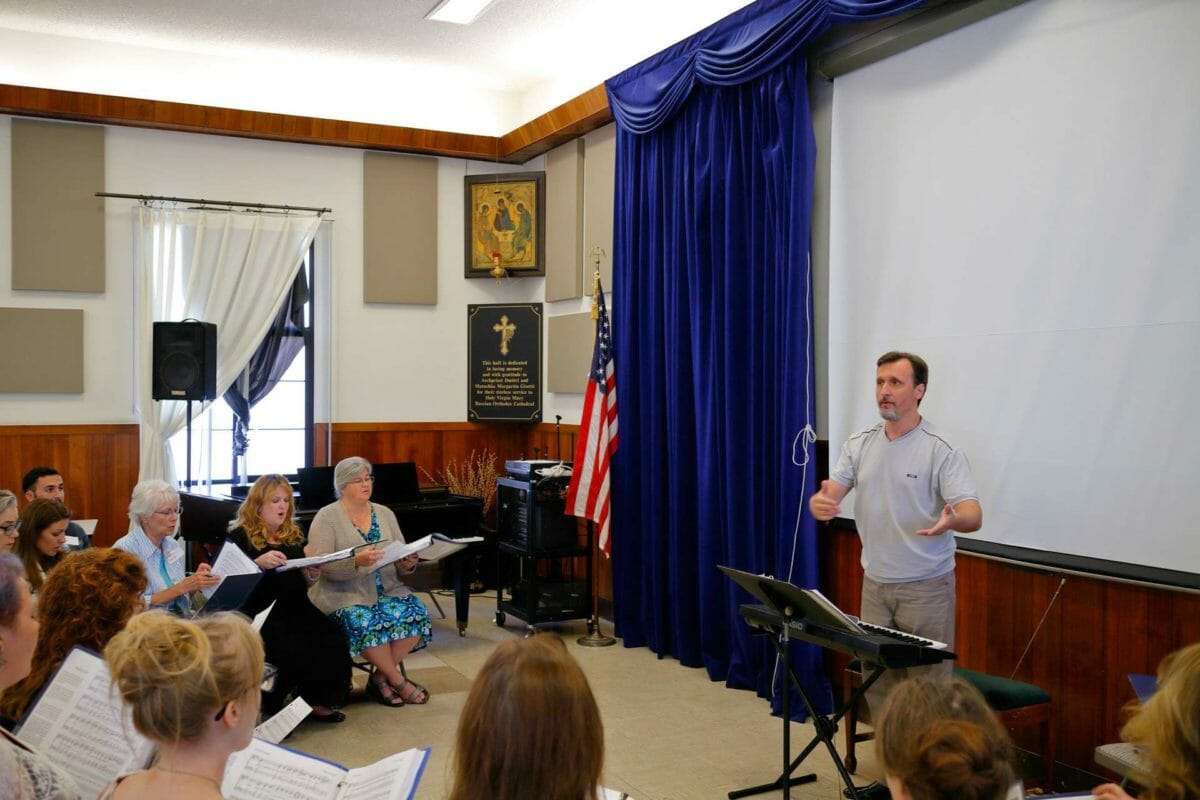 Once we got to the canon at matins, Gorbik burst with enthusiasm: "This should be rhythmically like a dance. A Russian dance!" and he proceeded to hum the melody and clap his hands in an unquestionably Russian way. After this comment the canon took on a character one would never have thought of before: it became light and jaunty. Such jauntiness aptly fitted the first ode, which is a song of victory when Israel crossed the Red Sea. The newfound lightness never left the discipline of the atmosphere in the master class.
Scattered among us singers were conductors who would occasionally conduct at Gorbik's request. Even when he was not directing, Gorbik maintained his attentiveness as well as his firm ease, sitting in the back or standing to the side in case he needed to comment or step back in. One conductor was so anxious she was hesitant to start. Gorbik reacted expertly and gently by taking her trembling wrist and leading the choir with her. As the conductor sat back down, Gorbik gestured to her and remarked with his broad, bright smile, "She's a hero." Another example of his care for us came when, near the end of our session, he recorded himself sounding out the Slavonic text for "O Victorious Leader," as he admonished us to go home and study the score.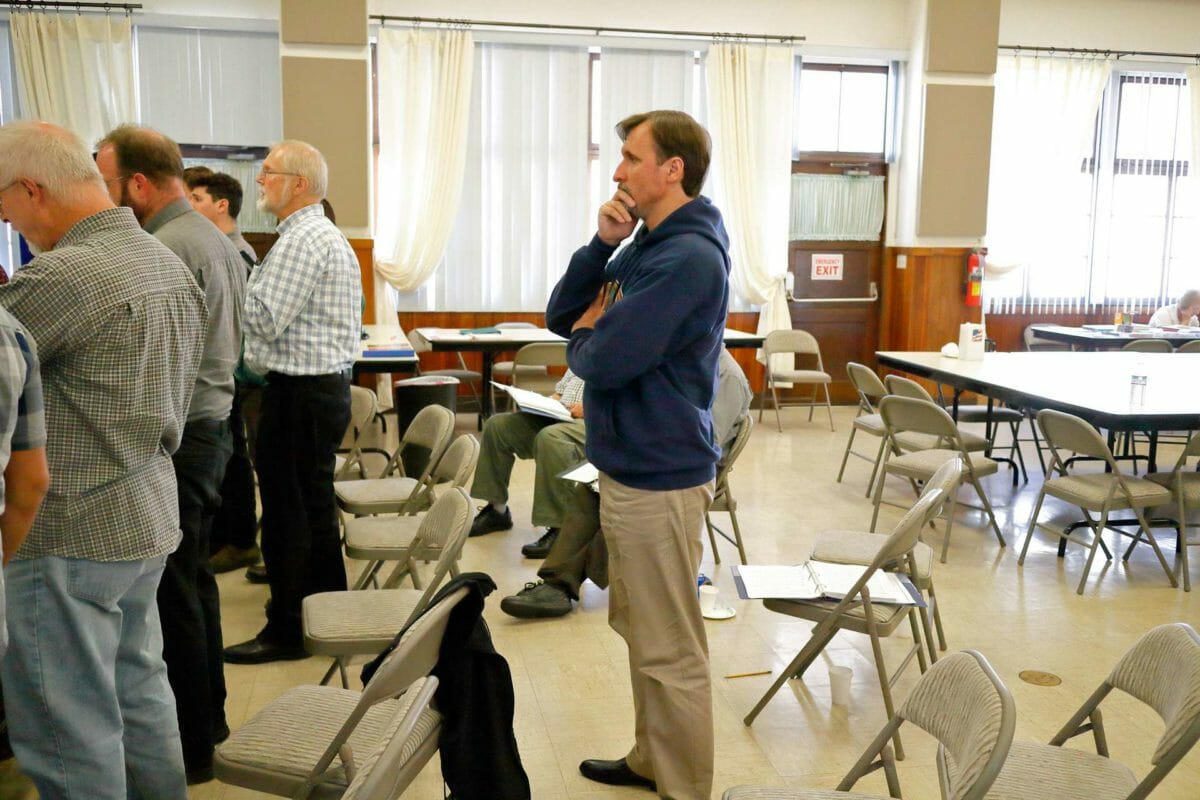 We left the church at 9pm that first evening, one hour earlier than indicated on the schedule. "My gift to singers is that I end early, but the second day I smile less. You've been warned," he said all this with a smile still on his face.
The following day was just as densely packed with practicing, save for the momentary respites to eat and a longer interval before Vigil while Gorbik met with the conductors. We all felt the fatigue. As we waited in the reception hall, one singer came up to some of the younger participants and remarked, "Even the young look weary." Another singer told us he had 'done his homework', listening to Gorbik's recording of the Slavonic text more than fifteen times. Other singers gathered around the piano, sounding out their parts note by note. Still others slept. While time did not permit us to polish every piece of music, we were ever privy to Maestro Gorbik's attentiveness in expressing the music as well as keeping the musical professionalism and spirituality called for in church singing.
Then came the Vigil, and Liturgy the following morning. At Liturgy, Archbishop Benjamin (Peterson) of the OCA Diocese of San Francisco and the West began his homily on the well-known quote from one of Dostoevsky's novels: "Beauty will save the world. Beauty must be in everything in the church. The icons must be beautiful. The rugs must be beautiful. The 'bling' the bishop wears has to be beautiful, too! And especially the singing must be beautiful!"
The services were indeed beautiful, but we all knew that some pieces were sung better than others. One of the better pieces turned out to be the Chesnokov Cherubic Hymn, an accomplishment about which the Maestro was very pleased. In the very least we had remembered our 'game' of breathing, and all collectively sighed from relief.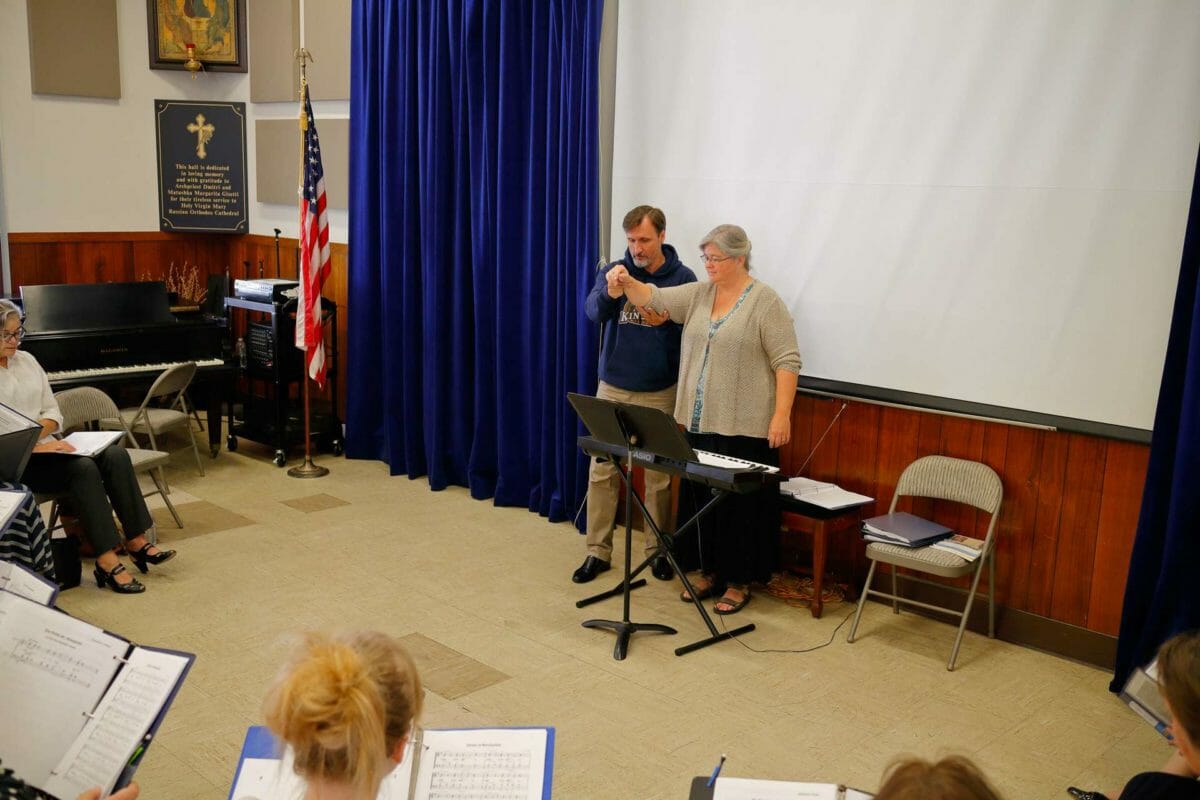 At our last luncheon together in the reception hall, Gorbik made some closing comments, starting by assessing our singing during the services themselves: "Even professional singers make mistakes," he began using the same upward gesture, surrounded by our tense faces, "though they acquire the experience of how to handle them quickly. Humility is essential for singers of any level, especially in the church." He presented for us a humorous, though unsettling, example of such a lack of humility: on more than one occasion professional choir singers in Moscow (some even well-known soloists) told Gorbik to his face that he was just a 'fool of a conductor' and that their singing would sound beautiful even if the notes were wrong. We broke into laugher with not just a little surprise. "True humility," he continued, "is knowing not to sing if you don't know the music. It's better that you sing one piece well than ruin all the pieces with your poor singing."
Maestro Gorbik then spoke of his own musical formation and how he began singing at the age of five, which led to his experience in genres as diverse as folk, classical, and rock music. "I can choose!" he said. With this knowledge, the figure he had cut for us softened, and deepened. When he opened up the talk for questions, the room really became lively. Questions ranged from his perception of 'American Orthodox musical idiom' to the role of children in church, leading to humorous anecdotes about his family, none of which needed translating. One member voiced our wonder at the abundance and color of all his anecdotes, to which Gorbik responded in smiling seriousness, "My anecdotes arise from your love, which I've felt since our first rehearsal…and true love of another shows in how well you harmonize when singing with them".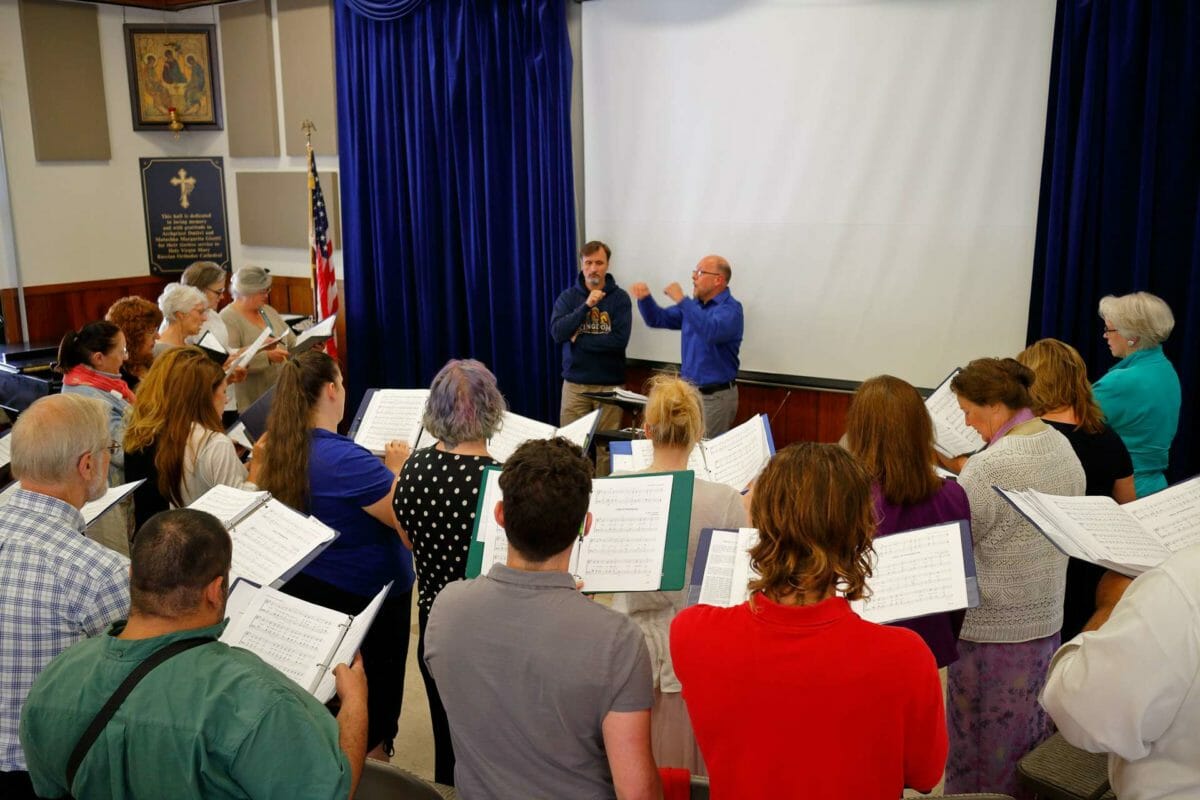 Nestled among his comments and anecdotes, both during rehearsals and at his closing comments, were words of wisdom acquired over his years of conducting in the church and the concert hall, among them remain three gems:
"Singers have an advantage over the congregation in that when singing one can more easily allow the mind and heart to be connected, the ultimate goal of man and the reversal of Adam's fall."
"More than two of us are gathered here in Christ's name, so Christ is among us. We are no longer divided into Russians or Americans, but united as citizens of the heavenly kingdom."
"With good singing Heaven can be made in any parish."
He closed by saying with great respect, "Pray for me, for us, and for my flight. I'll be praying for you." Then came the point where we sang "Many Years" to Gorbik, who looked as unassumingly attentive as ever, followed by handshakes, kisses, and embraces with him and each other before the Maestro whirled out the door, his luggage in one hand and a California lemon in the other.
The general consensus among the participants, among us from HVM and otherwise, was that this master class had been a humbling experience due to the level of professionalism demanded of us in such little time, revealing our shortcomings. One observer made apt comments on the stichera:
"It is easy to forget, as a church singer, that these are spiritual treasures that we are singing and offering before the congregation and to God. It is easy to do a half-hearted job. Prof. Gorbik's words [on how a church needs good singers just as a building needs competent builders, janitors, and plumbers] powerfully reminded me that this is a good work that we do, and, unless we want the reward of the poor janitor, the builder, or the plumber, we must do the best that we can."
Despite the rigor of those three days, many of us expressed a hope that this would not be the Maestro's last time in Los Angeles or at HVM. For the brief interval that we sang under his direction, we were each offered a glimpse of a craftsman at work, and in turn reached some form of milestone in our participation in the ministry of church singing. Because of Gorbik's intensity, our collective focus during the sessions was razor sharp, which proved to be physically taxing but ultimately rewarding. Additionally, thanks to the deftness of Gorbik's direction, we as singers were both challenged and reassured that we could trust whatever direction he led us. Such an approach lessened our own fears as we saw the task submit to the fearlessness of the Maestro.
[*]Дело мастера боится.