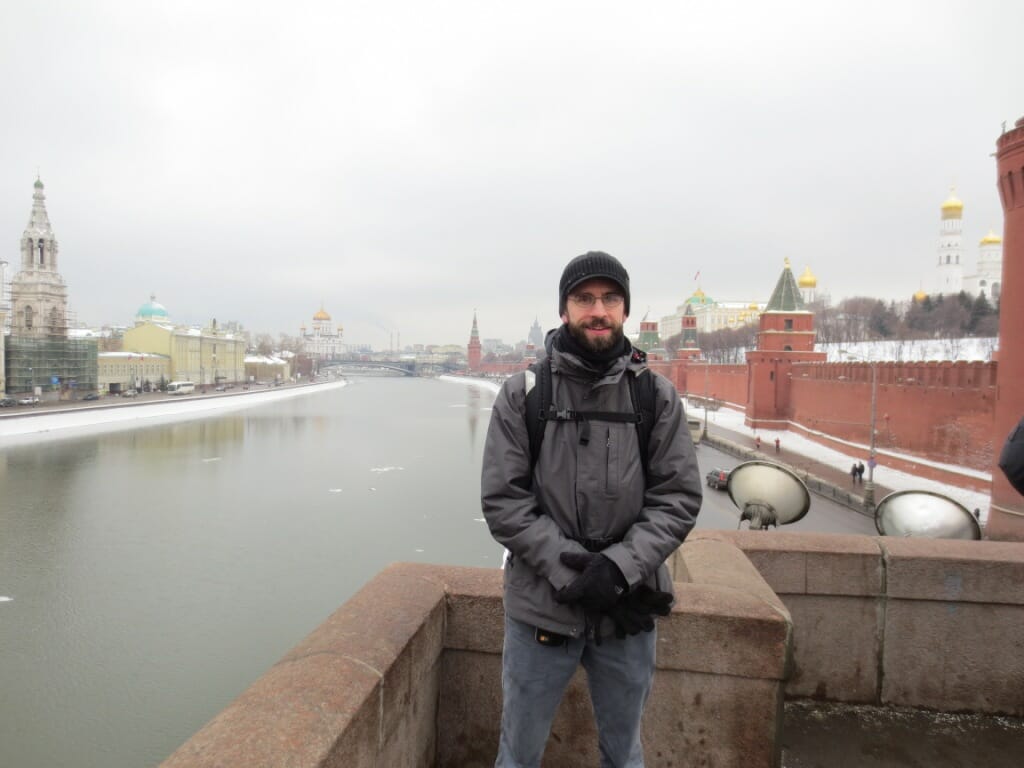 A Travelogue
December 27, 2012 – January 9, 2013
Vladimir Gorbik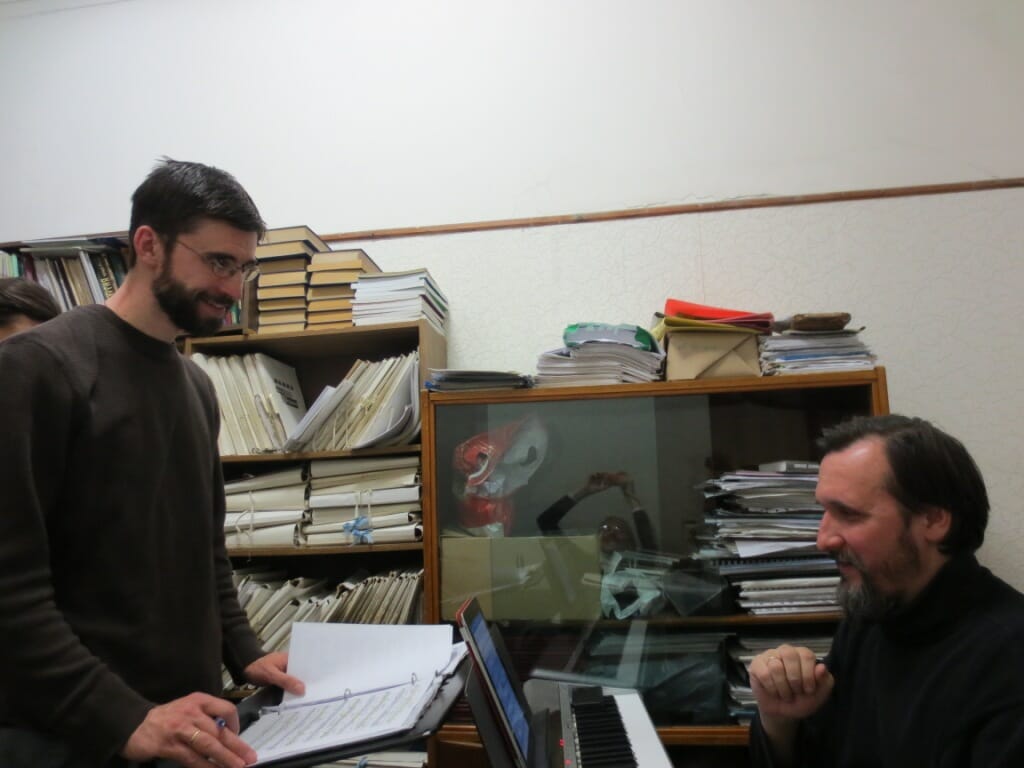 Conductor, teacher, mentor, friend—Vladimir Gorbik is arguably the finest living conductor of Russian church music, and the reason for my journey to Moscow this past December and January. Over the course of about two weeks I was privileged to work closely with him and his choir at the Moscow Representation Church (Podvorye) of the Holy Trinity–St. Sergius Lavra. I worked with the choir for hours  during rehearsal (I lost track of how many!), and conducted them and sang with them during services. The sound of Gorbik's choir is truly a marvel! Bright, warm, immensely powerful, and at the same time refined, controlled, and altogether prayerful. This, I think, might also be a fitting description of the man himself. He was unfailing in his generosity towards me, always making sure that he or one of his singers kept tabs on me during my stay in Moscow, and he and his capacious family—that is, his wife, his father, and his nine children!—joyfully included me in their Christmas celebrations.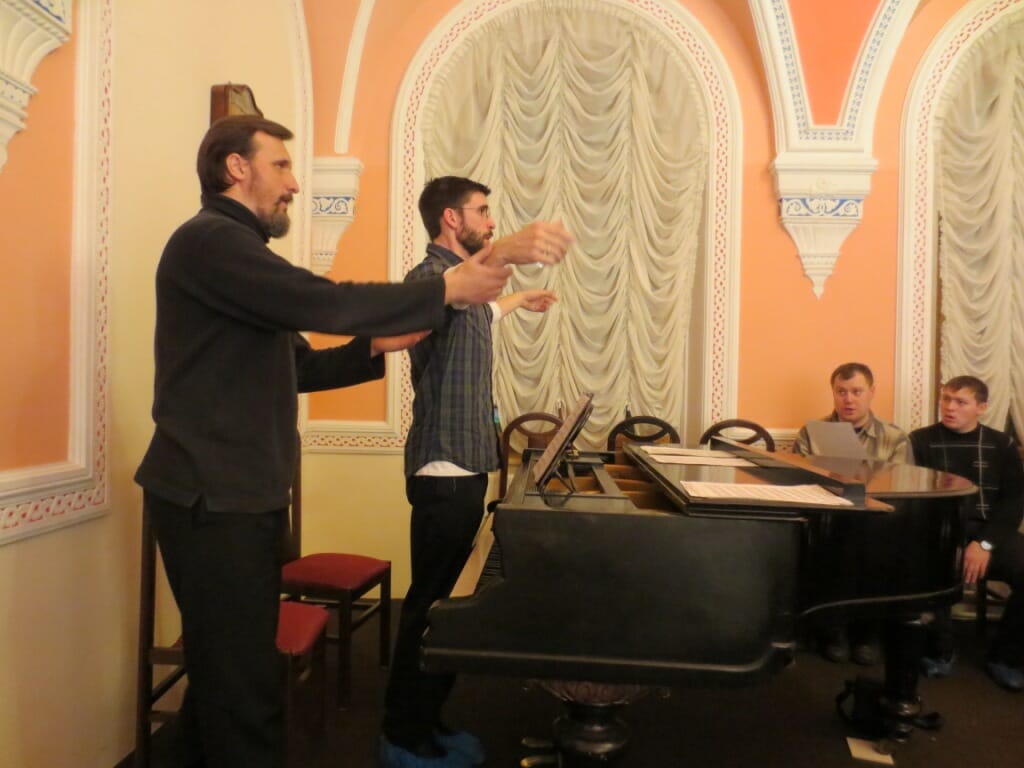 The Holy Trinity–St. Sergius Podvorye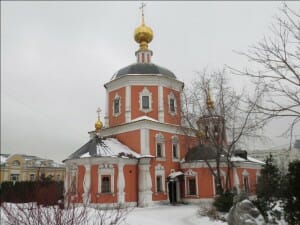 A dependency of the famous Holy Trinity–St. Sergius Lavra, and for more than a century the residence of the Metropolitans of Moscow, the Podvorye was founded around 1638. It is a working monastery as well as a parish church, and the brotherhood there serves the full cycle of services each day.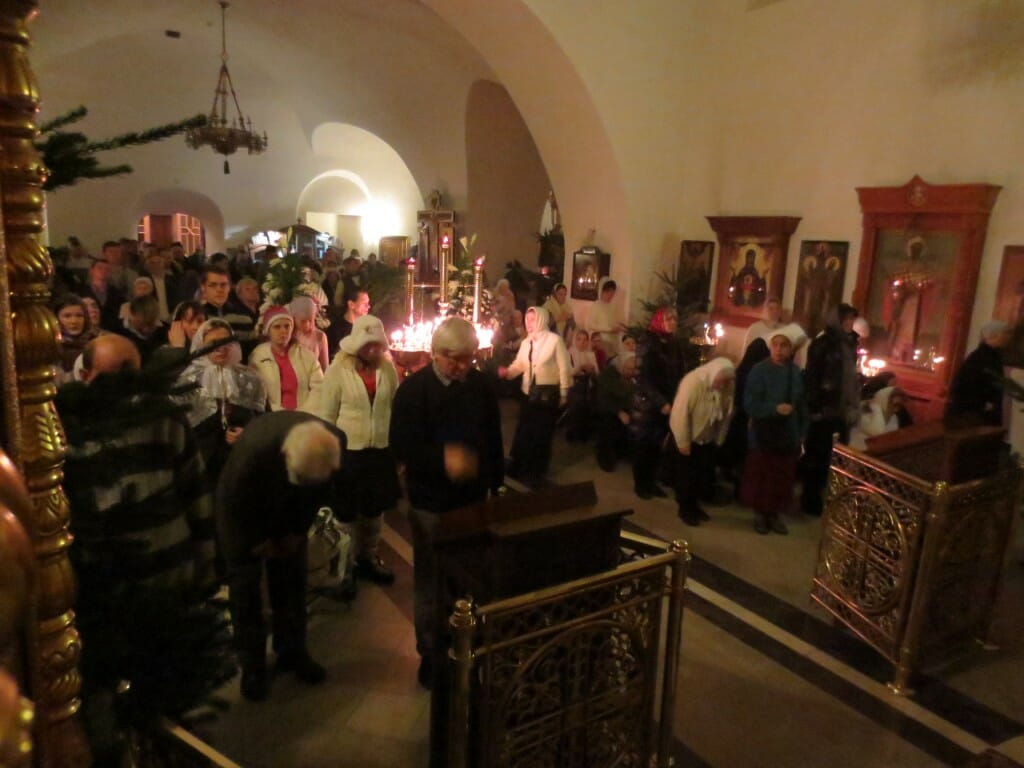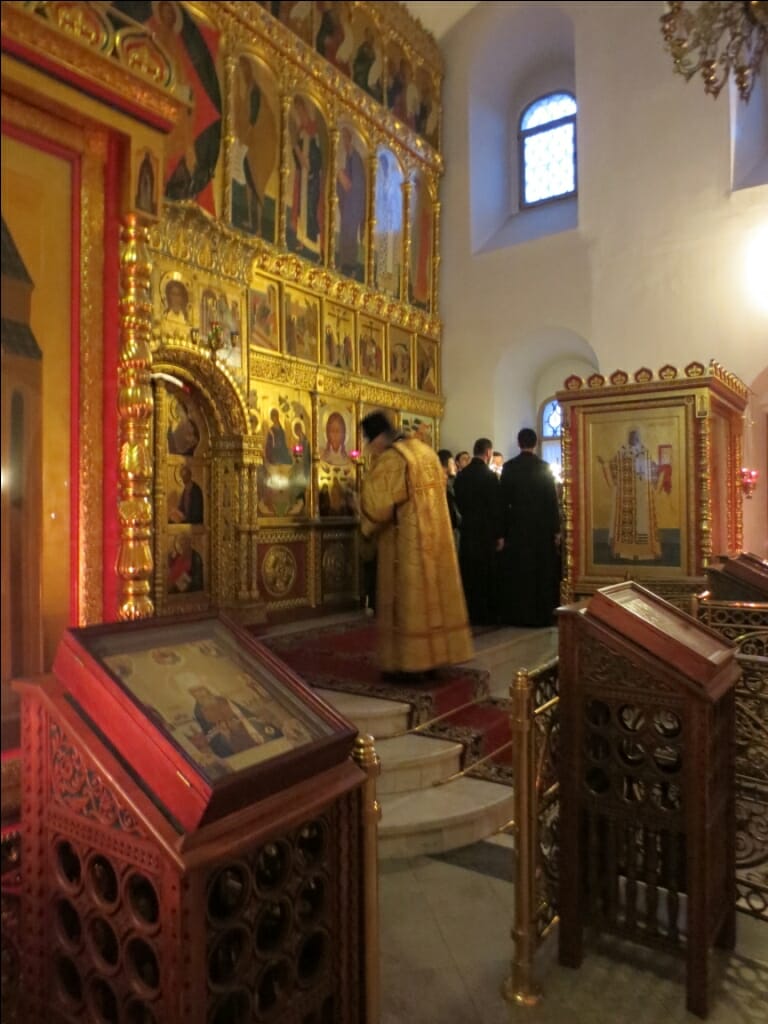 The Choir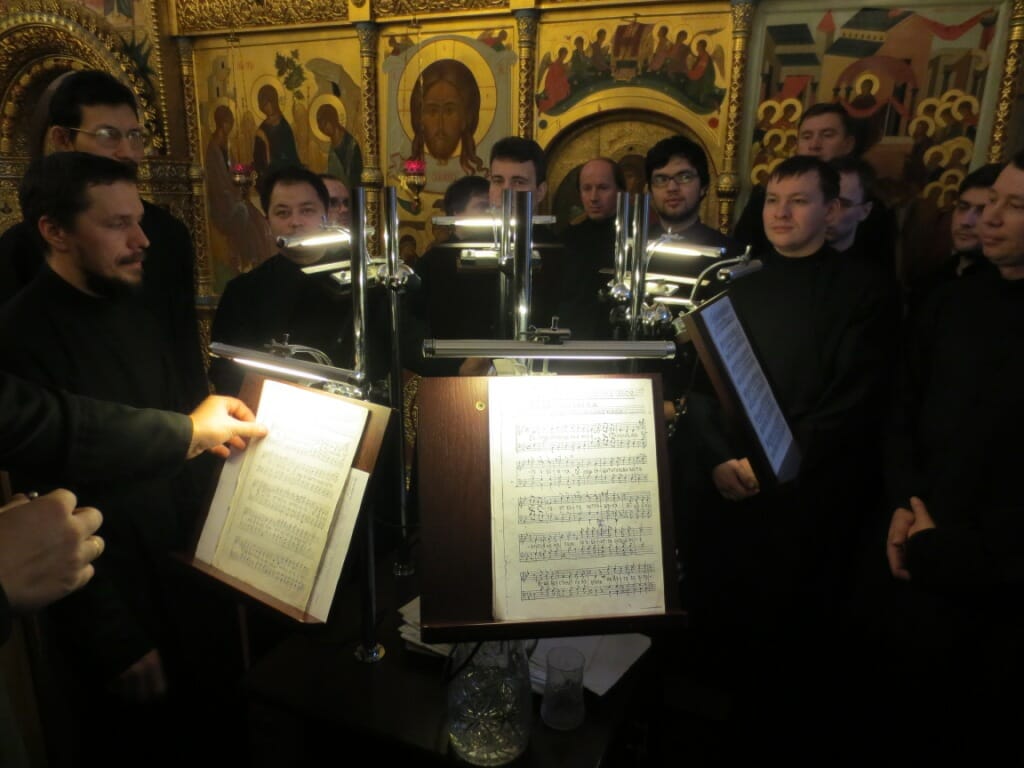 Actually one of ten active choirs at the Podvorye, the professional male choir is the premier ensemble there—and perhaps the premier choir in all of Russia today. They have sixteen full time singers on their payroll, whose weekly duties include two to five services and anywhere from three to nine hours of rehearsal! Augmenting their numbers, they regularly give concerts in Moscow, drawing large crowds and rave reviews, and are frequent guests at Patriarchal services.
Moscow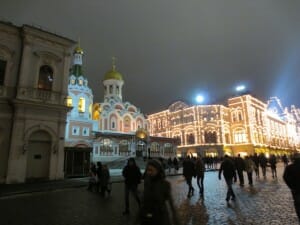 Even though the skies were unremittingly gray and the streets covered with muddy ice and snow, Moscow still shone with wintry beauty. We braved the cold (not too bitter during our stay, thank God) for some sightseeing and pilgrimage. We visited a number of monasteries in the city, including Danilov Monastery and the Holy Protection Convent where St. Matrona's relics are (you can see the long line of people waiting to venerate her); took in the breathtaking majesty of the Kremlin churches; and enjoyed the dazzling New Year's lights display in Red Square.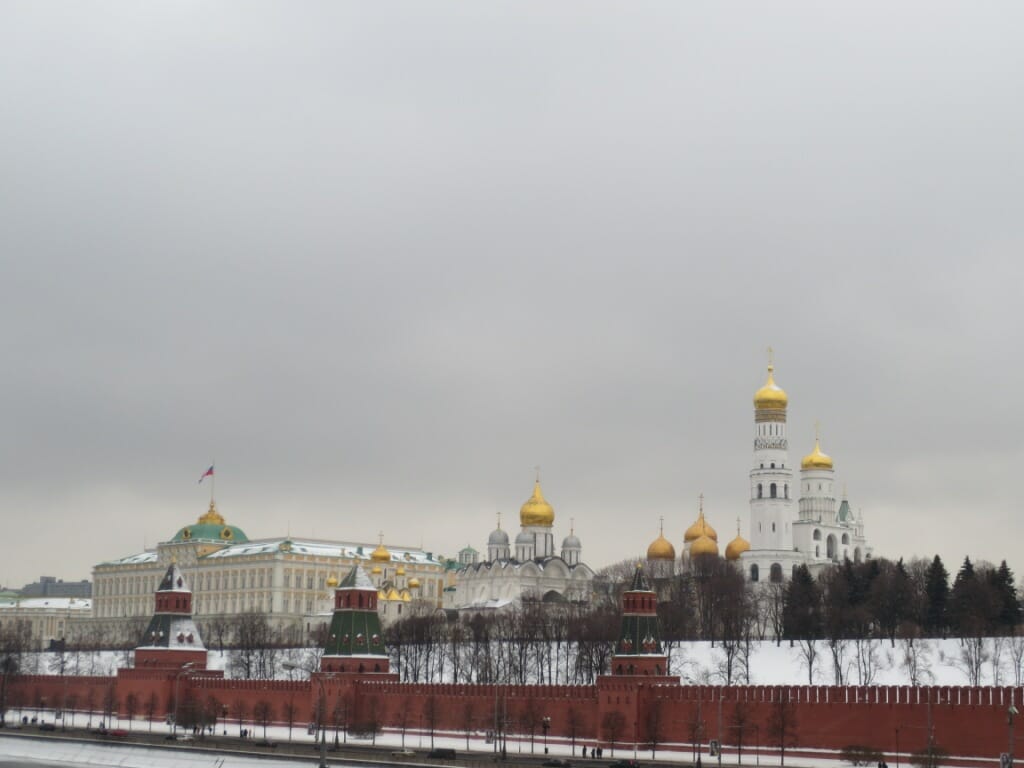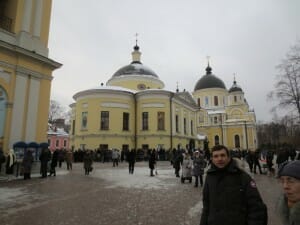 Sergiyev Posad & The Lavra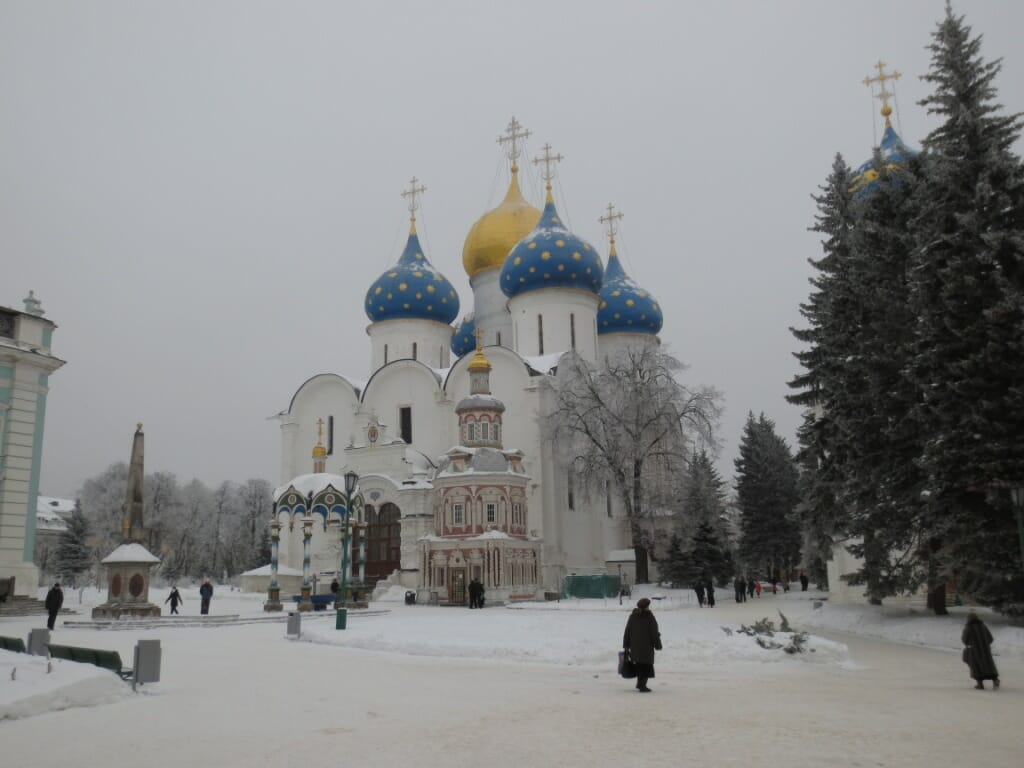 No word or picture can capture the deep and silent grandeur of this place, the living spiritual heart of Russia. A sense of eternity—almost unbearably massive, and yet shot through with joy—hangs over the Holy Trinity–St. Sergius Lavra. The monastery and town are about a two-hour drive from Moscow, and one of Gorbik's singers, Gennady, graciously took us there for a day. We venerated the incorrupt relics of St. Sergius—which still exude an amazing fragrance after more than 600 years—and countless other relics besides. After praying for everyone I could think of and submitting the names of friends and family for commemoration at the literally ceaseless vigil that takes place at St. Sergius' tomb, Gennady and I went and sang "Memory Eternal" at the grave of Archimandrite Matfei, the Lavra's late—and legendary—choirmaster. We then took some water from the monastery well and (of course) visited the gift shop before heading back to Moscow.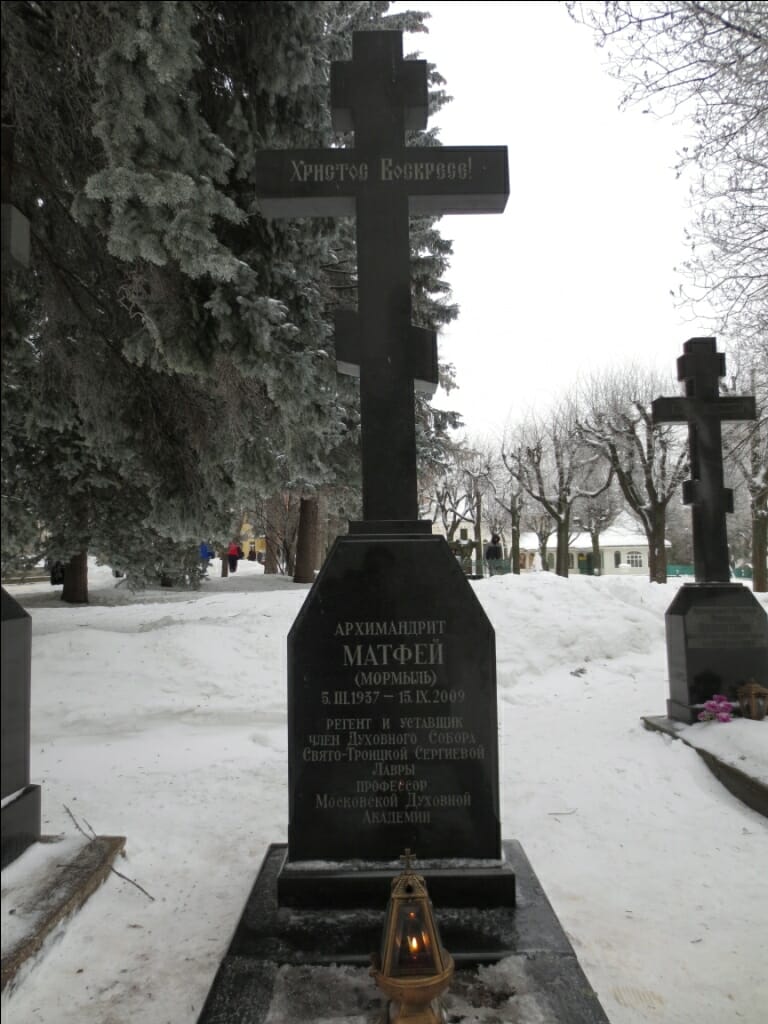 St. Tikhon of Zadonsk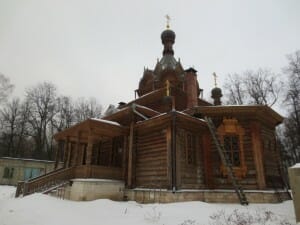 Our beloved patron and protector led us to the beautiful little log church dedicated to him in Sokol'niki, a wooded park on the periphery of central Moscow. The priest there, Fr. Pavel, who is Vladimir Gorbik's spiritual father, truly radiates the peace of Christ from every bone in his body. He and his Matushka Ludmila showed us such warm hospitality and sent us off with a number of gifts, including a large reproduction of their icon of St. Tikhon, painted by Matushka herself.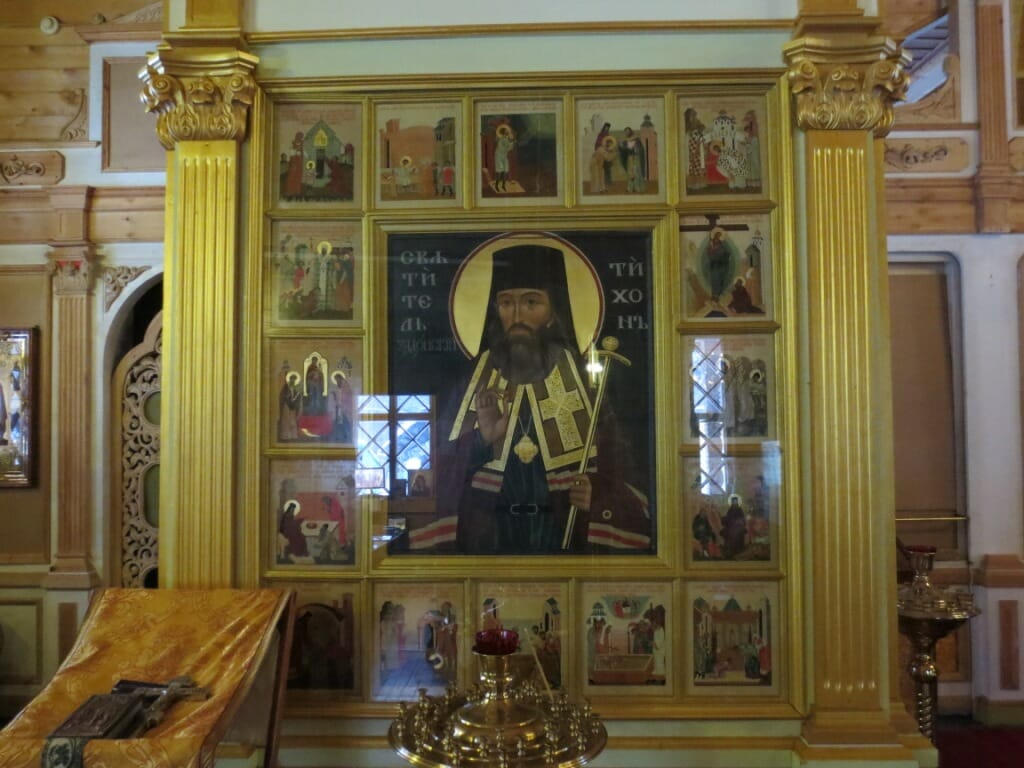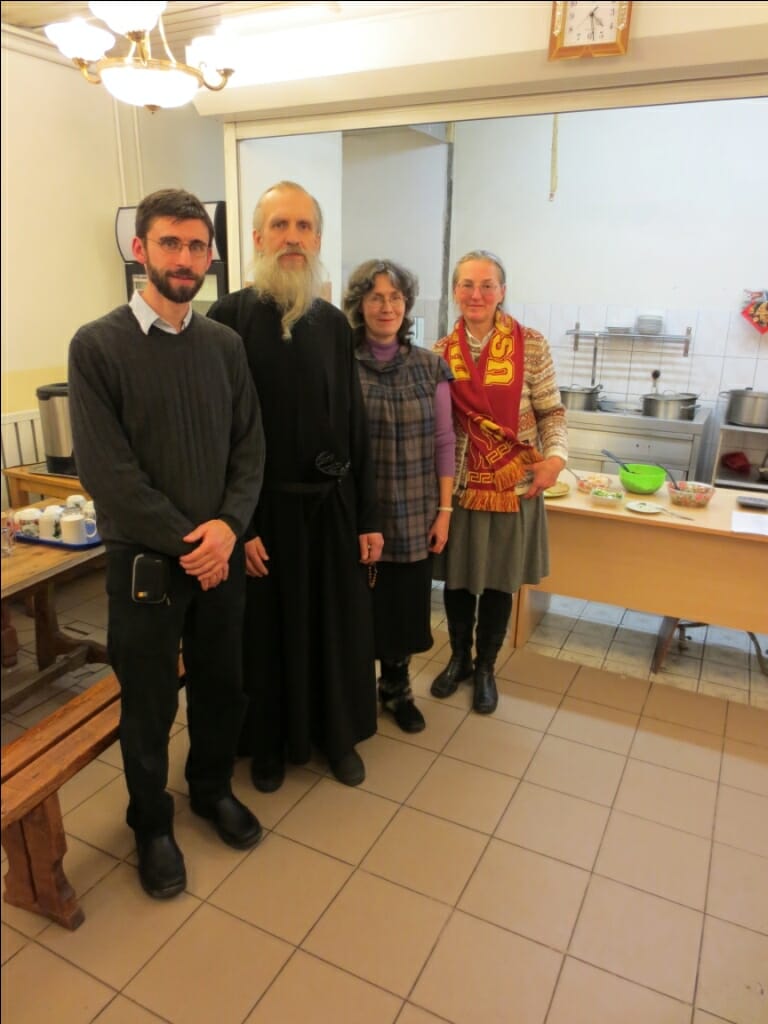 St. Tikhon of Moscow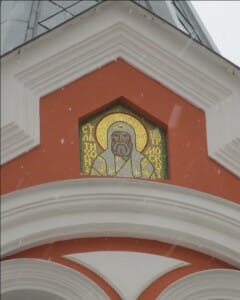 One of my major goals on the trip was to visit Donskoy Monastery and venerate the relics of our monastery's founder and heavenly intercessor, St. Tikhon of Moscow. With his help, we accomplished this a few days before Christmas. Even in the middle of the work day, there were dozens of people praying before his candlelit tomb and asking for his aid.
However, an unexpected blessing was also revealed to me when I found out that one of the principal buildings of the Podvorye called the "Metropolitan's Palace" (pictured below), the place where Gorbik's choir always rehearses, is in fact the very place where St. Tikhon lived while under house arrest in 1922. What a miracle! His presence there invisibly connects us.