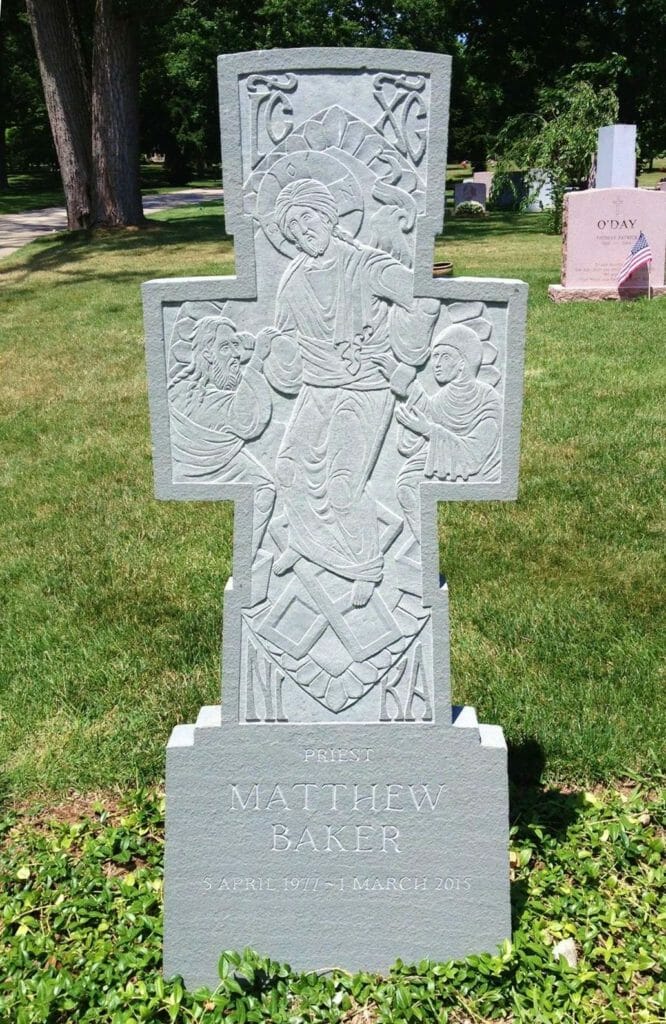 When Jonathan Pageau and I were asked to make a grave cross for the late Fr. Matthew Baker, we were humbled by the task. Fr. Matthew was a beloved young priest, a prominent Orthodox thinker, and father of six children. His tragic death in an automobile accident on March 1st, 2015, on his way home from vespers, shocked the Orthodox world, and inspired an unprecedented campaign of support for his family.
Fr. Matthew's widow, Presbytera Katherine, asked Jonathan to carve his memorial stone, and she wanted it to be an image of hope – an icon of the Resurrection, installed during Pascha of 2016. We knew this stone had to be something truly special – a consolation to family and friends, and a missionary witness to all others who would see it.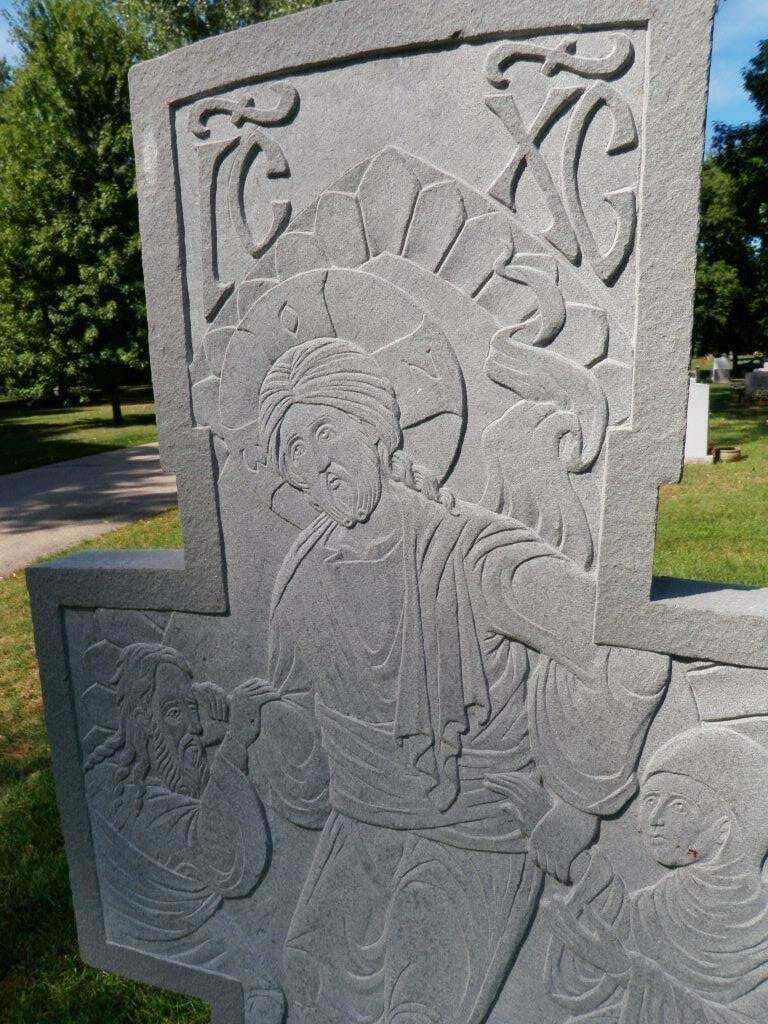 Jonathan asked me to design the stone itself – to choose a material and determine the size, shape, and installation technique. In looking at historical Orthodox graves, I found nothing that was quite right as a precedent for this project. The older Orthodox grave stones tend to be small, simple, rustic affairs, very beautiful and organic, but lacking monumentality or an iconographic program. But we wanted to emulate the earthy aesthetic, the material humility, of these ancient stones, and avoid the cold precision of modern granite and marble headstones.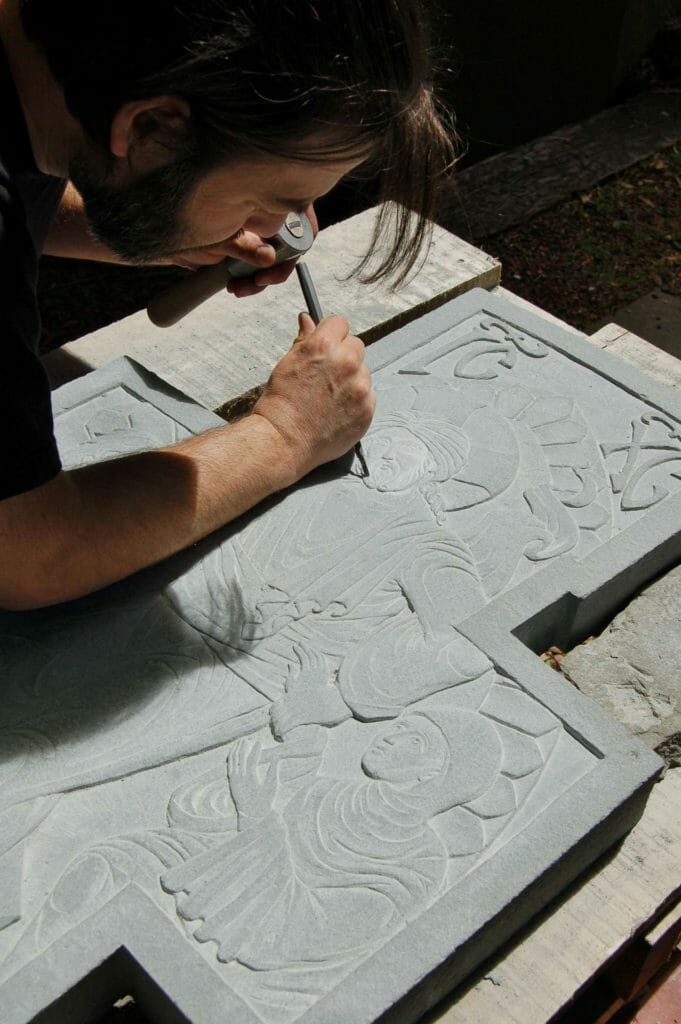 I found particular inspiration in old Serbian graveyards, populated by rough-hewn stone crosses of a blocky shape and covered with inscriptions. I imagined one of these stones taller and carved with iconography, perhaps not unlike the ancient Celtic High Crosses of Ireland.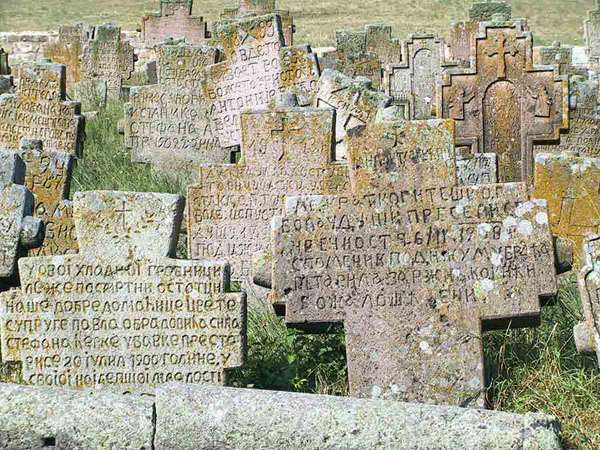 I chose Pennsylvania Bluestone, a hard gray sandstone that resembles the stone from which these ancient crosses were carved. I designed the shape of our stone based upon a medieval Russian wooden cross – a complex and elegant shape in which no vertical lines are quite plumb, nor any horizontal lines quite straight. After much adjustment of the proportions to be sure it suited the iconographic needs, I drew the shape in AutoCAD and had it robotically water-jet-cut from the slab of stone.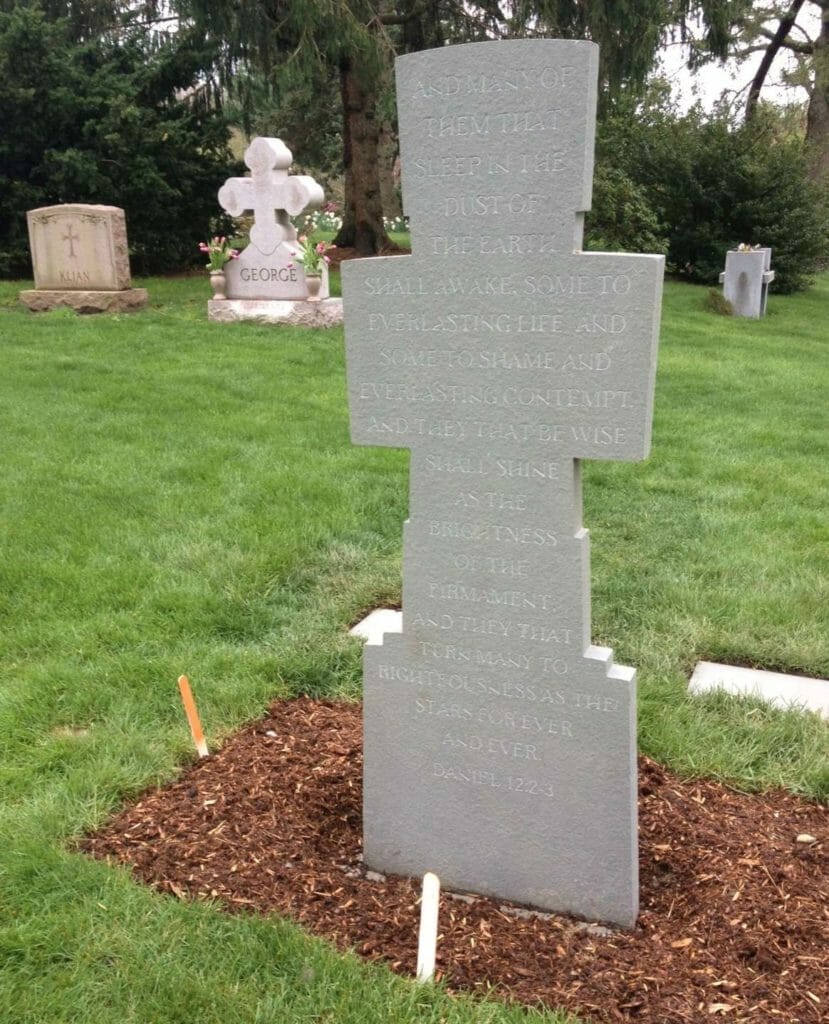 Jonathan drew his layout for the icon carving as a full-scale cartoon. He had to modify the Byzantine Resurrection composition in several ways to make it fit the cruciform space – particularly the hand and arm positions, by which Christ pulls Adam and Eve from their graves. Presbytera Katherine requested that Adam's face should resemble that of Fr. Matthew – an unusual request, which Jonathan was able to accommodate with subtlety and sensitivity.
Presbytera Katherine chose an inscription from the Book of Daniel for the back of the cross. I worked out an arrangement for the text which filled the space, reminiscent of the inscriptions on the old Serbian crosses. Jonathan and I traced the lettering onto the stone using a modified font of my own invention – basically Trajanic Capitals, but with a few flourishes deriving from Greek and Romanesque lettering, for a more Eastern and medieval character.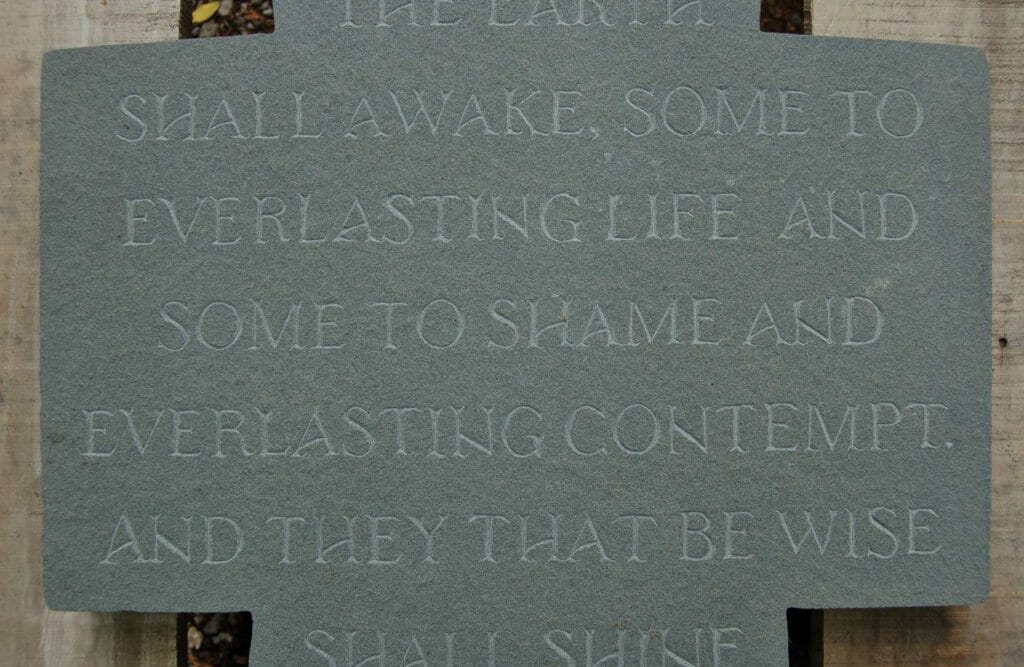 It took Jonathan two weeks to carve the stone, with the occasional assistance of four strong men to flip it over. (At six feet tall, the stone weighs about 400 pounds). It was delivered to Swan Point Cemetery, an uncommonly beautiful historic garden-cemetery in Providence, Rhode Island. There it was installed directly in the earth with only a little concrete underground to help hold it upright. It rises straight out of the grass like an ancient grave cross, simple and understated, but proclaiming the clear and compelling gospel of the bodily resurrection.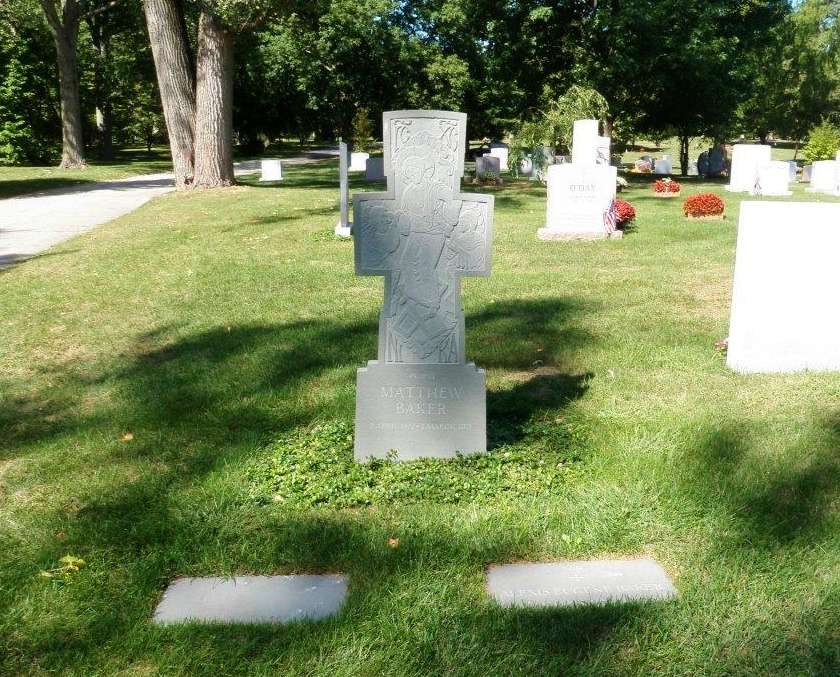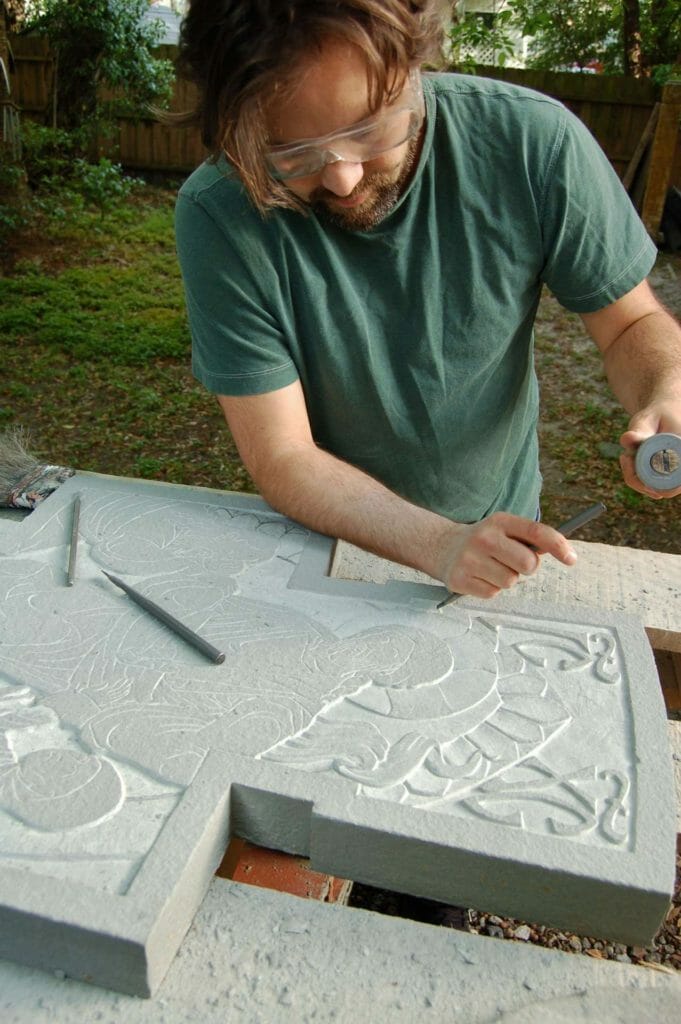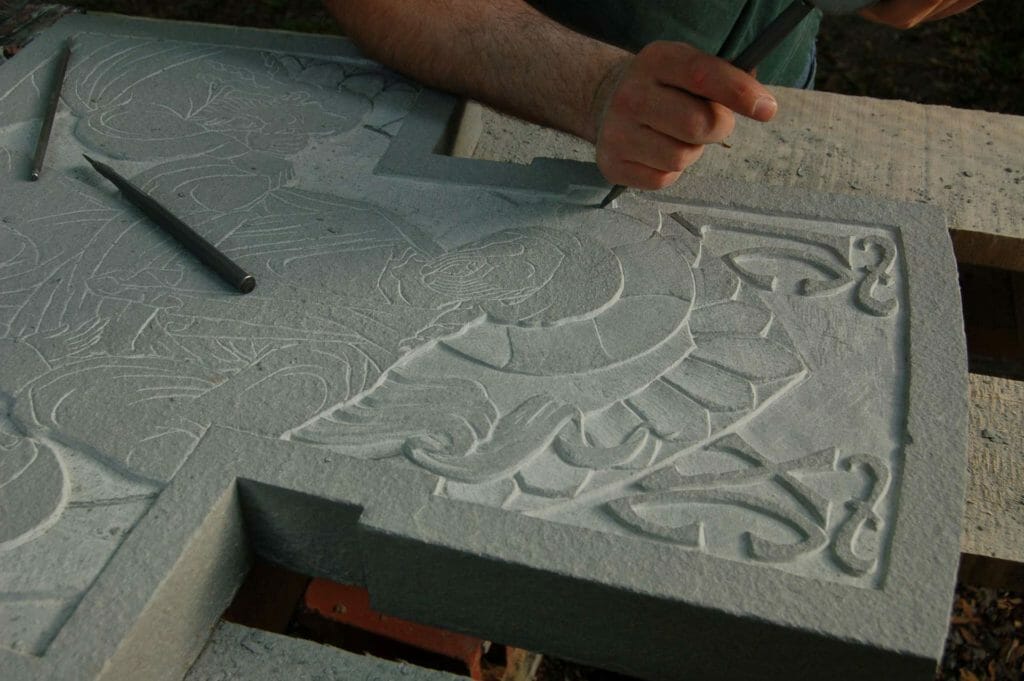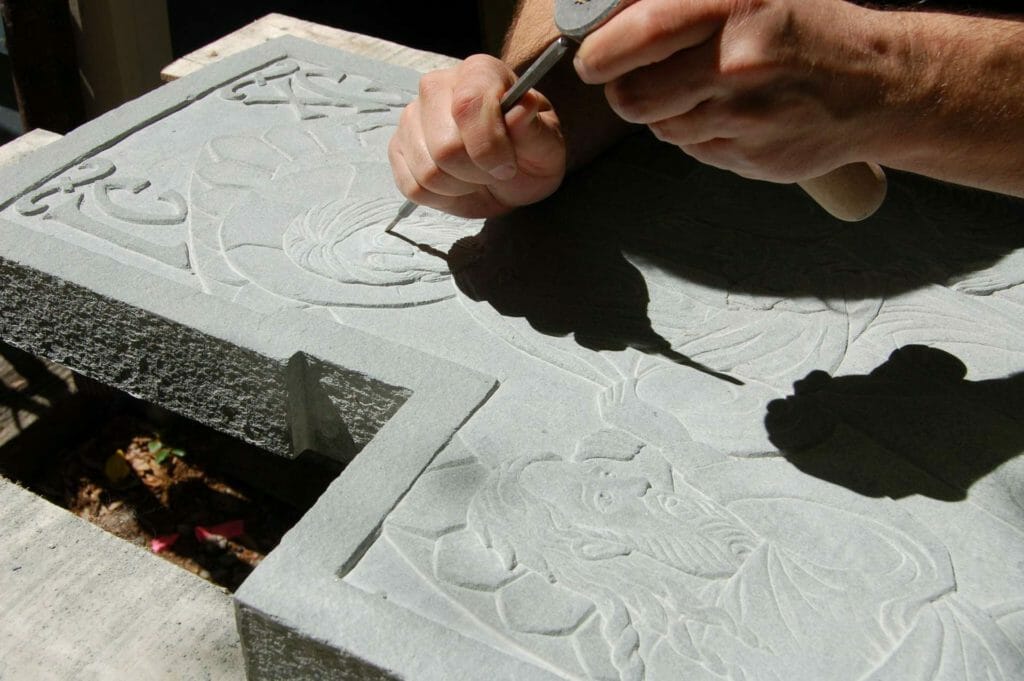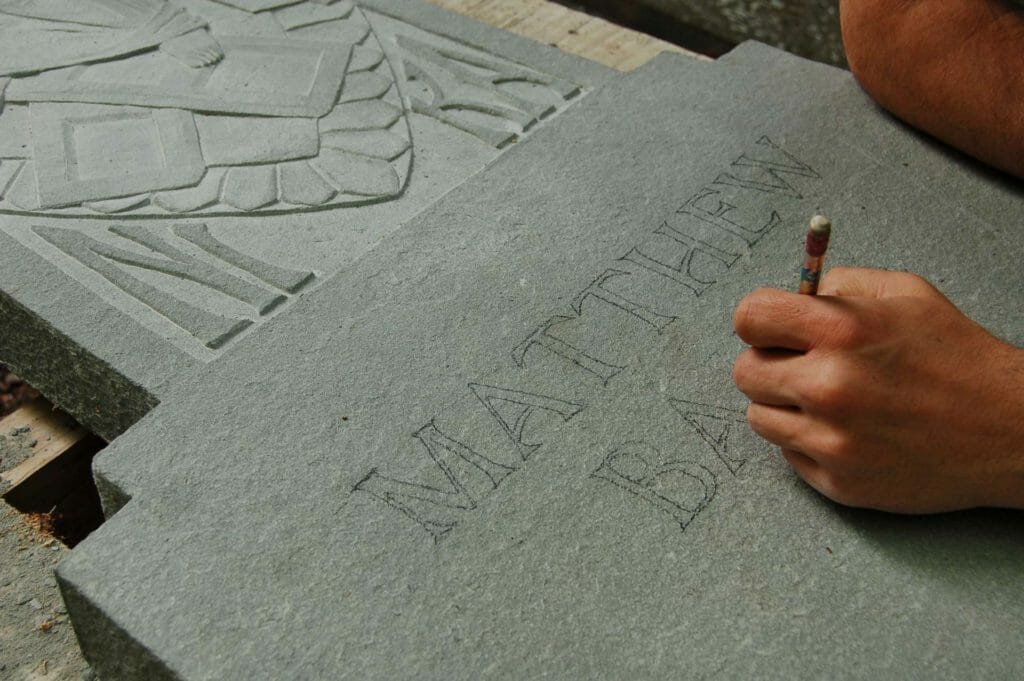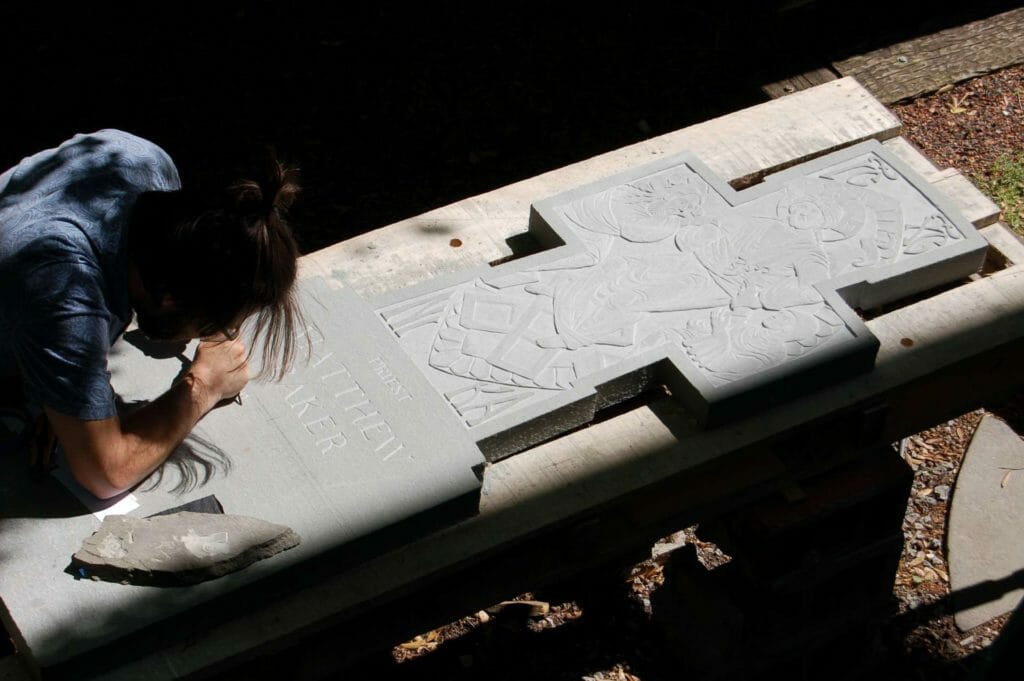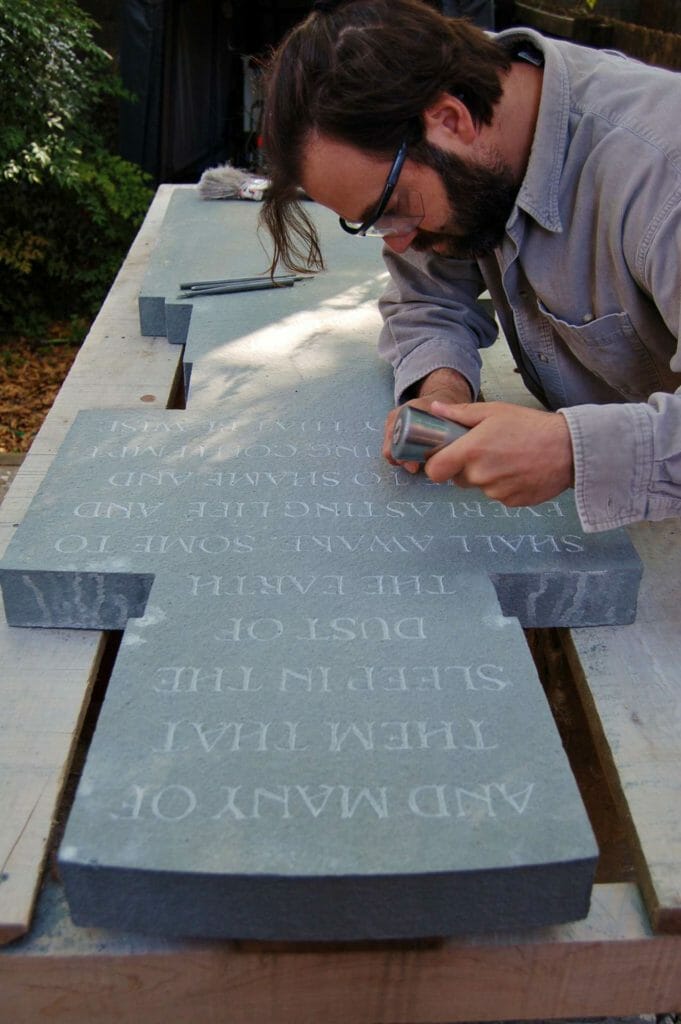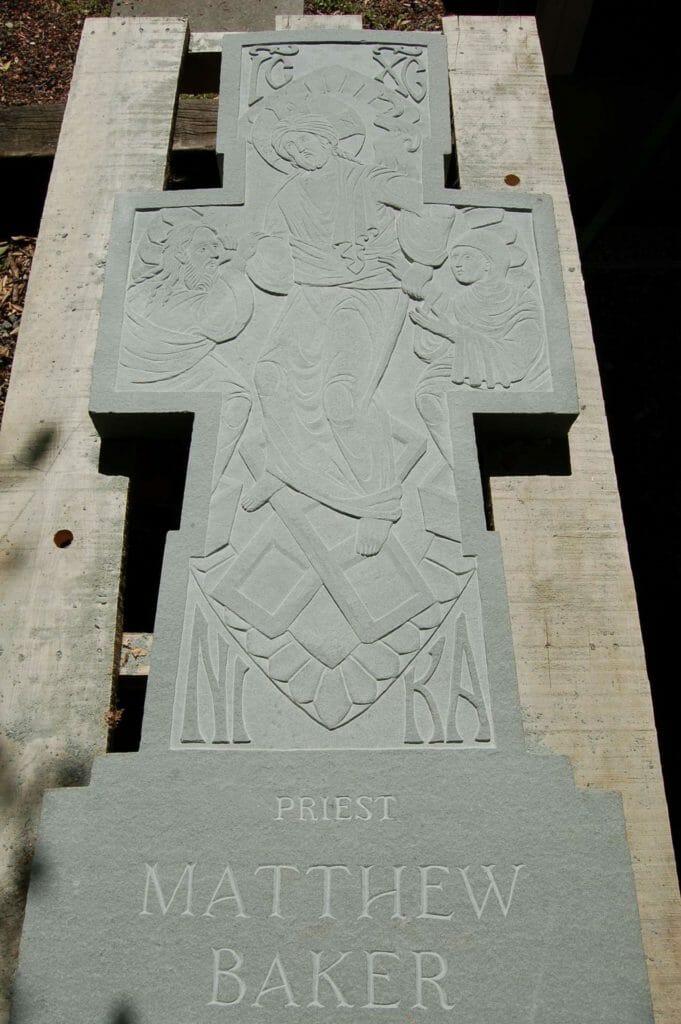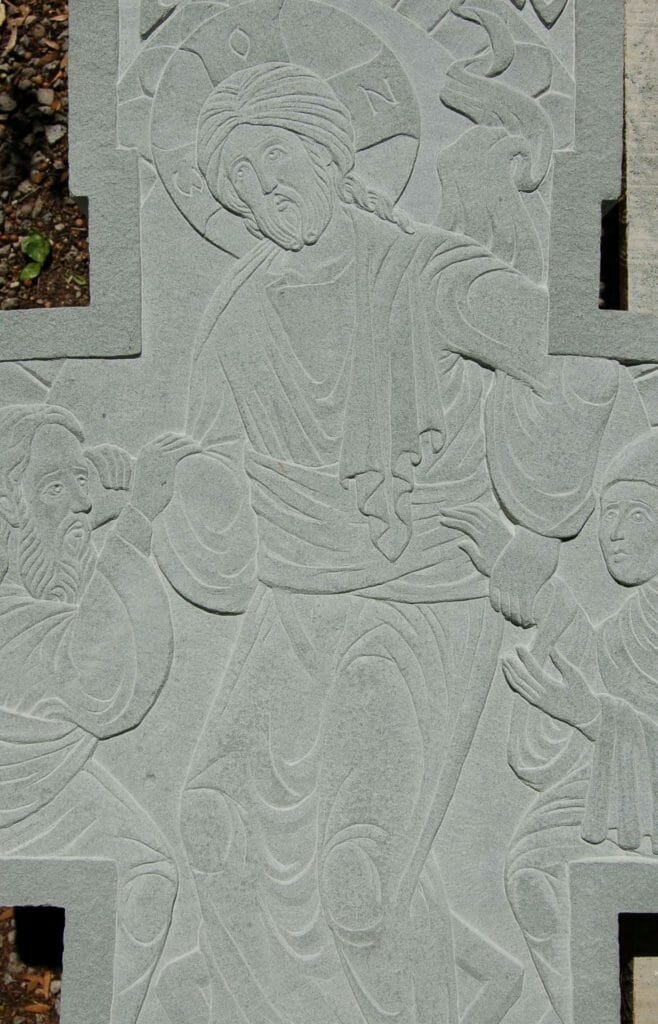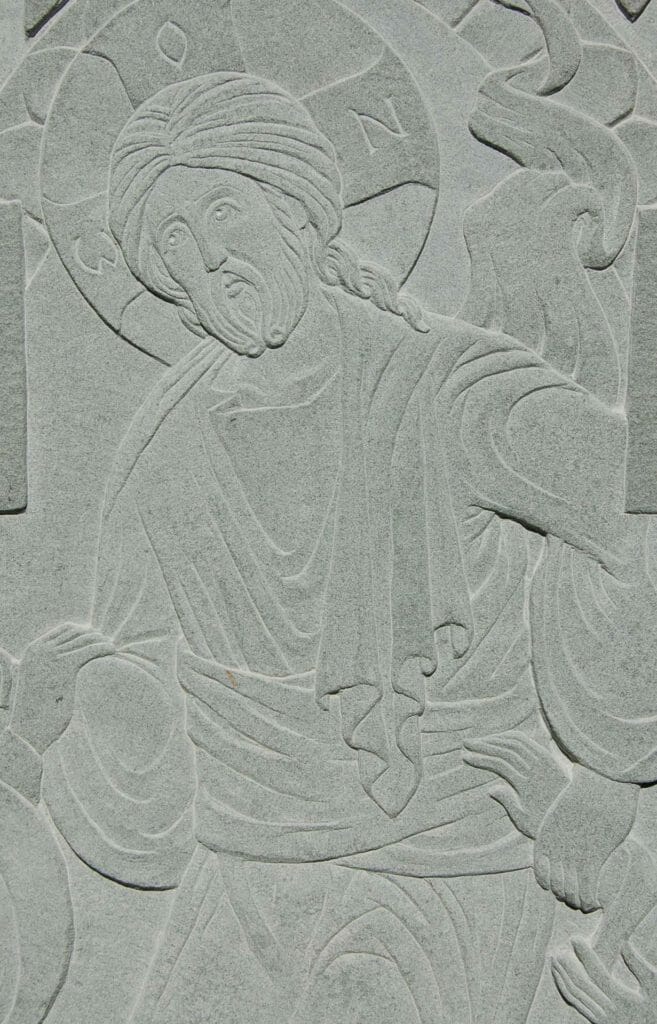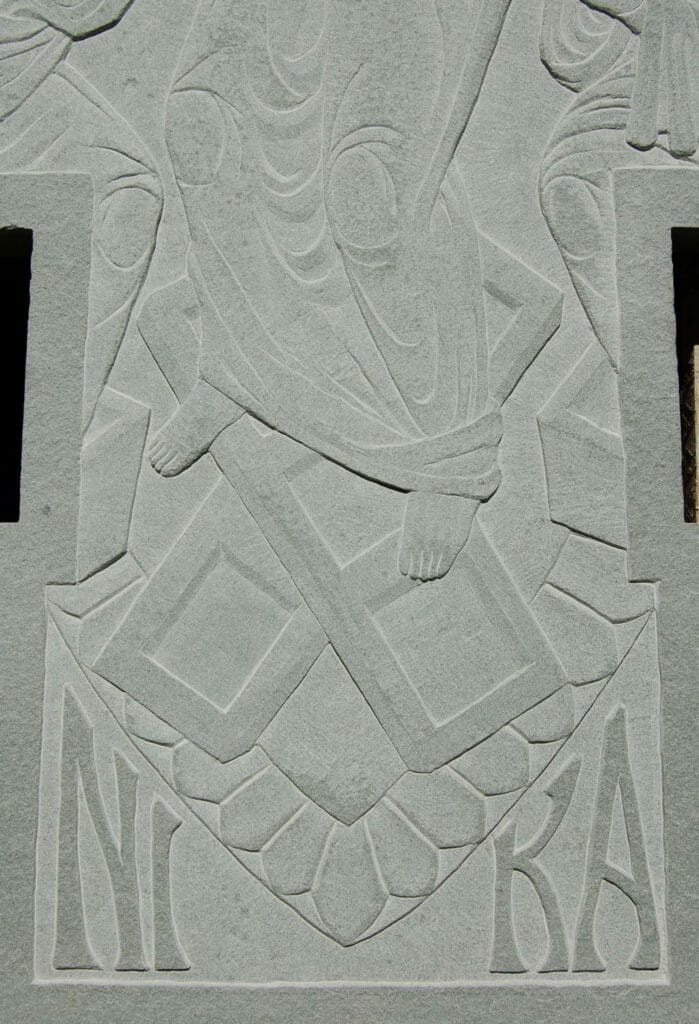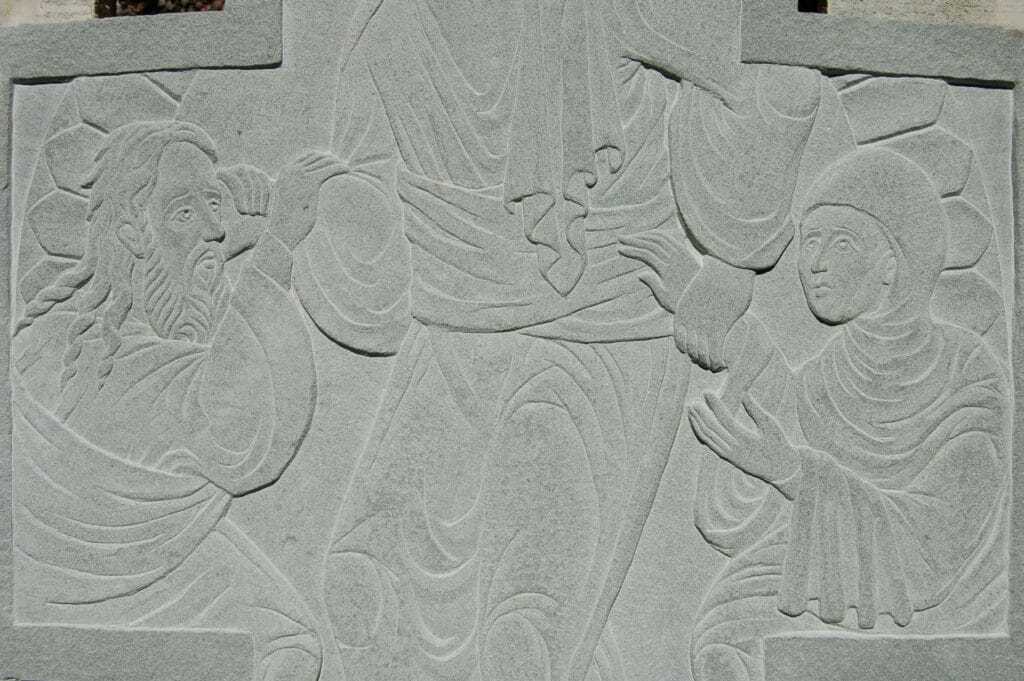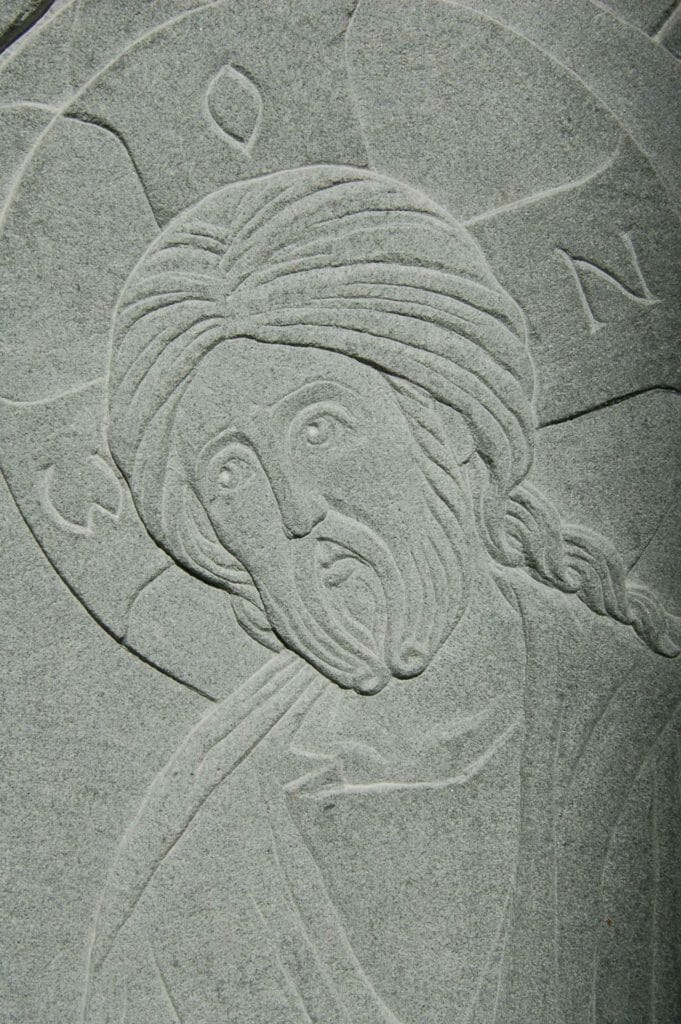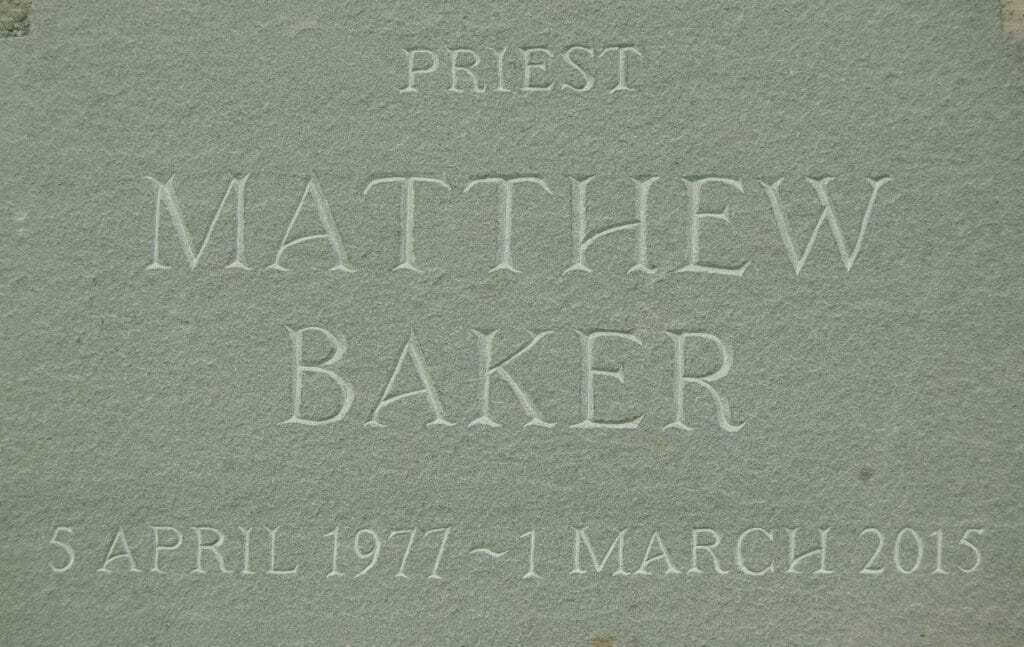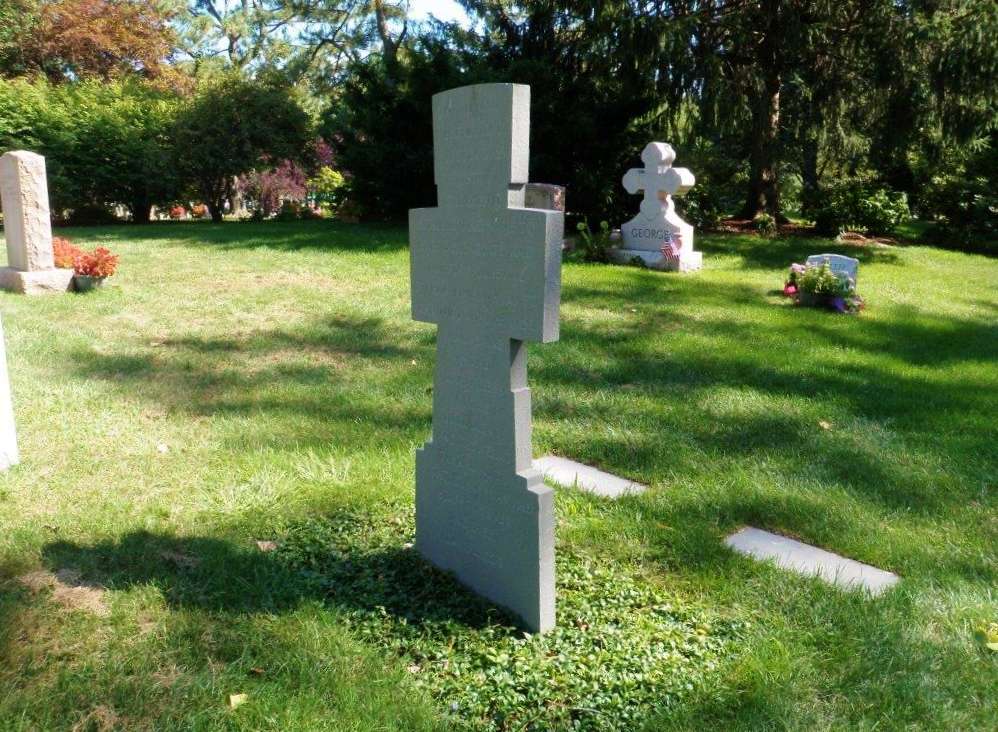 Jonathan Pageau's other carving work can be seen here.
Andrew's Gould's ecclesiastical design work can be seen here and here.