Fr. Philippe Péneaud is a priest for the Antiochian Orthodox Church and a prolific woodcarver living in the South of France. Having studied in the great tradition of European woodcarving with Raymond Labeyrie, he converted to Orthodoxy in the 1980s under the influence of Leonid Ouspensky's "Theology of The Icon" as well as through the works of others from the Paris School: Lossky, Clement, Schmeman, Meyendorff.  In a desire to use his woodcarving skill in service of his faith, he dedicated himself to renewing the visual language of Romanesque iconography. Living near Toulouse, he could access many treasures of ancient carving including the famous Cathedral of St-Sernin where Romanesque jewels still stand.
In conjunction with woodcarving, he was also led to theology, getting a degree in iconology at the Institut St-Serge under archpriest Nicolas Ozoline. He published his thesis in two volumes,  "La personne du Christ : Le Dieu Homme" (The Person of Christ: The God Man) and "Le Visage du Christ: Iconography de la Croix" (The Face of Christ: Iconography of the Cross). He also published a book called "Les Quatres Vivants" (The Four Living Creatures) a study on the symbolism of the tetramorph in Medieval art which will soon be reedited.  His writing is soaked in Paris school theology. Fr. Philippe told me that after presenting his thesis at St-Serge, he traveled to pray on the tomb of Leonid Ouspenky and then Vladimr Lossky both of whom had so influenced his approach to theology.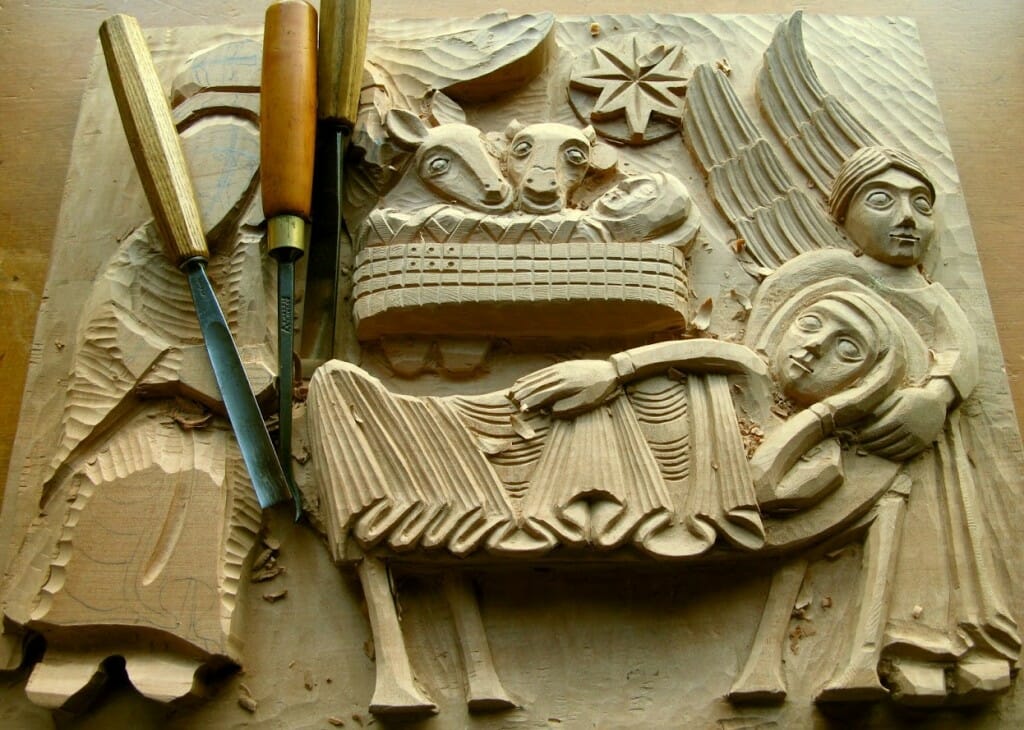 We know of the efforts made by Aidan Hart, Christabel Anderson and Catholic iconographers such as David Clayton to pave the way towards a recovery of Medieval art principles in the West, but Fr. Philippe's work is the deepest exploration I know in carving of the Orthodox icon with a Romanesque spirit.  In his carvings, Fr. Philip suggests the deep relief of Medieval capitals now transposed to wooden panels of pear tree, basswood, walnut, oak.   His use of large open eyes, highly stylized clothing, simplified movement all dive into the visual grammar of the most abstract examples Medieval sculpture, including a large debt to the famous "Gislbertus Master" who's carvings adorn the Cathedral of Autun.
The boldness in movement and the almost geometric forms he employs go further in their simplification than the medieval prototypes that inspire him. This gives fr. Philippe's work a distinct personal style which nestles comfortably within modern principles of composition.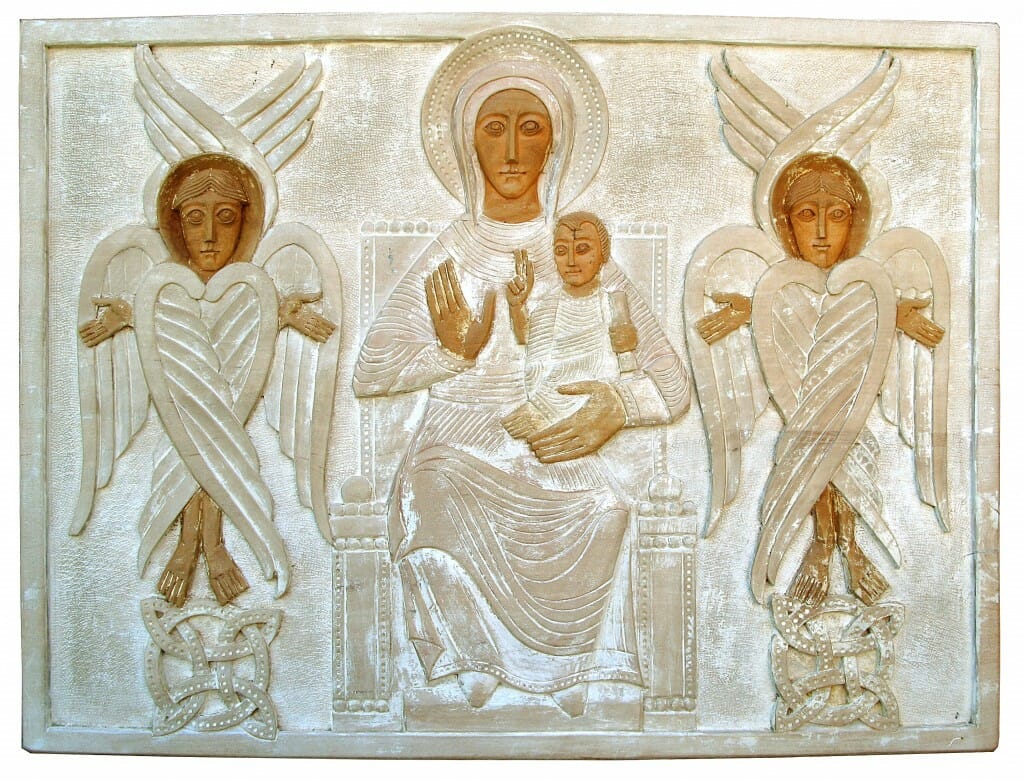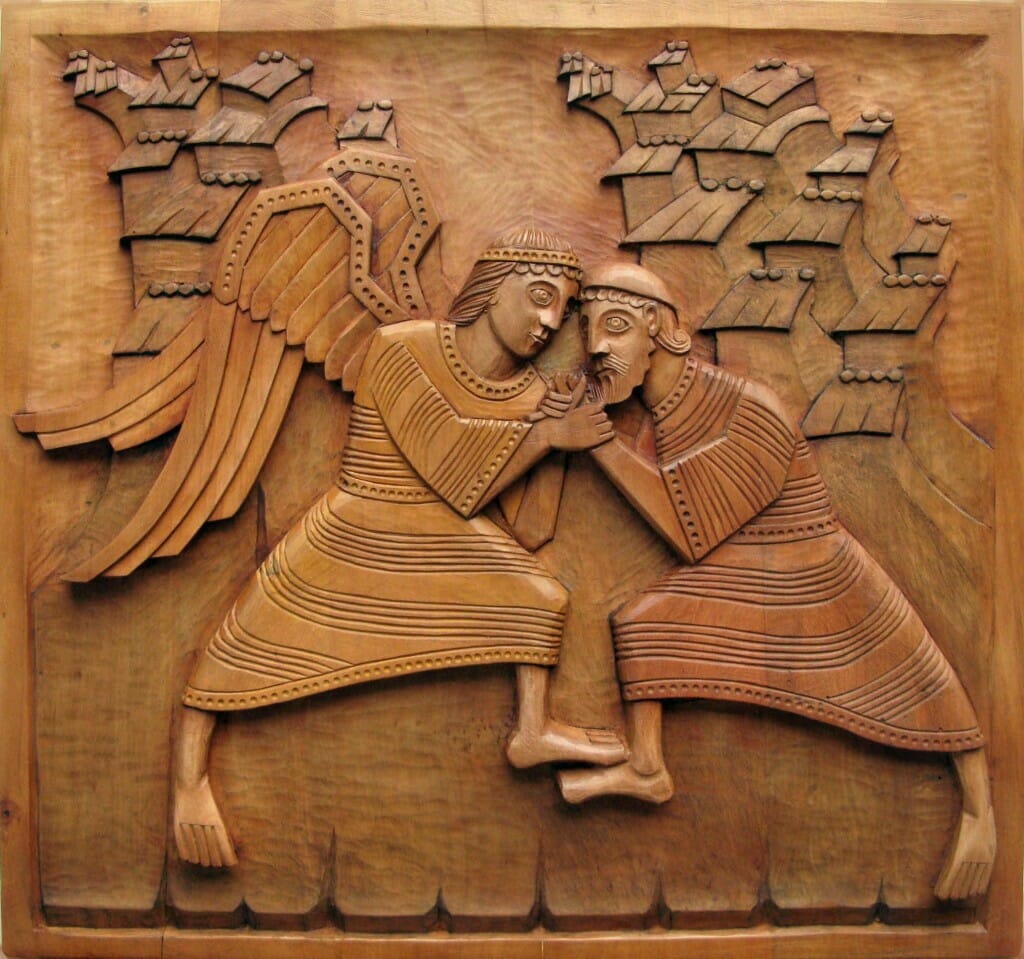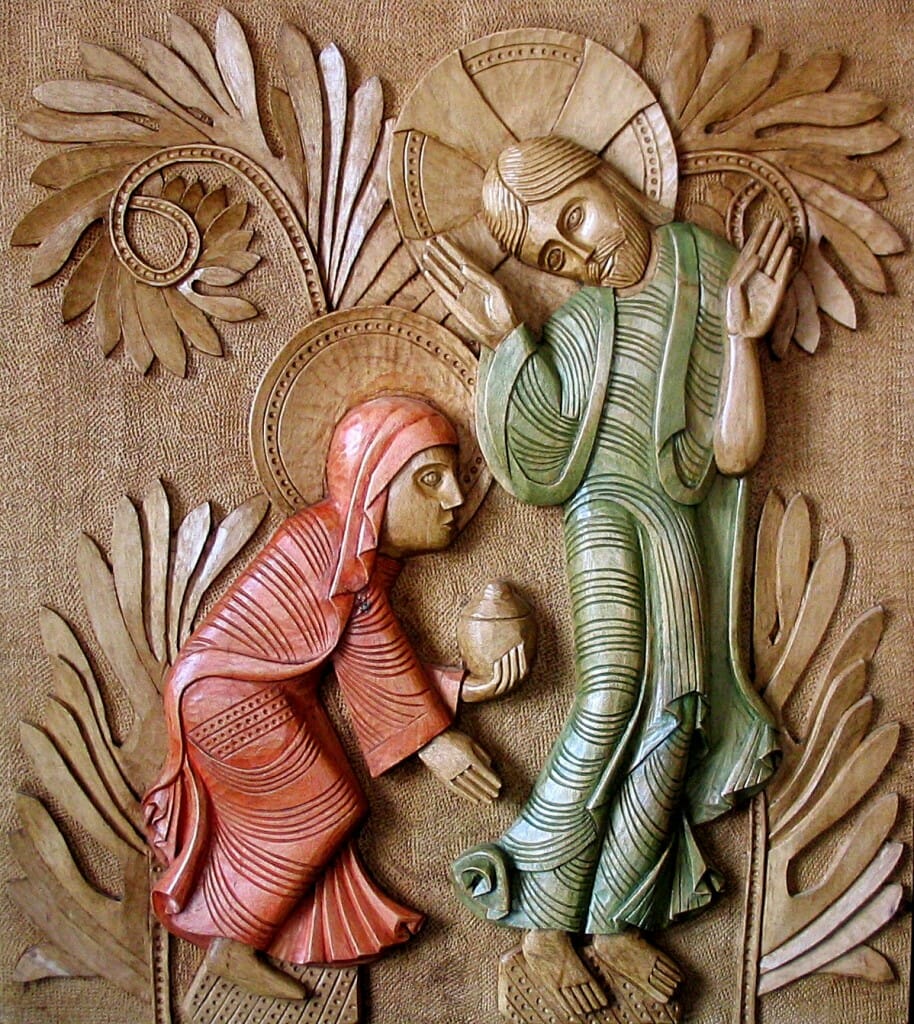 The bold refining of form appears most strongly in Fr. Philip's statuary, where he explores the tradition of the the Throne of Wisdom and creates interesting Medieval inspired figures for the modern nativity scene.   Here the hands grow huge and proportions are stretched to their limits as we reach folk sensibilities in the facture.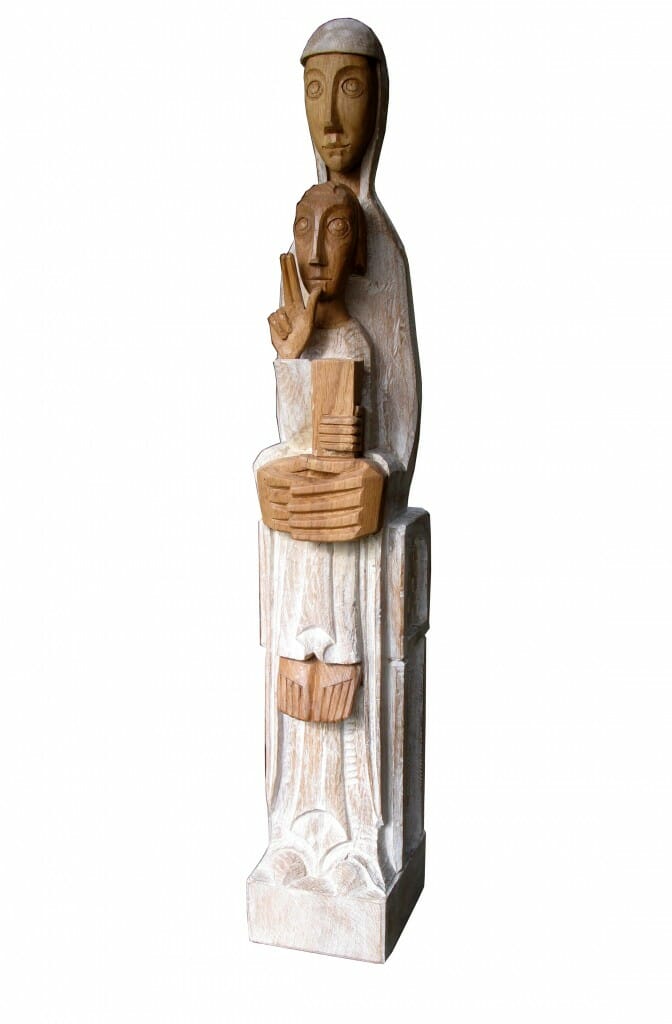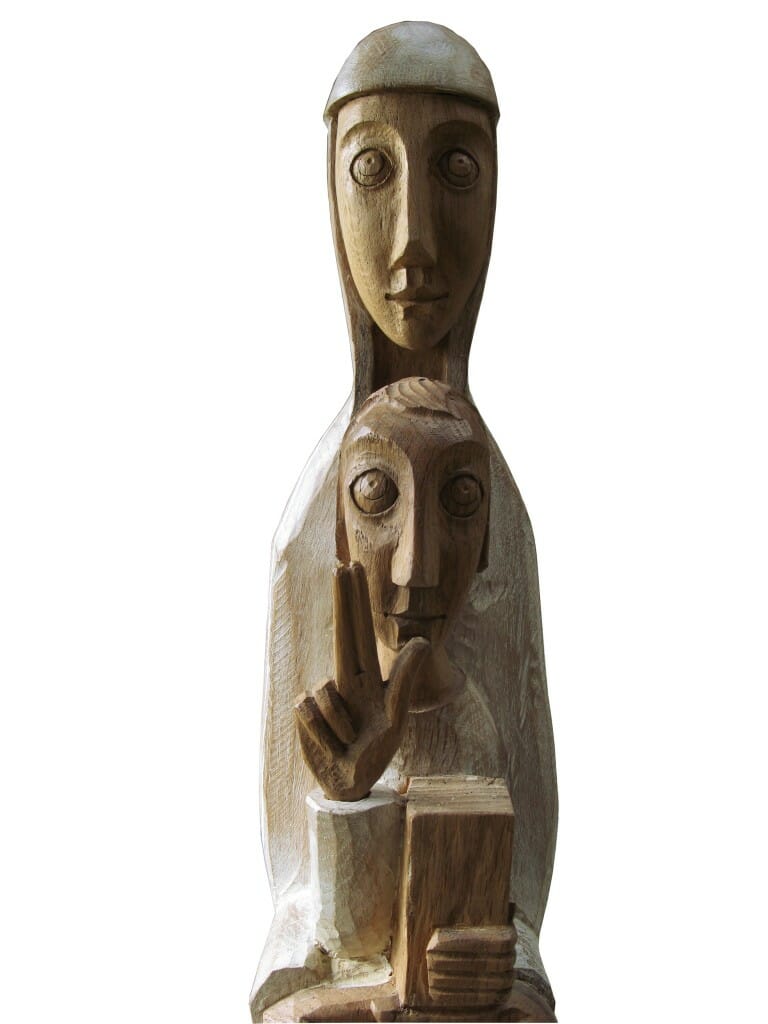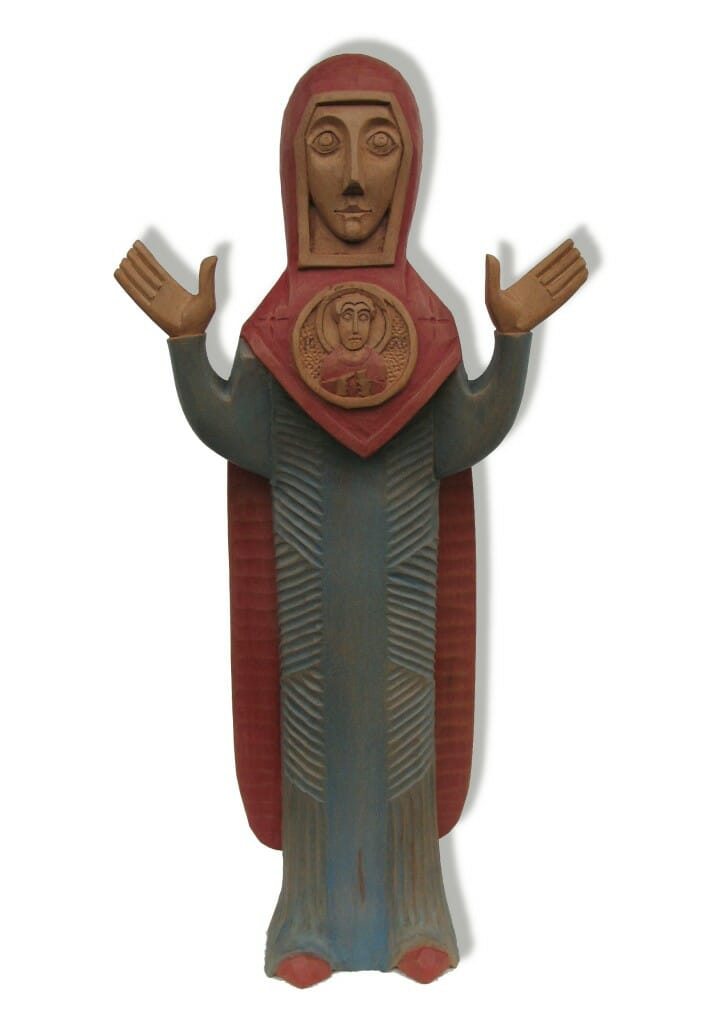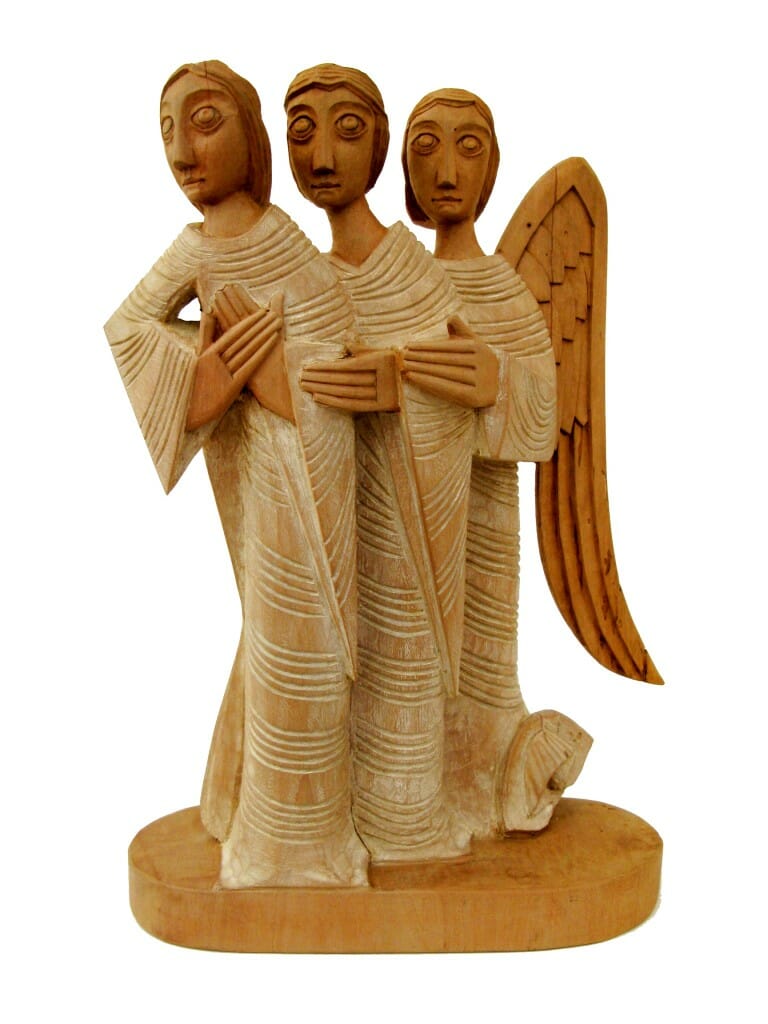 Fr. Philip's work can be seen on his website, and he can also be followed on facebook.
https://www.facebook.com/Sculpture-sur-bois-310824636905