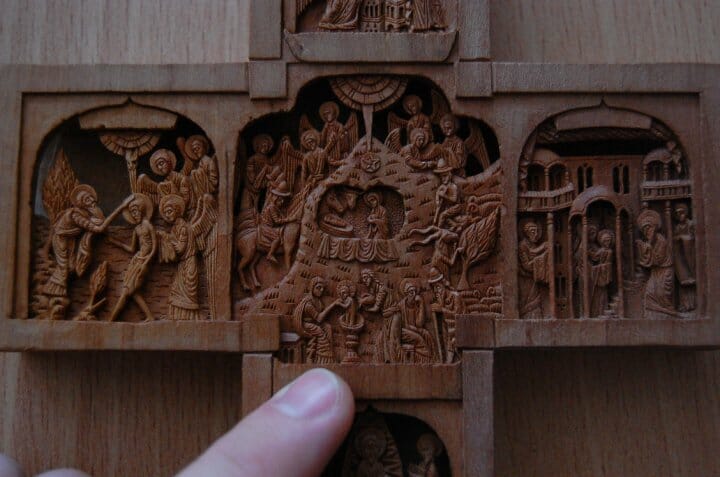 A few weeks ago, I introduced you to a Serbian miniaturist named George Bilak.  Here is yet another Serbian miniaturist who has recently grabbed my attention.  His name is Branislav Derkovic and he lives in Northern Kosovo, in a town called Leposavić. What struck me most of his carvings is the astounding perfection in detail, the clarity of image in such small surfaces. Whether it is the manner in which a fold touches the skin or a hand grasps an object, delicacy and clarity remain at the smallest scale.  Some of his most remarkable pieces are based on the famous Athos wooden crosses with details carved right through the wood, leaving airy spaces between buildings and through windows.
I was not surprised to discover in discussing with him, that he is in fact a doctor, a pathologist and an assistant professor at the Medical Faculty in Kosovska Mitrovica.  When I told him how there was indeed something surgical about his work, he sent me a picture of his tools among which we can see a scalpel.  He recommended I try using one, and in contemplating his work, I figure I might just do that!
It seems for many years he has searched for steatite, the stone that was traditionally carved all through the Byzantine empire until the fall of Constantinople, a similar type of stone to what I am carving now.   So we agreed on a trade.  I will send him some stone boards and he will send me a couple of branches of boxwood, that magical wood growing in northern Europe which underlies all those beautiful traditional carvings.   We'll see what each of us can come up with…
Here are a few examples of Branislav's work.  You can see more of his carvings on his website or his facebook page.