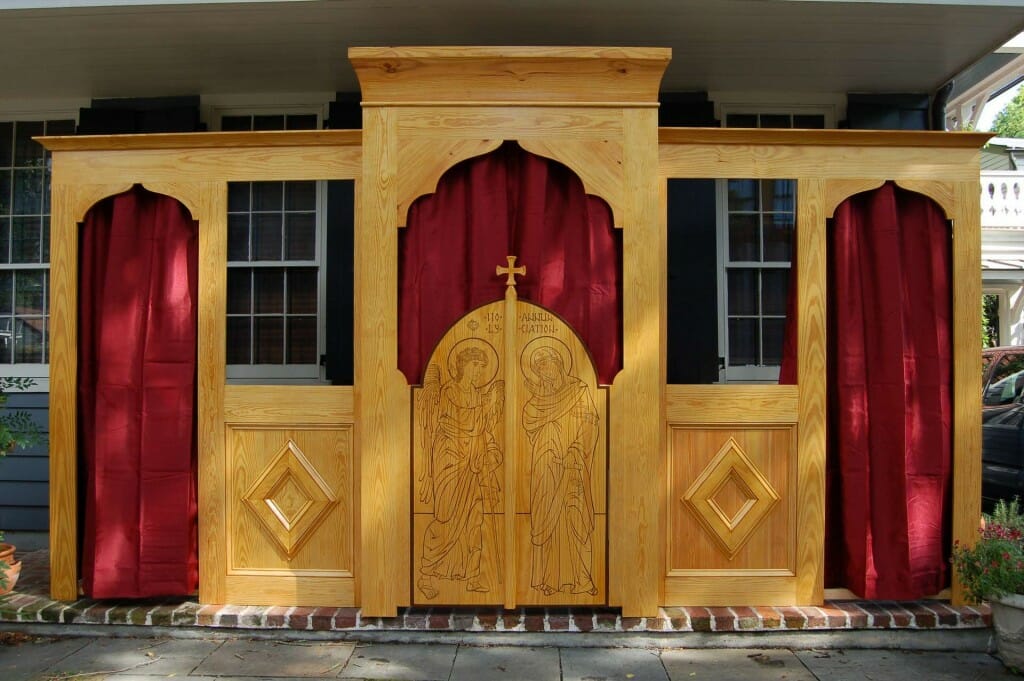 I have long felt that the iconostasis is the single most important element in an Orthodox church – perhaps more important even than the building itself. But tragically, in America, we have few really well-designed iconostases. This is especially so in mission churches, where iconostases are usually built by amateurs using plywood or worse (more than once I have seen fiberglass porch columns spray-painted gold).
So when I was asked recently if I could design and build an inexpensive iconostasis for a small mission church, I jumped at the chance. It would be an opportunity to show how it is possible, for relatively little cost, to build an iconostasis that is entirely traditional and authentic, and truly beautiful in its simplicity. I am pleased to share this project in the hopes that it will inspire others, and help to raise the standard for iconostases in America.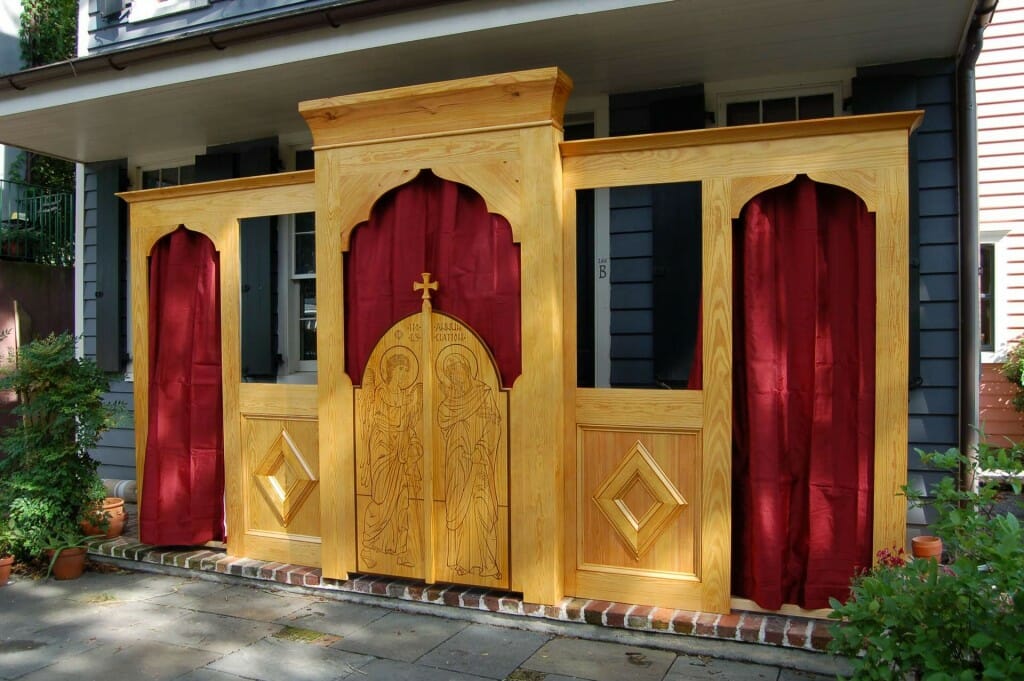 I decided to build the screen using Southern Yellow Pine. This is considered a construction-grade wood, and is quite inexpensive. But it is similar to the resinous pines that we see in so much fine old woodwork in the Middle East and Spain. I have found it to be surprisingly suitable for fine woodworking. When finished appropriately, it has a rich golden color, quickly improving with age, and visually, it coordinates extremely well with gilded icons.
I designed the screen to be built from ordinary 3/4-inch thick yellow pine boards. The thick cornice at the top and the diagonal braces that hold the screen upright are made from 1-1/2-inch framing lumber. In total, the lumber cost about 350 dollars. (Had the screen been made from a fine hardwood, the lumber cost would have been several thousand dollars).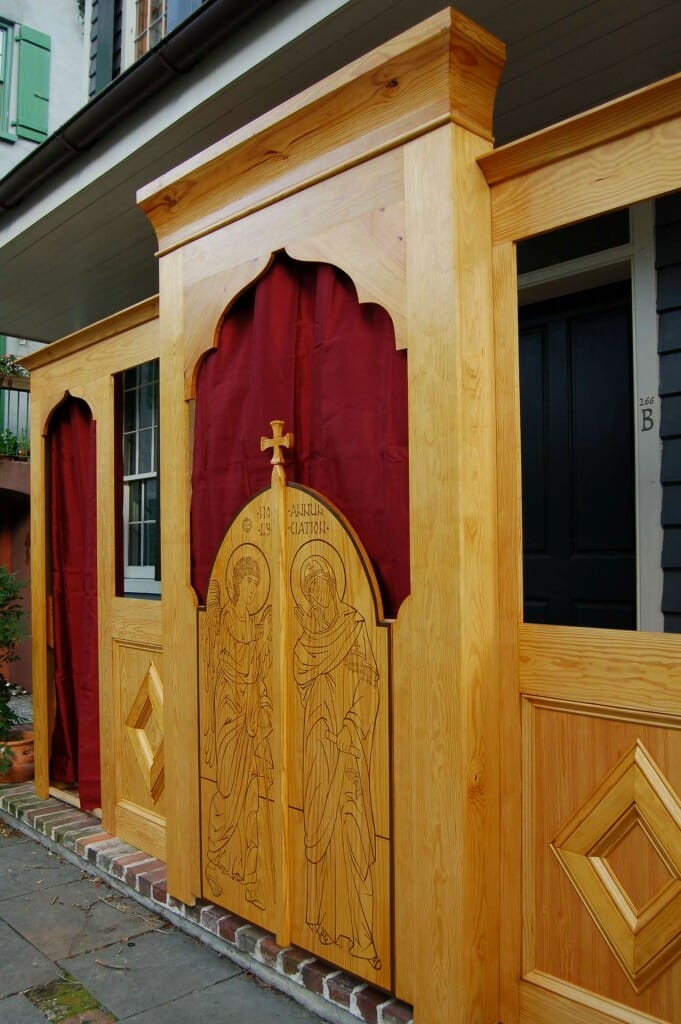 The design of the screen is inspired by iconostases I have seen in village churches and monastic chapels. It has arches that follow the old Slavic shapes, and simple cove cornices to match them. The only truly ornamental element is the bottom panels, which are decorated with diamonds made from 3/4-inch boards and applied panel moulding.
In order to keep the construction simple and lightweight, I designed it without any underlying structural framework. The 3/4-inch boards are joined directly to one another in the same plane using a combination of biscuit joints and pocket screws. The framework is made as three large sections which screw together on-site, built in my shop by my assistant, Tom Podhrazsky.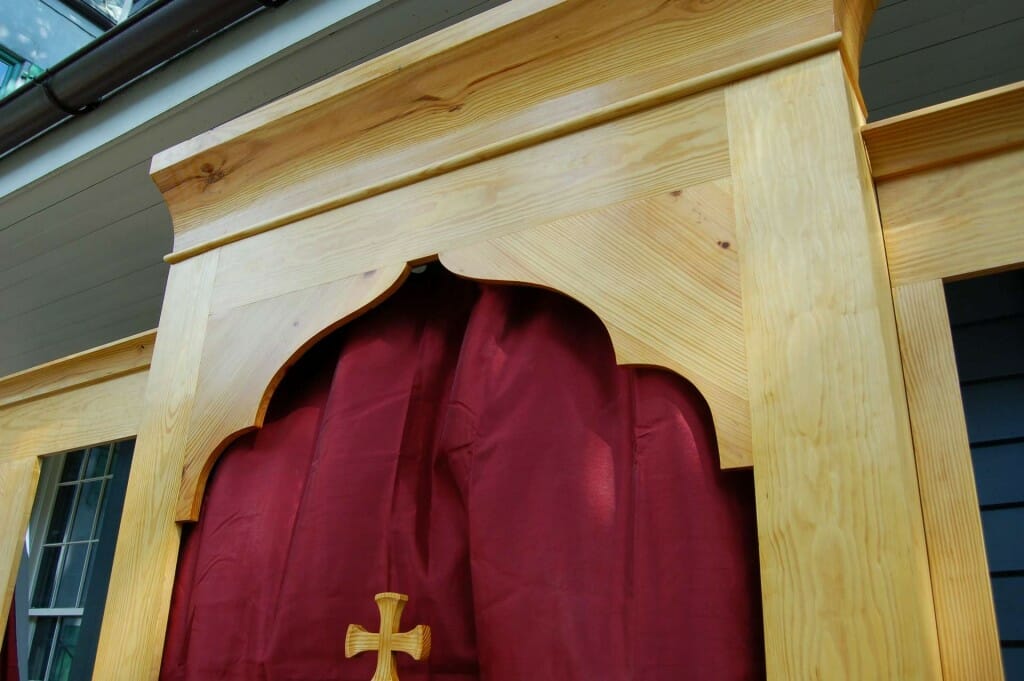 The most unusual element is the holy doors. In the best historical iconostases, each door is a single icon panel hinged to the door post – there is no surrounding framework holding the icon. I appreciate the elegance and simplicity of this, and when I design a more expensive iconostasis indeed I order the doors from an icon-board maker. But in this case, with no budget for extensive iconography, I had to make the doors from pine. They are glued up from wide boards – a simple task, except that it requires much care to avoid ending up with warped or twisted doors. The astragal is also made from 3/4-inch pine, with an elegant carved cross at the top.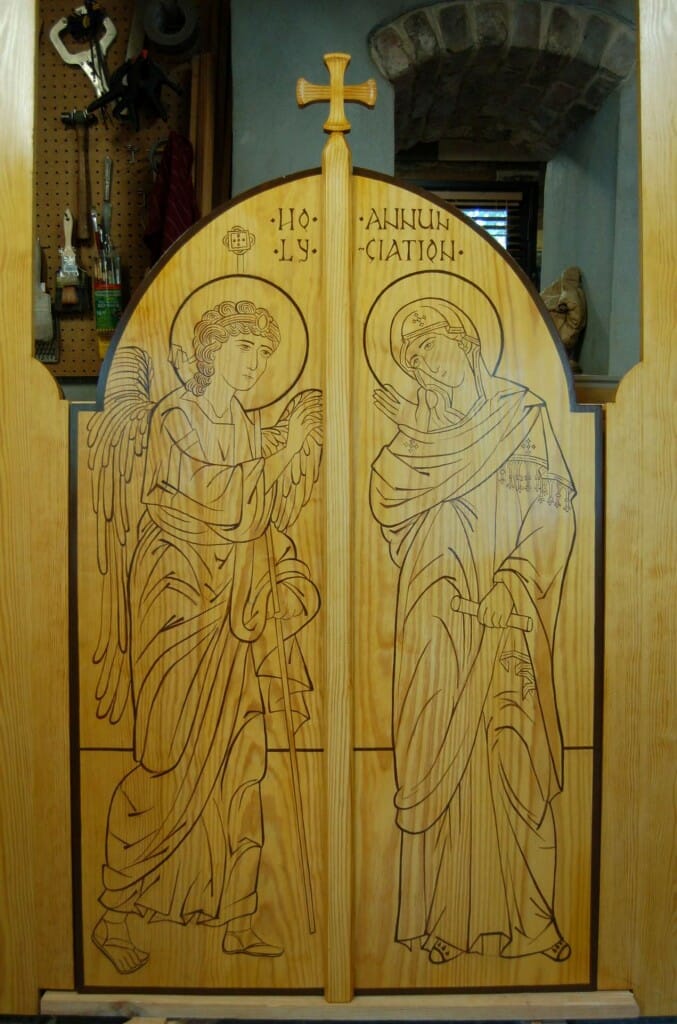 For my part, I would have been content for the holy doors to be plain pine. There's nothing wrong with simplicity. But I know that Orthodox human nature abhors an iconographic vacuum, and I shuddered imagining the printed icons that someone would inevitably hang over these plain doors. In considering a solution, I remembered that early Russian iconostases had bronze doors decorated with simple gilded line-drawings of icons. There are also holy doors with carved wood or beaten-metal icons. So there is a precedent for the iconography on the doors to be more reductive than the main painted icons.
I asked Sasha Pokrovskaya (granddaughter of the famous iconographer Xenia Pokrovsky), to paint the pine doors with line-drawings of icons in dark brown paint. In a sense, this is an exact color reversal of the old fire-gilded bronze doors, in that it is brown lines over a light pine background, rather than gold lines over dark bronze. Sasha, who was interning with me over the summer, is not a practicing iconographer, and this task was something quite unexpected for her. Perhaps as a result, her painting has the pleasing folkish quality of so many old village icons. It works well with the style of the screen, perhaps even better than professional iconography. I am completely pleased with the result of these painted pine doors. They are visually successful and liturgically satisfying, and it is something that any competent amateur artist could do.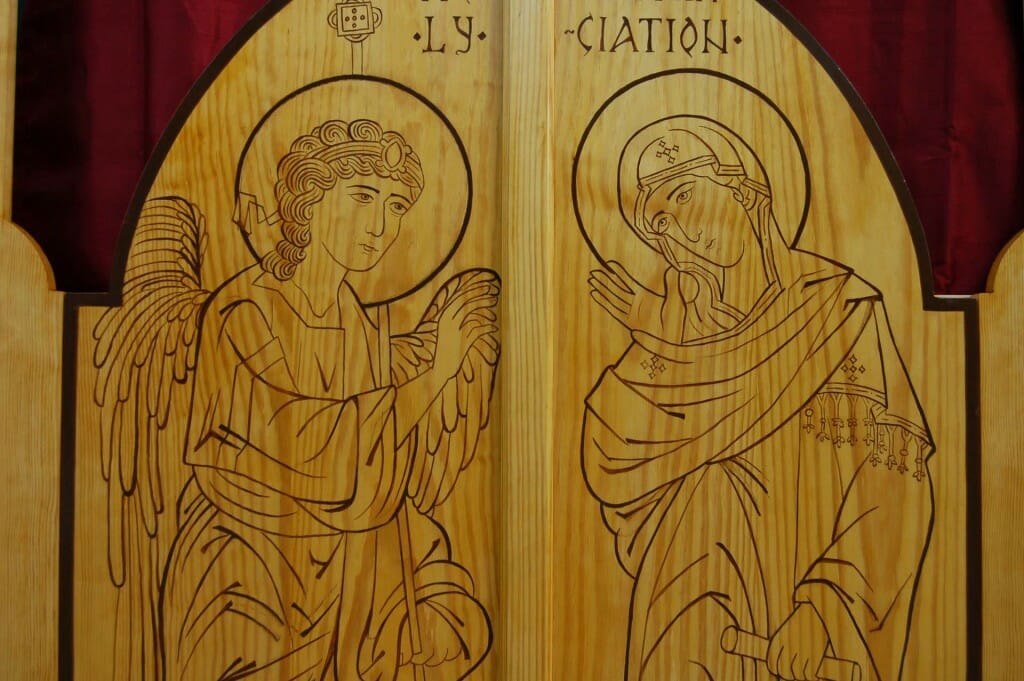 The finishing of the wood was a critical step. Pine is an unforgiving wood to finish. It must not be stained, as it becomes splotchy, so any color must be in the varnish. We used a mixture of clear and amber shellac, adjusting the ratio on each coat to keep the color gently amber, but not orange. There are four coats, applied with a brush, lightly sanded in between. The pine will darken over time, becoming much richer in just a couple of years.
This iconostasis can be built for just a few hundred dollars of materials, (including the curtains, which we ordered from JC Penney). But construction of an iconostasis, even an inexpensive one, is not an affair to be attempted without professional guidance. Achieving beauty in simplicity requires great refinement of proportions and details, and considerable knowledge of the visual tradition. If anyone should like my assistance in making an iconostasis like this, feel free to contact me. I can provide detailed plans for a design consultation fee, or I can have an iconostasis made in my workshop for a fair cost of materials and professional labor.
Update: Click here to see further development of this idea with fully-professionally built and painted mission-church iconostasis we built in 2020.
Andrew Gould sells his liturgical furnishings through his business New World Byzantine Studios