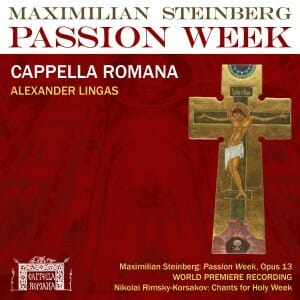 Every so often a record comes along that changes the landscape of choral music. Robert Shaw's 1989 recording of the Rachmaninoff All-Night Vigil comes to mind. It remains one of Shaw's finest recordings, and, in my opinion, still the best overall recording of the piece to the date, minor flaws in interpretation and Slavonic diction notwithstanding. More importantly, however, the Shaw recording was only the second American recording ever of the Vigil—Mstislav Rostropovich had made the first one two years previous with the Choral Arts Society of Washington—and it was undeniably the recording that helped launch the piece to its current well-deserved status as one of the most popular choral works of all time. Some twenty-five recordings of the Vigil have appeared since Shaw's, from groups all over the globe, whereas only seven recordings existed before, six of them done in Russia. Listen to the Shaw record and you'll immediately understand why: it's choral singing at its highest level, exploiting the full expressive and textural range of the choral instrument, and eloquently making the argument that there is nothing of such unearthly beauty as human voices singing the praises of God with one mouth.
In less than two weeks another landmark of no less moment than Shaw's Rachmaninoff Vigil will appear on the choral landscape. On March 25, Portland-based Cappella Romana, under the direction of Alexander Lingas, will release its world premiere recording of Maximillian Steinberg's Passion Week, a setting of selected major hymns of Orthodox Holy Week. Steinberg (1883-1946), a longtime professor at the St. Petersburg Conservatory and son-in-law of Nikolai Rimsky-Korsakov, is a little-known composer today. His stylistically eclectic oeuvre includes five symphonies, a number of other orchestral works, a few chamber and vocal works, and two ballets. His Passion Week (1923) was virtually unknown until now, having been suppressed and lost to posterity for the past ninety years (see Lynette Hull's post of Alexander Lingas' article about the history and discovery of the work). To the best knowledge of everyone involved, the work had never been sung publicly by anyone until Cappella Romana performed it in Portland in April of last year. The score they used for this performance, as well as for the recording, was commissioned by Cappella Romana after Dr. Lingas consulted the autograph in St. Petersburg. Vladimir Morosan of Musica Russica prepared the new edition. Part of Passion Week's significance, apart from its intrinsic artistic value, is that it is almost definitely the last major work of Russian sacred music to be composed before the communist government banned all composition of sacred music, which occurred just a month after Steinberg had finished the piece.
The work itself is the sort of thing musicologists dream about: a treasure of inestimable musical value, hidden away in some attic or dusty library stack, unknown for nearly a century. Similar to conductor Johann von Herbeck happening upon Schubert's Unfinished Symphony nearly forty years after the composer's death, the discovery of Steinberg's Passion Week is cause for celebration among lovers of music. It is a profoundly moving piece of sacred choral literature, and a masterwork of compositional craft. The style is strongly reminiscent of the Moscow Synodal School composers, like Rachmaninoff, Gretchaninoff, and Alexander Kastalsky, employing modal harmonies, open sonorities, evocative diatonic dissonances, and an orchestral approach to choral arranging. And again like the Synodal School composers, traditional Russian chant melodies form the basis of Passion Week, with every movement save one based on ancient znamenny chant.
While the discovery of this long-lost major work of sacred choral music is a milestone in the history of the literature, in no lesser degree is Cappella Romana's rendering of the piece a landmark contribution to the modern canon of choral recordings. In every respect, and I don't use these words lightly, their new disc is a triumph. Using their characteristic radiantly bright and clear sound—a welcome relief from the proliferation of performances that seem to be stuck in the wrong-headed notion that Russian sacred music has to be dark, dramatic, and ponderous, with a superabundance of vocal "cover"—Alexander Lingas and the singers of Cappella Romana bring a highly refined musical sensibility to the Steinberg score. Every vocal line is luminously present to the ear, every musical idea carefully considered and totally convincing. The solos in the piece too emerge seamlessly from the ensemble like subtly brighter beams of light, commanding but never dominating or seizing attention too boldly. Of particular note are the brief but captivating solos of baritone (and executive director of the ensemble) Mark Powell and soprano Catherine van der Salm.
While a number of excellent choirs have made fine recordings of Russian liturgical repertoire over the last several years—Charles Bruffy's united forces of the Phoenix and Kansas City Chorales, who just released a lovely new Rachmaninoff All-Night Vigil, come to mind; or Craig Hella Johnson's Conspirare, who recently won the Grammy for Choral Performance of the Year—Cappella Romana's new disc brings something to the table that no other recent performance of such repertoire that I can think of does. Throughout the disc, which in all respects is a model of choral professionalism, there is an air of genuine "churchliness," for lack of a better word. They have achieved a synthesis which is extremely elusive, and which, in my view, no American choir has achieved on a recording of Russian liturgical music up to now (though I think the Shaw recording of Rachmaninoff comes close): that is, a synthesis between consummate musical refinement and a palpable spiritual depth consistent with an Orthodox ethos. So far from exhibiting the maudlin religious tenderness all too common in performances of sacred music, which, of necessity, generates an unctuous choral sound, Cappella Romana, benefiting stylistically from their extensive experience singing medieval repertoire, brings to the score a gravity and a sobriety of interpretation—without being in the least cold or emotionally distant—that is entirely in keeping with the ascetical and penitential spirit of Orthodox services. This is a remarkable achievement.
News of a great achievement travels fast, and not long after Cappella Romana's premiere of Passion Week last April, the New York-based ensemble Clarion Choir, under the direction of Steven Fox, gave the work its New York premiere. The concert attracted the attention of the New York Times, and Clarion made its own recording of the work immediately after the concert. (No release date for Clarion's recording is available as yet.) If Clarion's example is any indication, it is only a matter of time before Passion Week becomes a standard part of the repertoire for choirs everywhere, and thank God! Such a beautiful work deserves the attention of the world. However, if it is going to capture the world's attention it needs a vehicle, and I will be surprised if anyone can offer a better one than Cappella Romana's new record anytime soon. Indeed, though it's only March, I will be surprised if a better choral recording of anything comes out this year.
LISTEN: https://soundcloud.com/cappellaromana/steinberg-passion-week