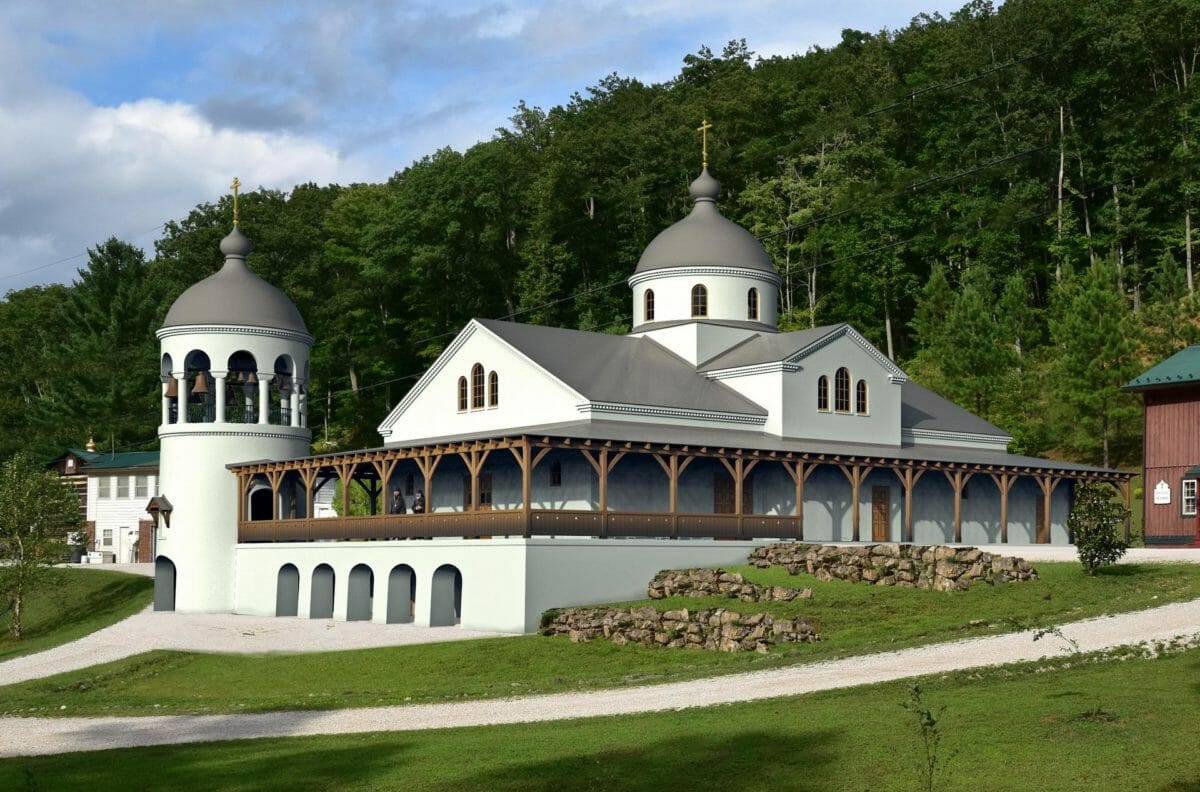 With great pleasure, I have developed a design for a new church for the Hermitage of the Holy Cross in West Virginia. In many ways, this design is the culmination of 15 years of thought, research, and experimentation on my part, and encapsulates the best of my ideas for Orthodox church design. I would like to share with you the story of this project.
An English-speaking community of the Russian Orthodox Church outside Russia, Holy Cross has grown prolifically in recent years. An influx of young American converts seeking the monastic life requires the monastery to construct new buildings almost continually. The time has come for them to build their most important structure – a permanent Catholicon.
I first worked for Holy Cross last year, creating for them a shrine and reliquary for the Royal Martyrs. Pleased with the quality of the work, the abbot asked me if I would design their new church. It would be a difficult project, as they need quite a lot of space, and want beautiful architecture in the Russian tradition. But at a remote rural site in West Virginia, it is neither affordable nor appropriate to build a tall Russian cathedral.
I put considerable thought into this paradox, as it mirrors the desires of nearly all my American Orthodox clients. How does one build a church that is capacious, authentic, and beautiful, but not too expensive? And how does one make it look American and traditionally Orthodox at the same time?
I have tried several solutions to this in my work over the years, including various systems of wood construction. But I have a great love of masonry construction also, and I feel it is the better way to build a church on a large scale.
Historical Orthodox churches in the Old World do not offer many practical examples to imitate. Particularly in Russia, they tend to very tall in their proportions (which means they either don't hold many people, or are immensely expensive to build). Or they compartmentalize, with a low nave for the people as a completely separate space from the tall chancel for the clergy and choirs (which would not be tolerated in America pastorally). Finally, they have incredibly thick walls (6 to 12 feet thick is typical) and all the ceilings are vaulted in massive masonry extending right up to the roof (there is usually no wood-framed attic in between). As such, the sheer quantity of masonry in Russian churches is simply impractical by American construction standards.
So for some years, I have been considering how to reduce the volume of masonry in a church, putting more emphasis on timber-framed roofs, without compromising the beauty and integrity of the design. In this, I have drawn significant inspiration from the basilica churches of the first millennium. Particularly in Italy, these ancient basilicas enclose vast amounts of space using relatively thin masonry walls (1-3 feet thick) and beautiful exposed timber truss roofs. This system reached its height of beauty at the 11th-century basilicas at Torcello and Murano in the Venetian Lagoon.
For my design for Holy Cross Monastery, I have, in a sense, adapted the construction system of a basilica, but applied it to a cruciform plan with a central dome. This makes for a church that is recognizably Orthodox, but with a hint of the open airy architecture of Italy. Most importantly, it gives a sense of good vertical proportions to the interior spaces without actually rising to impractical heights, and without using an excessive volume of masonry.
While an Italian basilica would have slender marble columns, this church will have columns of plastered concrete, modelled on the elegant columns at Sretensky Monastery in Moscow. They can be painted with icons, and will give a Russian flavor to the grand interior spaces.
On the exterior, I sculpted the church with great simplicity. The forms are completely understandable, obviously rational. This is important in America, with our history of simple farmhouses and earnest Colonial architecture. Many of the people who will see this church will have no experience of Russian churches, whose exotic forms and baroque elaboration are immensely distant from our cultural heritage. It is my hope that they will see this church, and the monastic life of the community, and they will say "I understand this – it looks natural to my eyes; it feels almost inevitable in my heart".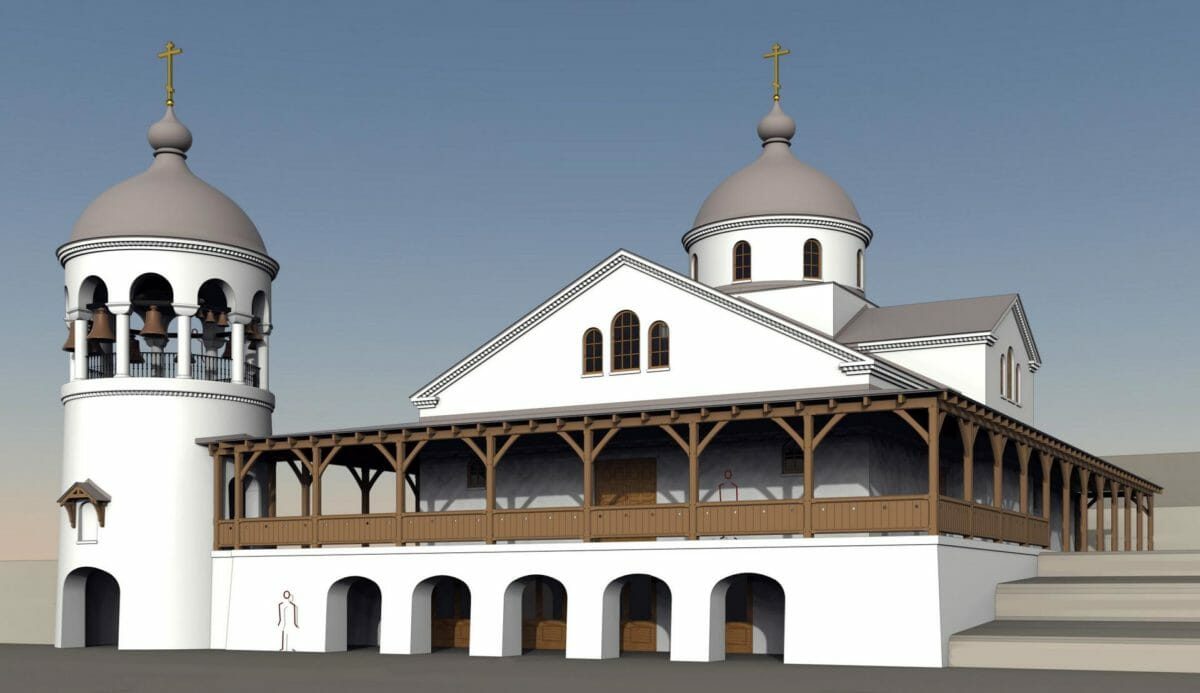 The church is designed to hold 50 monastics at stasidia in the transepts and choirs. The nave accommodates 150 visitors and room for hundreds more on the wraparound porch. The interior is carefully designed to provide a degree of privacy and separation for the monks, without isolating the lay visitors from the iconostasis, kiots, and reliquaries. The large altar and sacristy can accommodate many visiting clergy for festal services. The basement level will contain an auditorium for public presentations and a crypt for burial.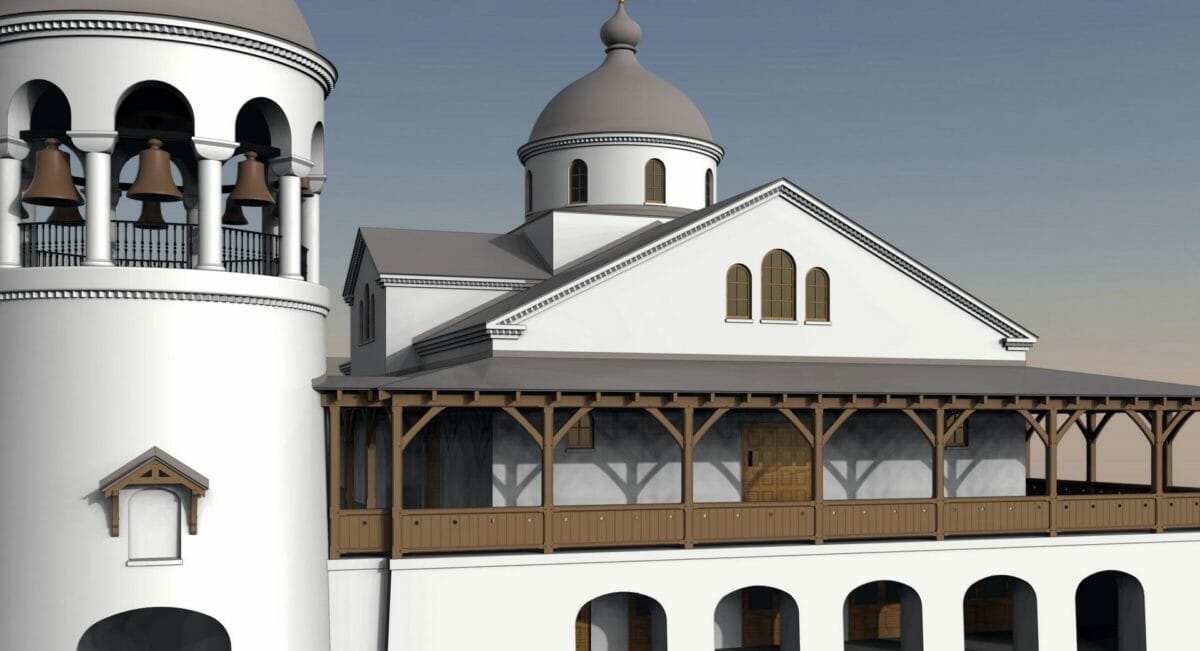 The large bell tower will allow the monastery to develop the art of Russian bell ringing to a professional level. It is spacious enough that visitors will be able to safely visit and enjoy the 360-degree view of the mountain valley in which the monastery sits. The round shape, with ten belfry arches, is, to my knowledge, unprecedented in Russian architecture. Again, it represents a paring down of the baroque complexities of Russian bell towers to a sort of rational or platonic ideal, and discovering in that simplicity an aesthetic of childlike joy and unexpected beauty.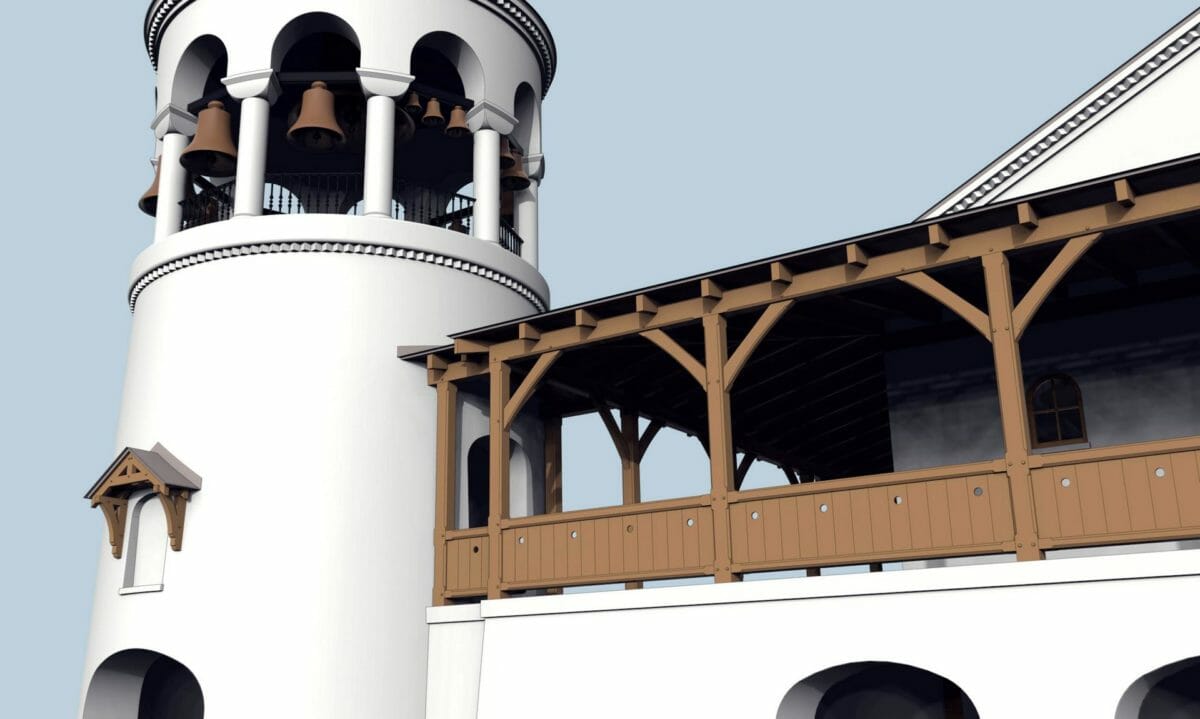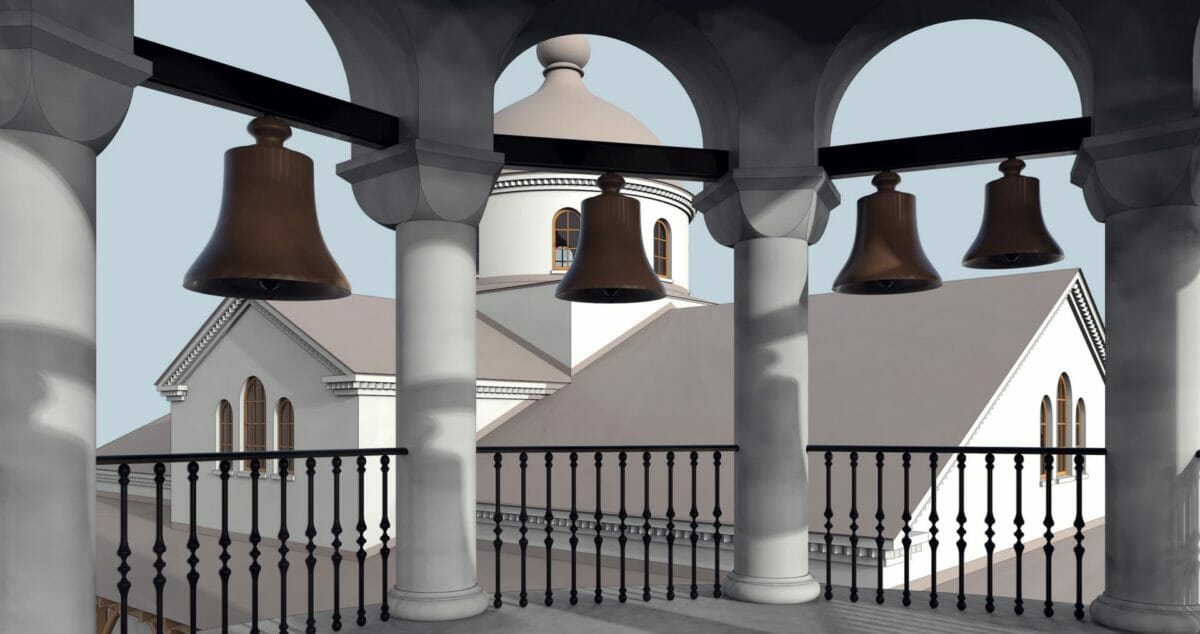 The monastery hopes to begin construction in 2020. To read more about the project and to make donations, visit the monastery website here.
Andrew Gould's website is www.NewWorldByzantine.com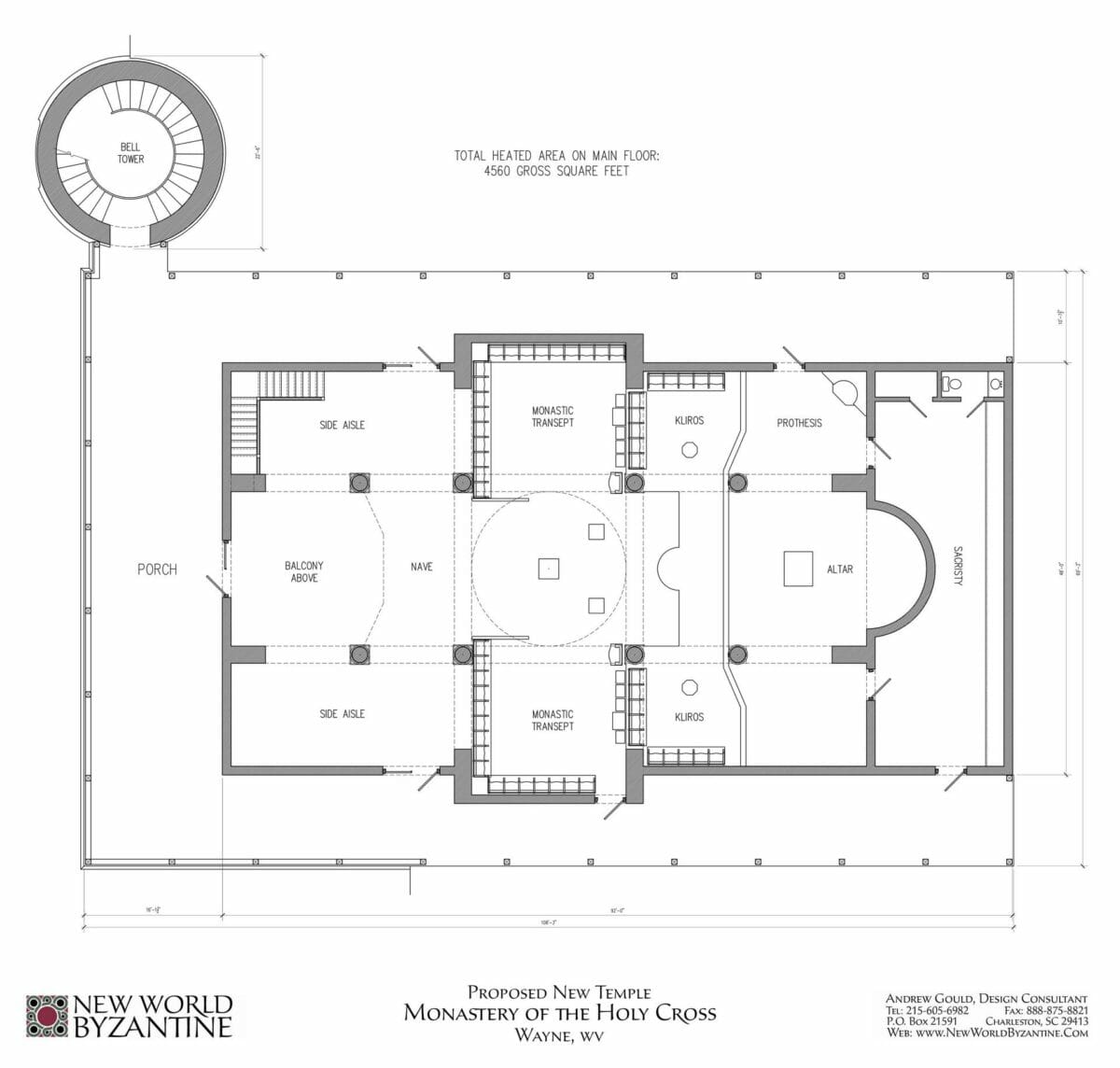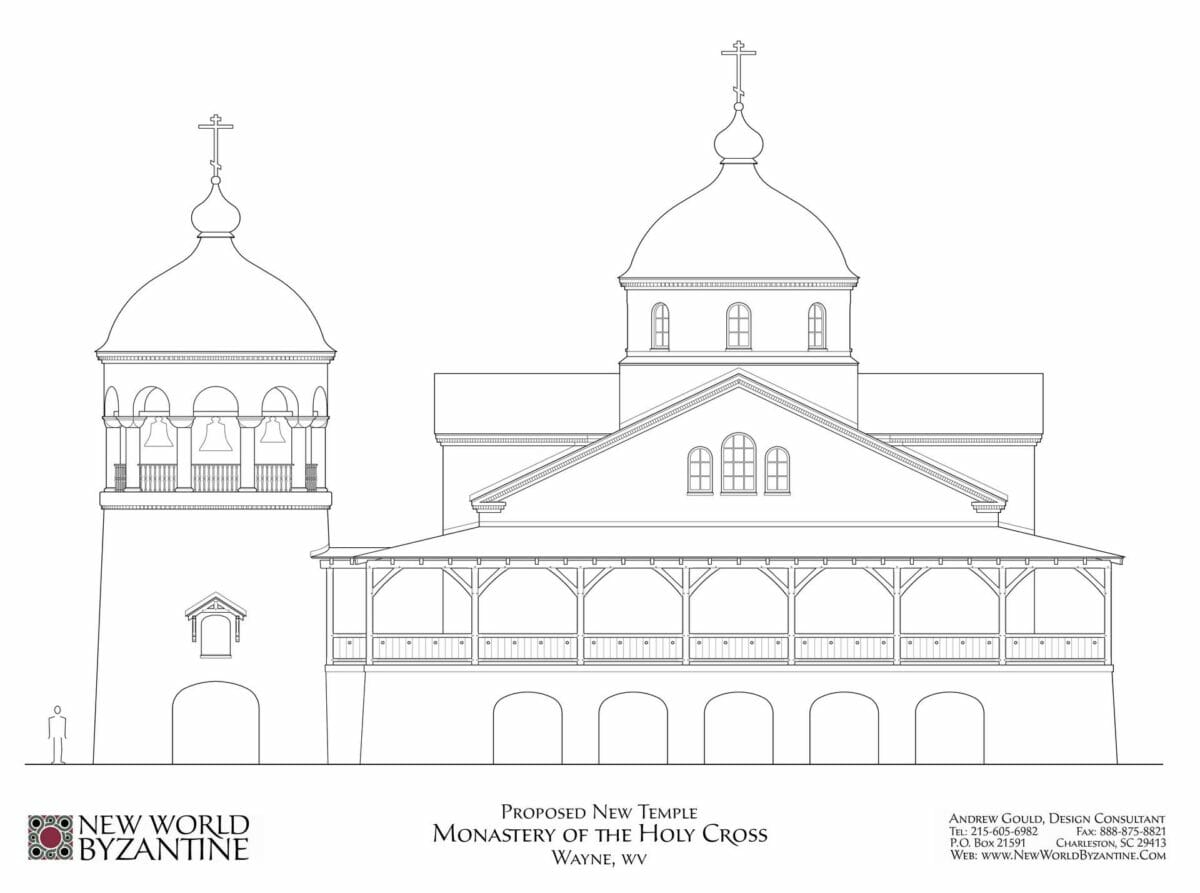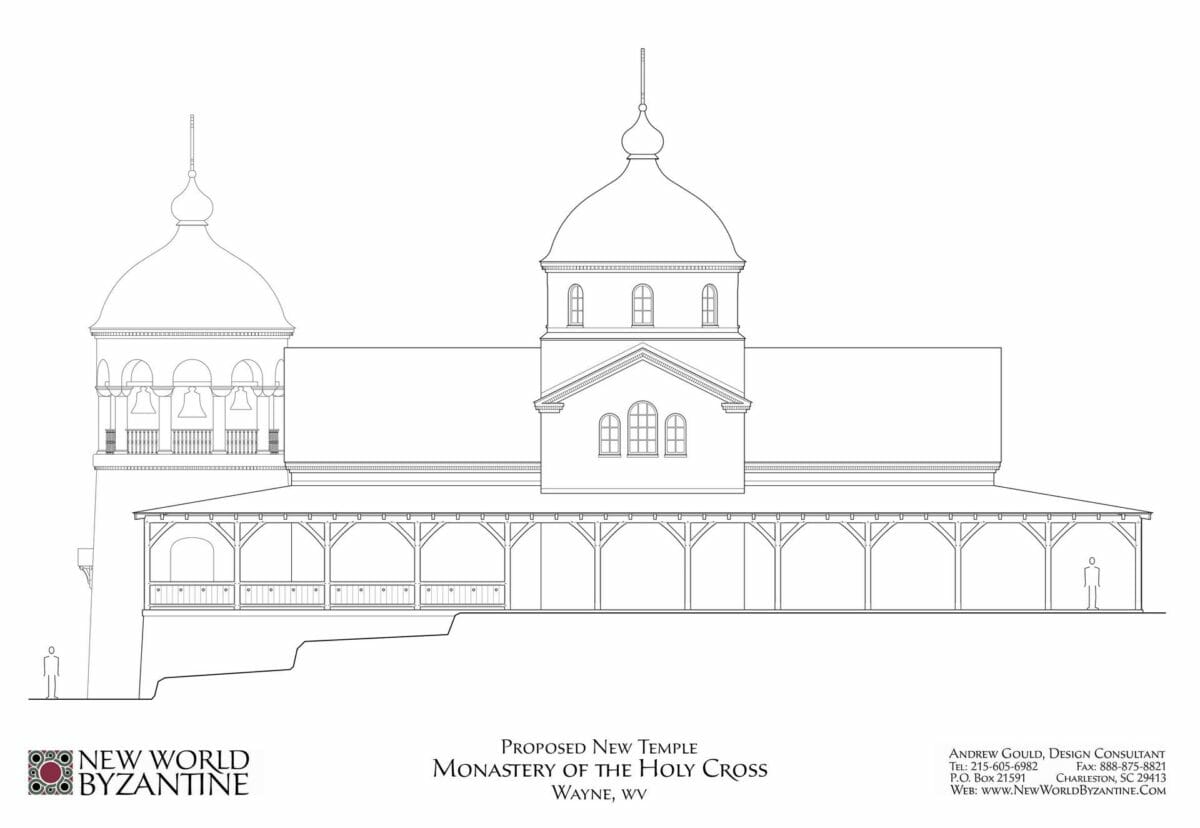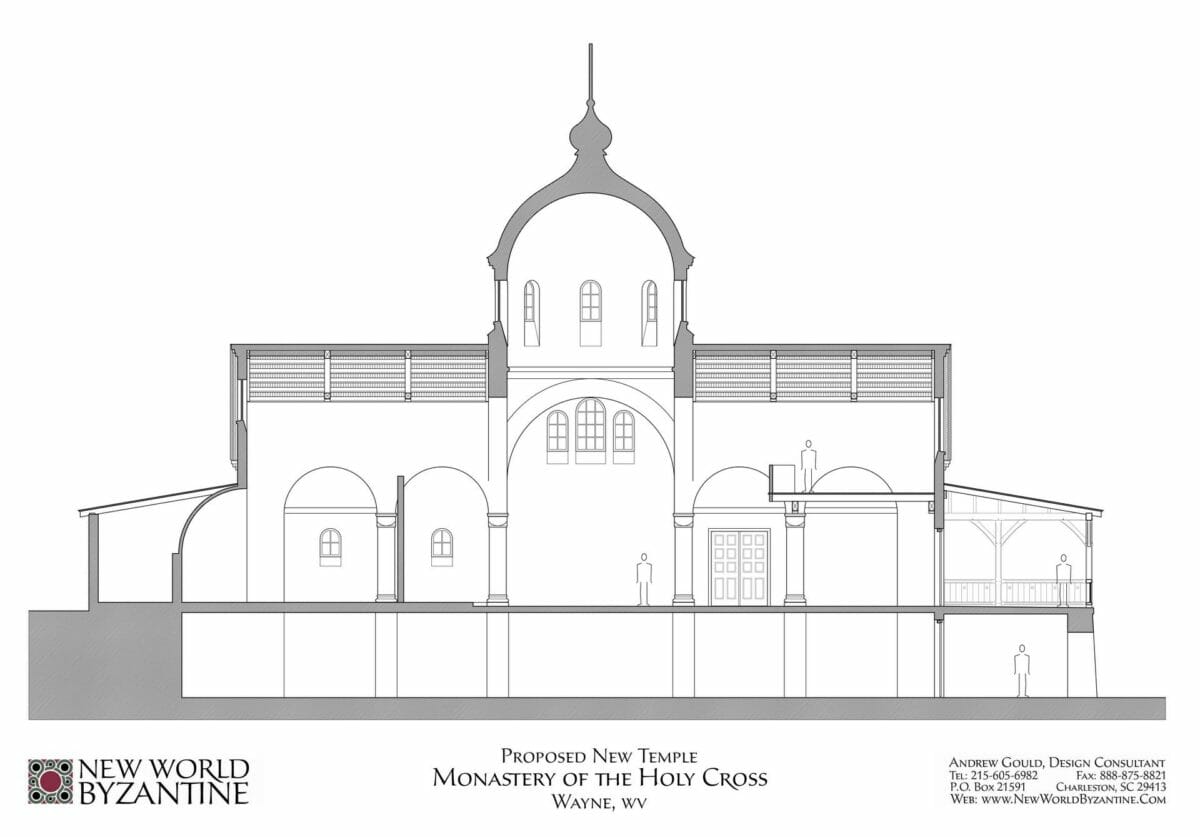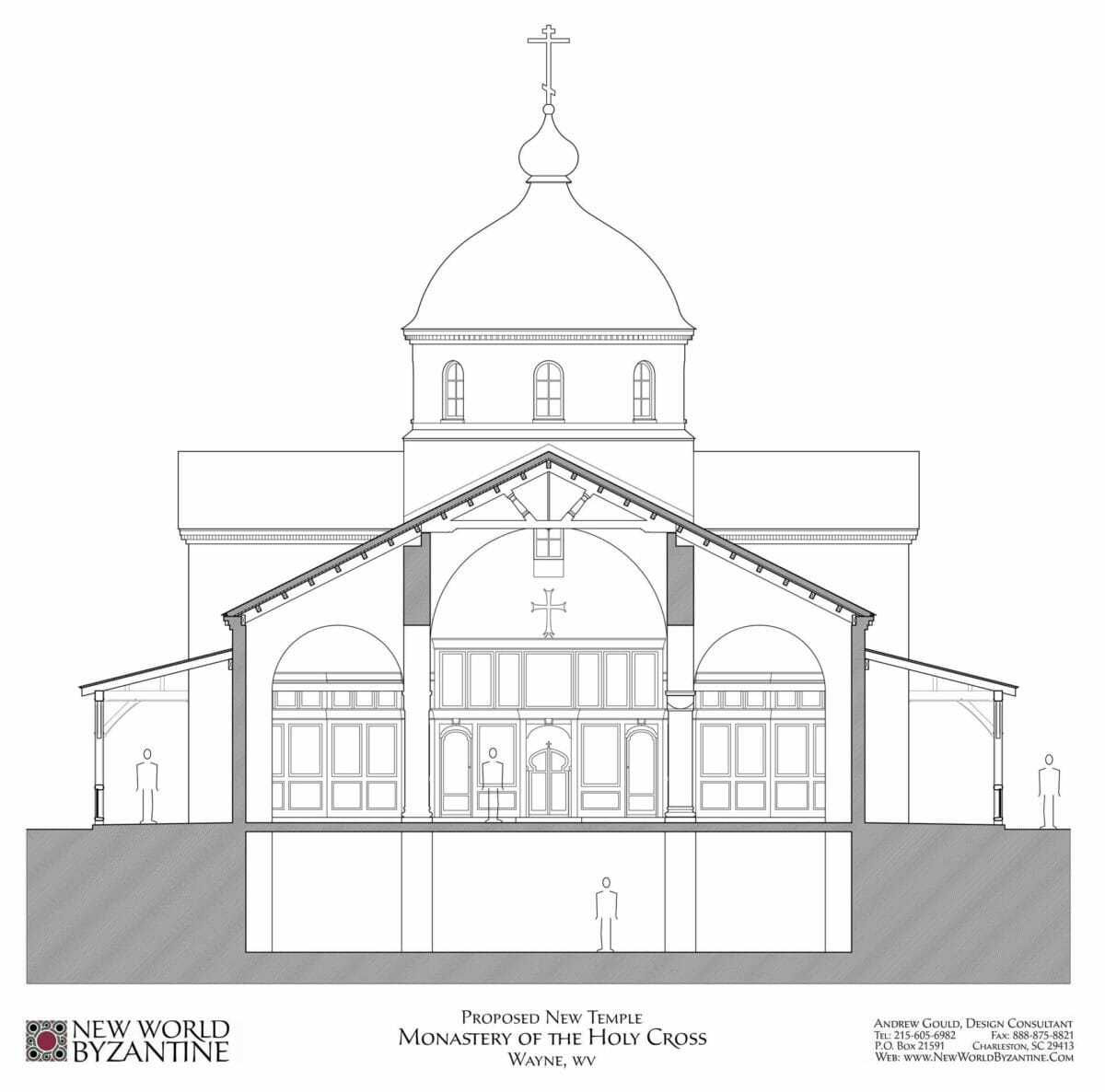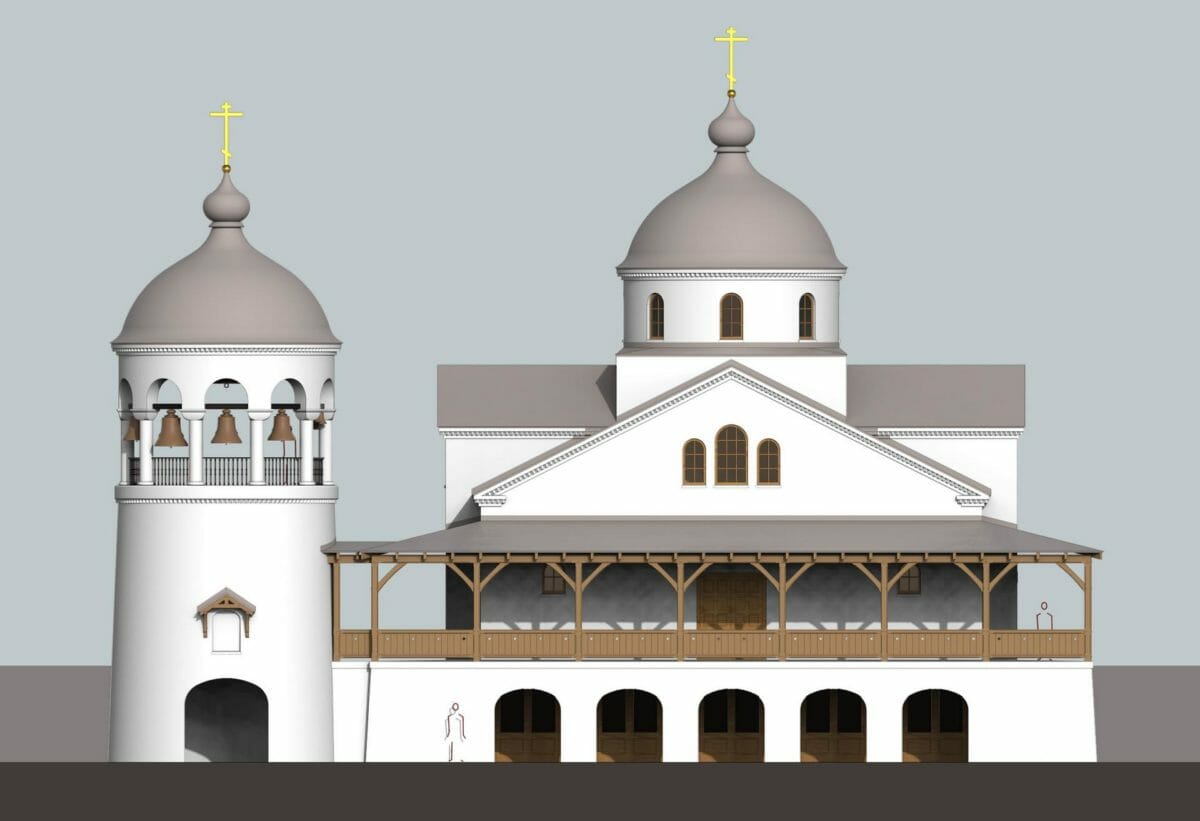 If you enjoyed this article, please donate to support the work of the Orthodox Arts Journal. The costs to maintain the website are considerable.